A Story about Yellow Car
Interview with Marc Goldbaum
Southern California holds a particular image to many. Celebrity, technology, and automotive powerhouses all call Los Angeles home. This story, however, focuses on a couple of enthusiasts that originally found their professions in the world of film.  J and Nicole Ryan, affectionately known as Mr. and Mrs. Ryan, launched their careers in Los Angeles as a producer and publicist, respectively.  Though the film business has long been seen as one of pure creativity it remains, first and foremost, a business.  With The Ryans well into their industry accomplishments, a difficult curveball was thrown their way. This impossible situation acted as a spark to alter their professional paths and follow their passion project.  Oddly enough, this led to a well-driven Porsche 997 Carrera S christened "Yellow Car."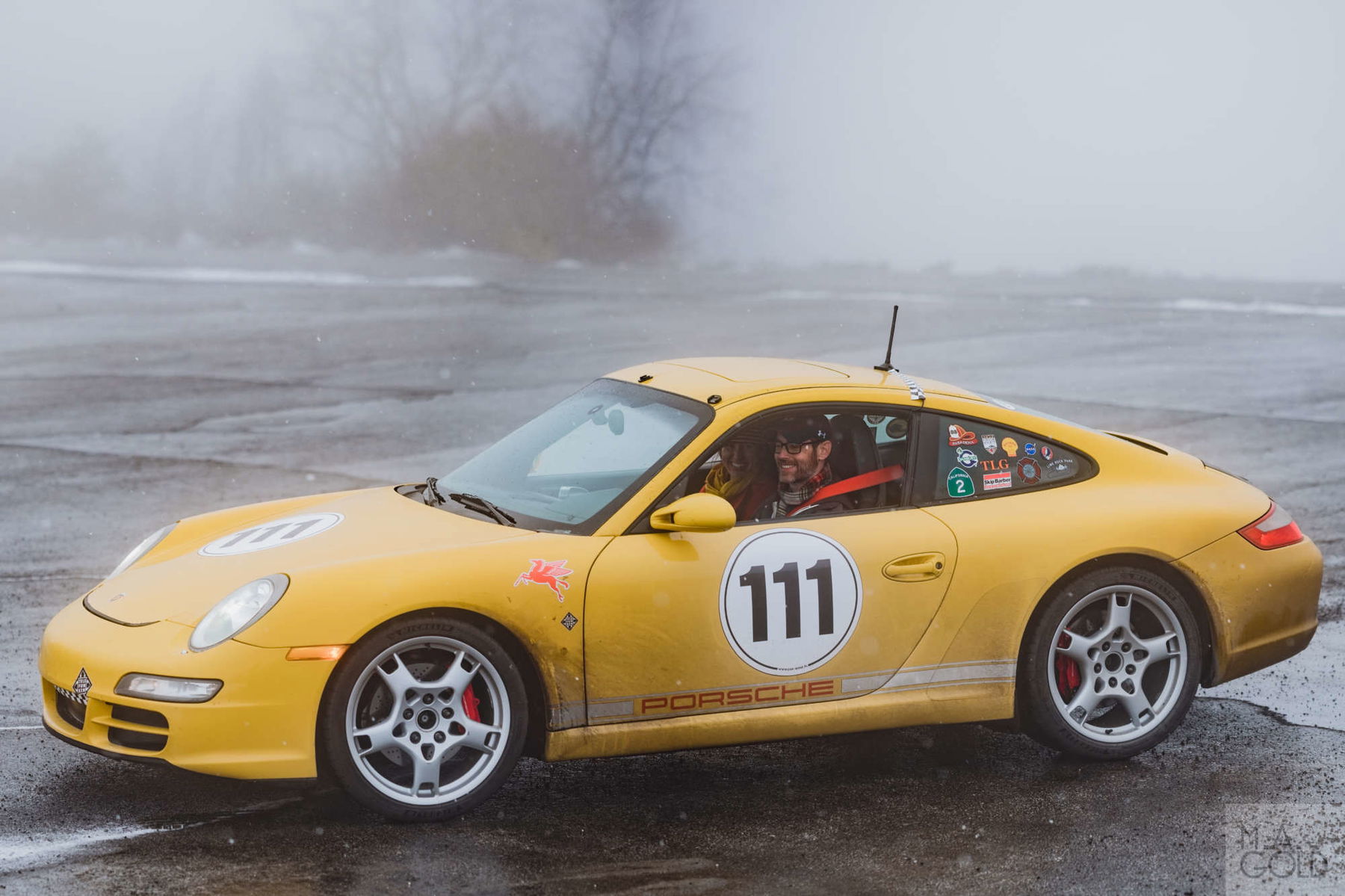 Hello Marc, thank you for reaching out to us today! This "Yellow Car" caught our attention; what can you tell about it?
I guess I'll start with the basics to really understand why this car is so different. This Yellow Car is a 2005 Porsche 997 Carrera S.  As I'm certain you know, the 2005 model brought back the well-loved round headlights that trademarked the 911 since conception. It is true that many have hit the pavement since its introduction but this one always seemed to catch my eye at car shows and on Instagram.
Us too! So, that begs the question: what makes it so special? With all of the 997S articles out there, what makes Yellow Car any different?
I'm so glad you asked! The internet is definitely littered with a ton of 997 based build and articles glorifying the vehicle itself; this one however has a series of more personal touches and quips that tell a fascinating story about the custodians of Yellow Car.
When you first meet this 997 you are met by a vibrant assortment of decals, each of which conveys a story.  I would be hard pressed to explain all of these experiences to you so briefly: The Telefunken patch teases an emotional bout involving David Letterman, the prominent triple "1" meatballs located on the doors and frunk lid deliver a personal meaning that has followed The Ryans for decades, and the California badging hawkers to their love of a state they now call home. While stories of stickers are all good and well, the outlaw feel that Yellow Car gives off is also matched by a matte-black engine lid that is certainly befitting of the dirty yet well-loved vehicle.
Stepping inside introduces you to the lifestyle of the Ryans.  An early, gold, 911 script found above the glove box shows their appreciation for the heritage of this 997.  Between the driver's and passenger seat sits a walkie talkie used for communication between drivers when traversing the local Angeles Crest Highway.  When it comes to a radio, Yellow Car doesn't have one.  This is a bare-bones example of a daily-driven canyon carver.
This is a bare-bones example of a daily-driven canyon carver.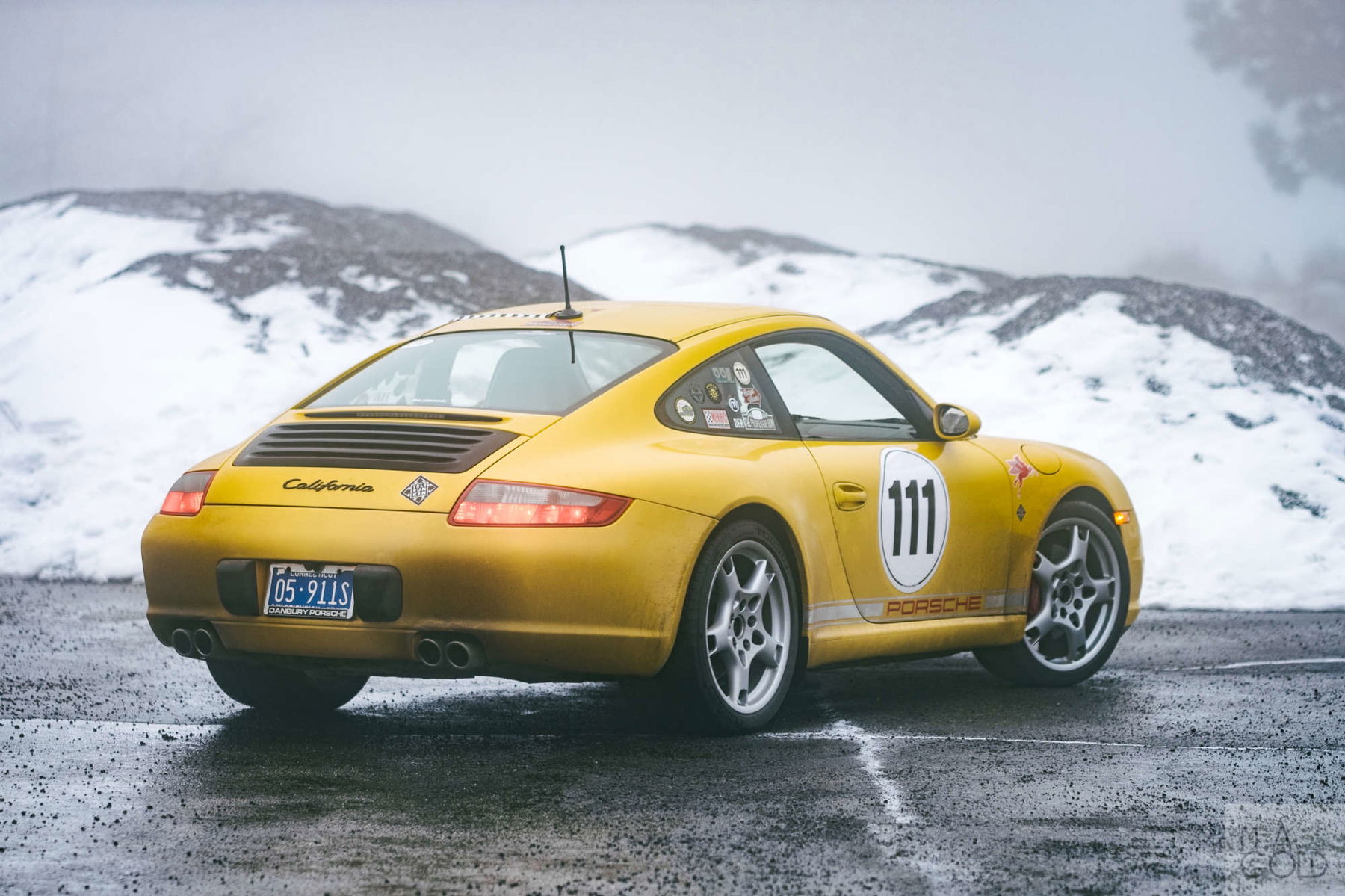 Wow! This definitely does seem like an unusual build. Was this all part of a plan?
Nope! None of these bits were originally on the Ryans' minds at all.  J explained that he wasn't ever one to modify vehicles outside of the factory options.  Instead this was an organic creation that stemmed from experiences gather over the years. To them, this 997 S is more than just another Porsche.  Yellow Car is a means to enjoy what life has to offer.  For them, Yellow Car is their response to the curveball that life threw.
Yes, I recall you mentioning they experienced a major change in their day-to-day life. Is that something you can explain further?
Absolutely. The Ryans' life is an "open book" as they say. Anything you'd like to know about them can be found on their "It's Tonight's Show" podcast but I'll touch base on that later.
It was in 2011 when Mrs. Ryan was diagnosed with Multiple Sclerosis. This diagnosis delivered a startling alteration to their reality. Though the first few years weren't too interfering, time progressed, and the difficulties heightened. With their daily routine starting to change, they searched for other ways to stay involved with each other and their friends.
That's remarkable! It sounds like they were not going to let this impede their spirit?
Not a chance! I would go further into explaining the level of difficulties they have experienced but there is just too much information that I'm not qualified to explain. There is an abundance of information about MS online that I would encourage everyone to check out.  If at all possible, even donate to one of the charities, any little bit helps.
Completely understood. So, tell me, with this "curveball" thrown towards The Ryans, was Yellow Car almost a form of entertainment?
Yes, and so much more.  When the symptoms of MS and its treatments became more frequent, very early mornings were the new normal.  And yes, they could have used this time to wallow or reflect on the bad, but that just isn't who they are. The Ryans discovered that these early morning hours offered clear Los Angeles roads (almost a commodity in this town).  Angeles Crest Highway, known as "The Crest", became a means to transform their new lifestyle.
What would typically be a time of loneliness, mundanity, or powerlessness turned into an opportunity for friendship, excitement, and control in their life.  For the Ryans their new schedule eventually lead to a diner called Newcomb's Ranch. Located on The Crest, this became their weekly place of retreat from L.A.  Every Friday morning one of America's best driving roads is basically empty which means there is plenty of room for fun. Time after time they ventured up The Crest, eventually forming a club. (#notaclub). Despite being called the "Good Vibes Breakfast Club" (#GVBC), it is not a club.  GVBC is a meeting of those who also look to escape the city and meet up for a good meal, a hot cup of Joe, and camaraderie.  All are welcomed.
It sounds to us like they were able to find a slice of tranquility in Los Angeles. You mentioned before that this eventually lead to a passion project. Was Yellow Car part of the catalyst?
Without a doubt. While dwelling on the bad and difficulties of life is always an option, The Ryans refused to let that consume them. Yellow Car helped dub their new mantra in life #liveitwhileyougotit. This mindset lead towards this passion-project involving the likeness of the aforementioned David Letterman in the form of a podcast titled "It's Tonight's Show".
David Letterman's show was packed full of interesting guests, topics, and had a very unique tone. I'm curious, are The Ryans able to convey their own voice to this talk show style?
In one word, Yes! With a similar outline to The Tonight Show, J and Nicole interview car enthusiasts, artists, and comedians from all over.  They seek out talent and influential guests to discuss their own passions through a lens of positivity.  Each segment is teeming with excitement for the subject of discussion and is framed by statements of appreciation for their guests, their audience, and always for each other.  This tone creates a positive environment where discussions have the opportunity to flourish and be opinionated.
That sounds like a show we'd like! How do they find guests in such a large city?
Well, thanks to their love of the car community and Yellow Car, they're often introduced by a network of local Cars & Coffee attendees or even during a meet up at Newcomb's Ranch. This was the case for their guests Hannah Elliott and Magnus Walker.
Wow! Magnus has definitely become a staple for the Porsche Outlaw scene over the years. Have J and Nicole always been into Porsches?
J's years of petrol addiction definitely lead to an immense understanding of car communities.  Though he now sports a 997S, J has owned a couple of DeLoreans, bunch of different BMWs, and at one time a Porsche 944 Turbo which he bought simply because Letterman had one.
It sounds like J has an interesting car history! With it being that wide-ranged, I'm sure he can hold his own in talks about pretty much anything.
J and Nicole both definitely have a unique perspective when it comes to discussing cars. J will be the first to admit there are more knowledgeable individuals out there when it comes to the automotive industry. But that humble mentality towards their discussion tend to lead towards a more informative and exciting show. J and Nicole bring genuine curiosity and humility and intrigue to every episode. Engaging with guests becomes a natural and fluid experience as stories seem to tether together organically and are always filled with sincere enthusiasm.
A yellow car, a curveball, and a talk show. On the surface it seems like an odd paring but somehow everything plays off of each other!
Exactly. What started out as a way to escape the mundanity of the day-to-day turned into an opportunity to get away as a couple and laugh at the little things. Since it's conception "It's Tonight's Show" has matured into an automotive cultural hub with an ever-growing viewership.  I wish I could reveal the names of their future guests; there are racing legends, leading characters of the automotive industry and as always, a ton of great comedians visiting "It's tonight's Show" in the near future.
We're definitely looking forward to future episodes! How do we find them?
Check out their channel on YouTube "Porsche Life 111" to catch up on tons of great episodes already posted and follow their IG for a plethora of inside info and upcoming events.
Thank you so much, Marc for sharing this story about two very interesting creatives and their Yellow Car!
It was my pleasure!
---
Pictures: Marc Goldbaum