For many Porsche fans around the world, it would be a dream coming true, if we could earn a living while enjoying our Porsche passion. Frank Lülfing wanted to do exactly that. He once was a trainee in a Porsche workshop. He went on to become the managing director of a mid-sized company. But restoring Porsche 356 seemed to suit his liking best, so he began a new chapter in his career. Frank founded a classic car workshop called ikonA7, which sits next to the Autobahn 7 in northern Germany. So for today's episode of the Elferspot partner portrait series, we went to Hannover. Enjoy!
Frank, thanks a lot for having us here at ikonA7! Where did it all start? How did you became interested in Porsches and how did you end up in this very pretty garage?
Hello Richard, it is my pleasure! To be honest with you, I'm not entirely sure, when I became a little petrolhead. I remember staring through all driver side windows and have a look, what's the biggest number on the speedo. The higher the number, the faster the car had to be. While having a walk with my dad, I did exactly that, when we passed a Porsche 911 Targa. My dad then said: "That is the best car in the world!" I will never forget about that moment.
After passing my a-level, I started my job training at a Porsche workshop. Of course, I felt extremely privileged back then. Whereas my colleagues in the VW garage on the other side of the road had to work on four-door family cars, I wrenched on two or three year old Porsche 911s. We didn't fit 165 section tires. As Porsche mechanics, we used 225s, which were considered very wide back in the day!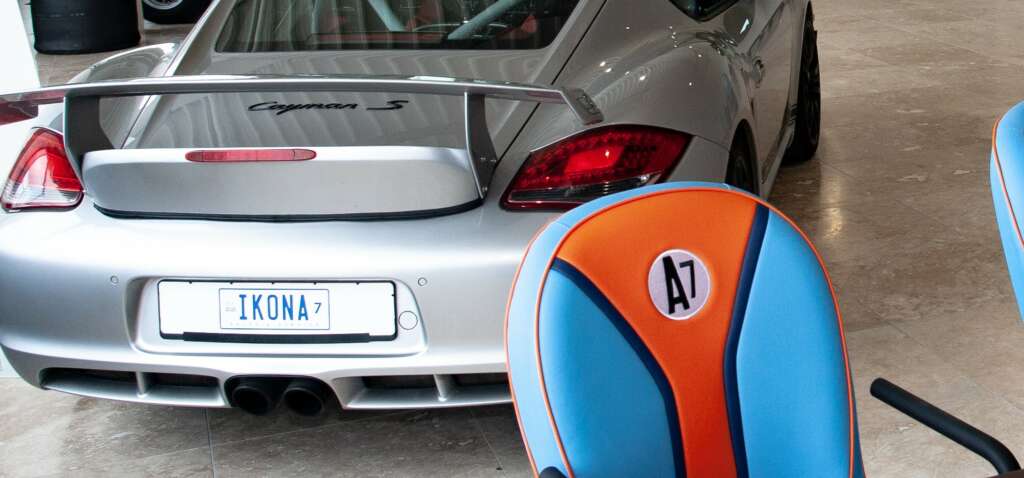 What came up next for you, personally?
As you can surely imagine, I instantly became a die-hard Porsche enthusiast during my vocational training. In 1981 I've lost my heart to a viper green Porsche 911 Carrera RS 2.7. Sadly, I didn't have the funds, so the next year, I've bought a 1967 Porsche 911 T and in 1984 I started to study mechanical engineering. For many years, I've subsequently worked as a technical manager in a mid-sized company. Before I founded ikonA7, I was the executive director of an engineering company.
That doesn't sound too bad. Why did you want to found a classic car workshop with ikonA7 then?
I didn't really want to be working with people in a business context until I retire. To me, it was very appealing to get in touch with people in a hobby sector. Isn't it much more satisfying to meet happy, like-minded people on a day to day basis? And isn't it great to see them leaving with a smile on their face? Hence, our slogan is "Experience classic cars". Whoever enters our garage will feel, that it is a trustful environment. We are all petrolheads and that shows!
Sometimes, ikonA7 customers have to bear my own euphoria, when it comes to certain cars.

Frank Lülfing – ikonA7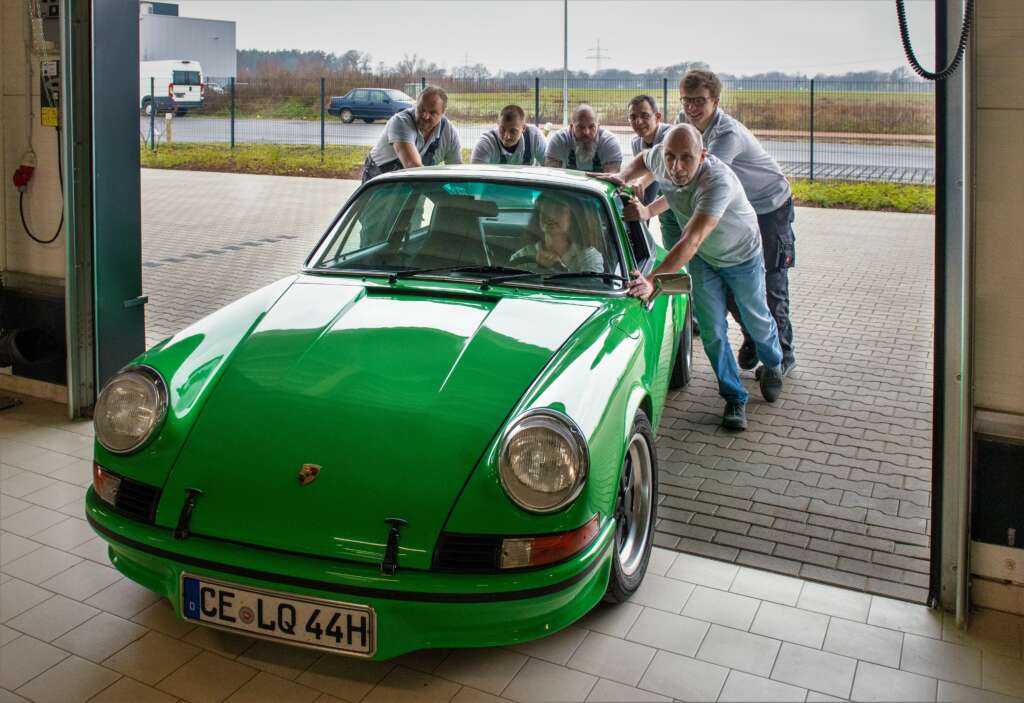 Sometimes, ikonA7 customers have to bear my own euphoria, when it comes to certain cars. Very recently a classic car novice came along and wasn't all that sure, which one was right. I took him around the showroom and I got caught by a Porsche 928 S. As I really love how these things behave, I couldn't help myself but daydreaming about the great exhaust note, the amazing shark nose and how awesome the thing drives. The guy's answer: "You really, really like this car, huh?"
It's not easy to stay calm, when being surrounded by such emotional things like classic Porsches… What do you exactly mean by "Experience classic cars" at ikonA7?
ikonA7 isn't just about selling or repairing cars. From time to time, some customers head over to have a chat and a coffee. Simply said, we want to offer added value to our customers and be more than your average workshop. Hence, we're organizing events and car meets on a regular basis, as well as technical training lessons.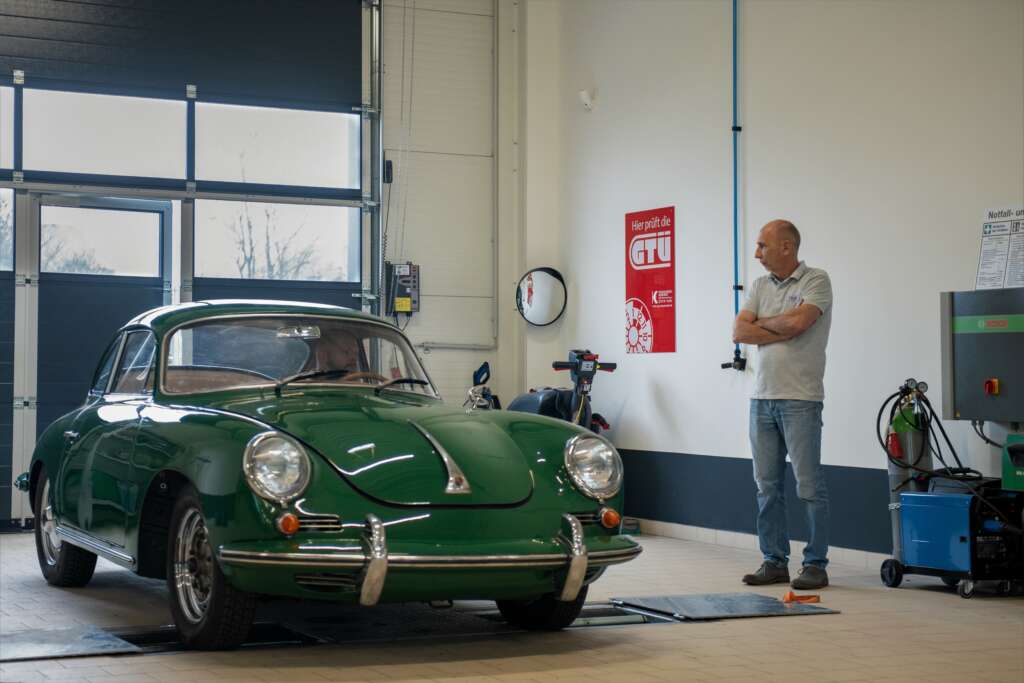 For example, we're providing trainings to impart certain technical basics. Whoever owns a classic car should know, which sources of error could cause a car not to start. One of the most popular workshops is about doing a pre-purchase inspection right. As we've seen, this is a particularly important skill, a potential buyer should have. Otherwise they would be at high risk, overlooking costly faults.
Of course we won't teach a layman to become a master technician that way but it helps a lot for a better understanding of our work. We often hear from participants, that they can now comprehend why we can't offer to do some repairs in passing within a few minutes. They get a feeling for the needed time of "easy repairs".
Do you have a specific attitude on your builds? These two Porsche 356 restorations for example look very different. What's your way of doing things?
To be brutally honest, there is no specific look, we want to achieve on every car. Originality is nice but not necessary. We modify our cars the way we like them. Porsche 356 restorations for example are more or less a favorite for us. These things are easily changeable and you can achieve classy, chrome looks as well as a hot rod design without ruining the cars overall appearance. Moreover, you have to admit, that the engineering isn't too complex and most cars have a very pretty patina to them.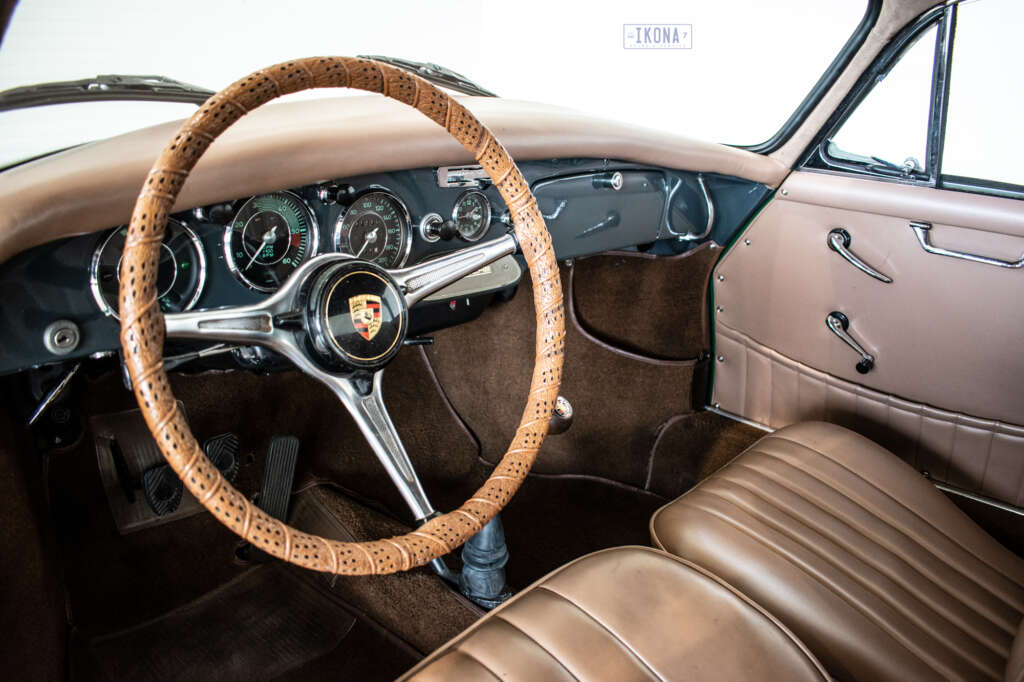 I am no big fan of "better than new" restorations. Let's say it this way: If a car's substance is worth preserving and tells a certain story, why then overhaul everything? A car is a very individual thing and therefore almost everything can be done at ikonA7, from cleaning the hood and removing all the trim pieces up to refresh every single chrome part on the car. Whatever our customers desire, we can offer anything between a technical overhaul and a complete nut and bolt restoration, including new paint.
That attitude shows, when looking at your very own Porsche 911. What was your main goal with it? And what would be your dream Porsche?
You've got a point there… After a few Porsche 914, 944, 987 996 and three G-body 911s in total, I now drive a narrow '77 Porsche 911 Backdate. Of course, it's Viper Green, like my dream RS. To make it go a bit quicker, a 3.2 liter Carrera engine was equipped. Besides that, it has a ducktail, because I love the looks of it and an uprated suspension setup. I've bought it in 2016, before Backdates were a thing in Germany. Its main purpose is trackday abuse nowadays.
Back in the days, there was a time, when I would have considered selling my girlfriend for a Porsche 930 Turbo 3.3. Things have changed over time of course… If you would ask me for the best looking Porsche in my eyes, I'd pick the 911 Carrera RS 2.7 all day long. As a complete package though, my heart beats for the Porsche 991 GT3. I don't think, that we will ever see a car as focused, raw, unfiltered and in the same time as insanely fast as this.
Frank, before coming to an end, let me ask you a question, that I'm sure a lot of people with an exit strategy like yours have in mind: How did your partner react to that plan?
She was rolling her eyeballs of course! But she knows my spleens and my shenanigans very well. I once bought an old Mercedes, which she found awful in the beginning. She asked, what I wanted with that old pile of sh… Today, she is driving that car all the time and I have to be quick in order to steal the keys, as she loves driving it so much. So at least, she can understand the fascination behind classic cars.
And as were talking exit strategies: We could imagine another ikonA garage. Maybe an ikonA8 near the A8 or an ikonA1 near the A1? Whoever fancies opening a workshop can reach out to us. We've got a finished concept which consists almost everything from the building itself to running a classic car dealership with a garage operationally. It would be a pleasure for us to share our concept with other petrolheads!
Frank, it was a blast. Thank you very much for the insights to your everyday business at ikonA7!
Feel free to visit our workshop at any time!