The Carrera GT was never offered in this color
But the job wasn't done after rebuilding engine, gearbox and suspension. Porsche Classic painted the car, in consultation with the owner, in oak green metallic. The Porsche Carrera GT was never offered in this color, but in the 1970's it had been a popular choice among Porsche buyers.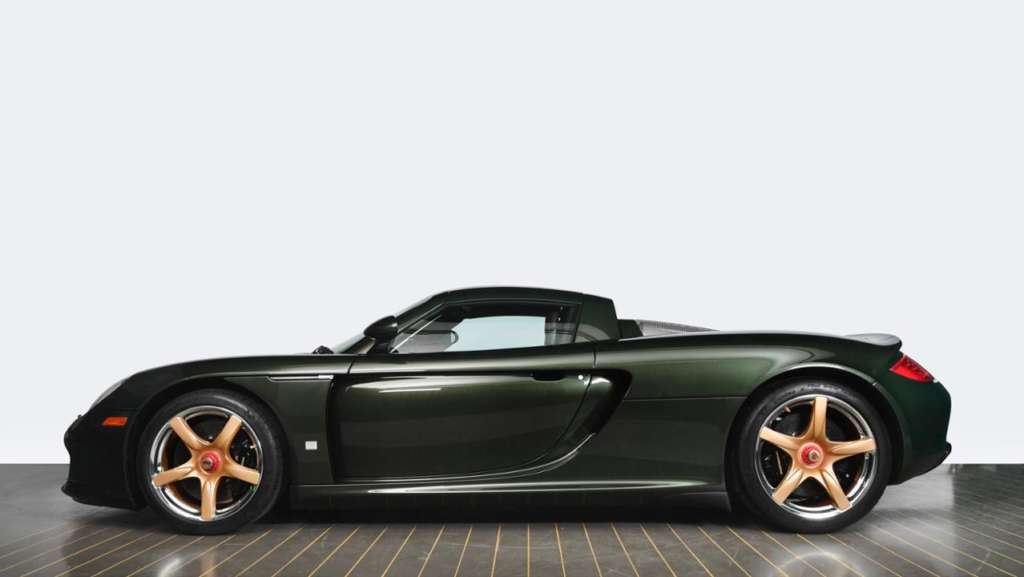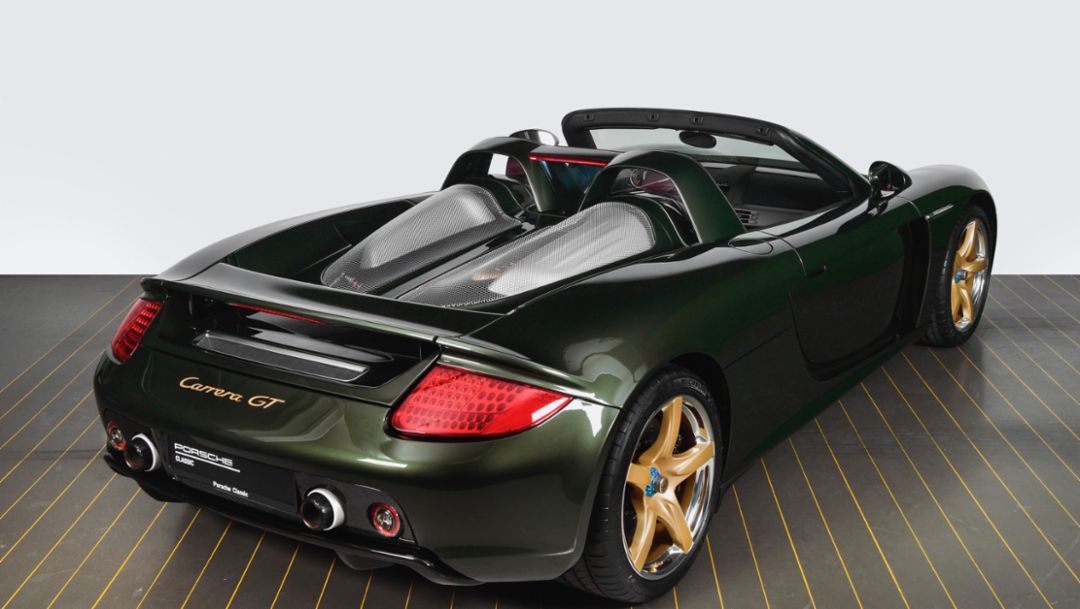 For an exquisite finish, owner and restorers agreed on golden five spoke magnesium wheels with a polished ring as a reminiscence to the classic BBS racing car wheels. But there was an elephant in the room: Polishing magnesium wheels would have led to structural alterings of the wheels and therefore potential dangers of cracking or bending. No other than some material experts at Porsche's R&D center in Weissach found out about this problem. A different engineering process had to be found by the Porsche Classic Team.
The answer to this problem? Coating instead of polishing!
Instead of removing material while compounding and polishing, the rims were coated. A thin layer of silver was used in a process, that has never been used in mass production. This procedure led to a very glossy, chrome like-finish of the surface.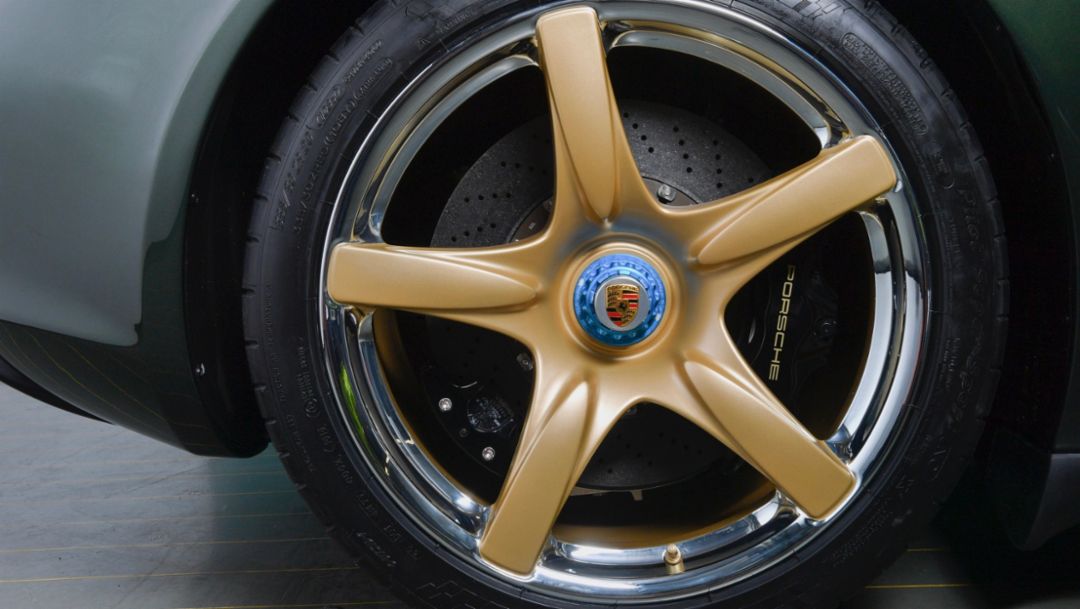 With silver tending to oxidate very quickly, a protective layer above the glossy silver coating was needed. In contrast to iron, silver won't rust when oxidating, but responds to being exposed to oxygen and water by accumulating ugly black tarnish on its surface. Due to the use of a protective layer of clear coat, that has been precluded. At the same time, the spokes were painted gold. The blue and silvered painted center lug nut with a colored Porsche logo gives the car an attractive contrast and a classy touch.
The same shade of gold was used for the Porsche lettering on the brake calipers, the intake plenums within the engine bay and the 12 o'clock marker on the steering wheel as well. The latter is surrounded by two oak green stripes. Another, very tasteful and individual touch.
Refurbishing the carbon fibre alone took 350 man hours.
But the already very long to-do list doesn't end there. As ageing carbon fibre coating tends to yellow and fade, the team of Porsche Classic Factory Restorations got their hands on every single piece of carbon fibre on the car. Refurbishing the carbon fibre alone took 350 man hours.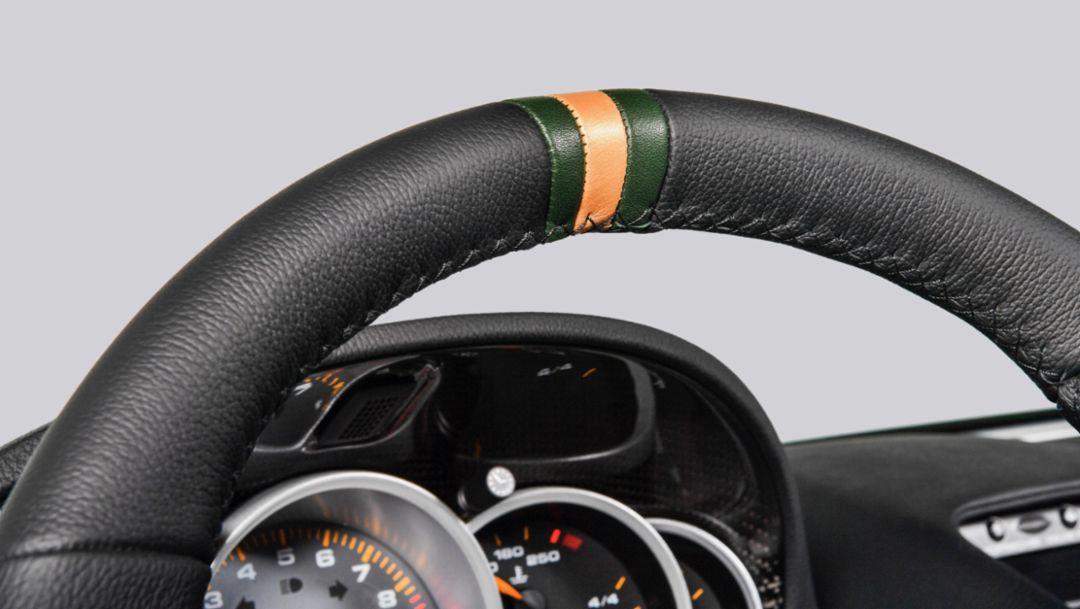 At the invitation of Porsche Cars North America, Porsche classic presented the finished car in the Porsche Experience Centre in Atlanta to a selected group of roughly 100 people, including the curious owner. Porsche Classic also hosted a symposium, which was moderated by motoring journalist Pete Stout. Alexander Fabig, Head of Customer Center, Uwe Makrutzki, Manager of Porsche Classic Workshop Restoration, record-winning race driver David Donohue and Porsche Designer Tony Hatter answered upcoming questions regarding the astonishing project of the oak green Porsche Carrera GT.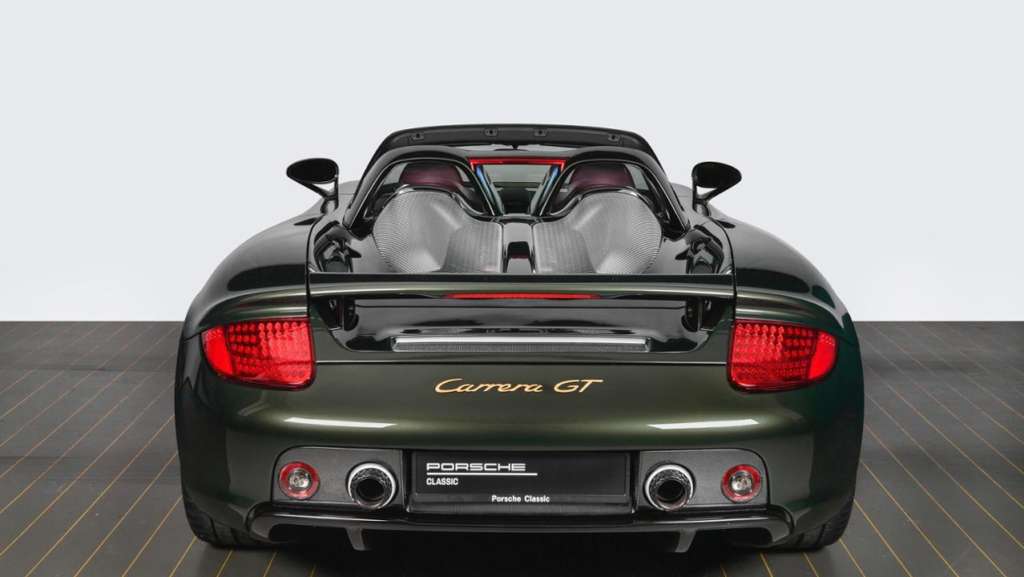 © Images: Porsche AG