As a part of our partner portrait series, I met Michael Schnabl, founder and owner of the Motorlegenden compay for an interview. Michael invited me to his expceptionally wonderful location near the lake Ammer, where we philosophized and debated about our most favourite topic. In the corner of my eye I could see legend after legend, while a nice smell of petrol, oil, rubber and leather caressed my nose. Could you imagine any better setting for a chat about sports cars from Zuffenhausen?
You told me, that you've been infected by the Porsche virus long time ago. How did that come about?
In the late '90s, when I was in my early twenties, I bought my first 911 sight unseen at auction on eBay and imported it. That was the beginning of my passion for Porsche. Passion often creates suffering, and I suffered a lot in the beginning. The car I bought, a '67 Porsche 911 2.0 was in a very sorry state. I didn't have any money for fixing it, so with the help of a good friend, whose job as a VW mechanic came in handy, we restored all of the panels, the engine and the interior over the span of many months. I then realised, how simple and efficient the design behind these old cars is and detected all the weaknesses, which I should address in the future. When I went on my first drive in Munich Schwabing in the car after restoring it, with the distinctive Porsche flat six sound roaring behind me, noticing that the car gathered a lot of sympathizing attention, I was finally infected.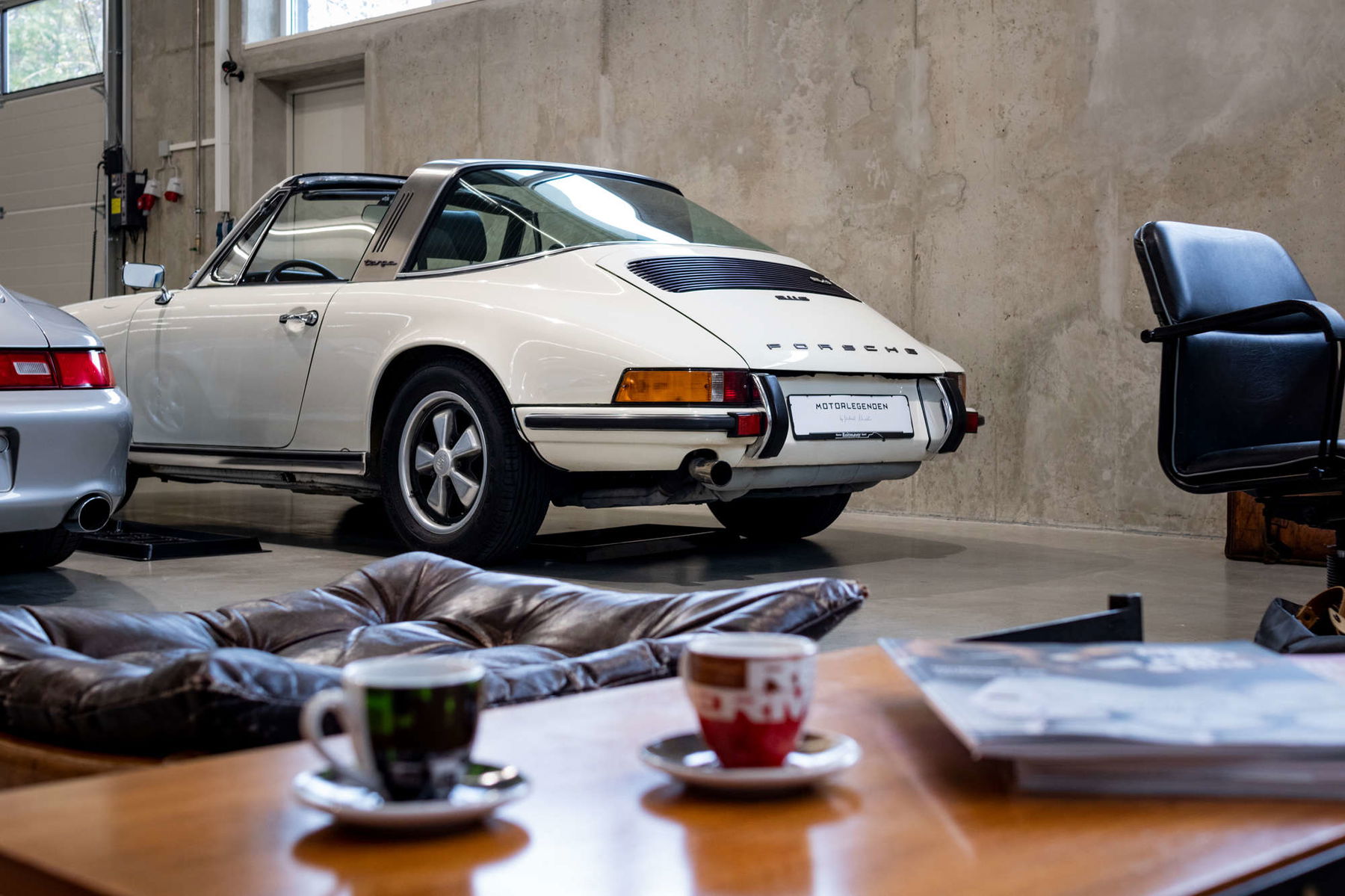 When did the idea to build up a business around Porsche first came to mind? 
Honestly, that was many moons ago. I always wanted to dedicate my work life towards the cars and their communities. That plan had to be put aside though, as my father suffered an illness and the family-run business had to be carried on. So for the last 20 years, I kept a company in the fashion industry going. I learnt quite a lot in terms of management, sales and marketing during that time and know how important the customer relationship really is. In the end, we may have been market leader, but it didn't really make me happy. In 2017, in my early 40s, I therefore decided to pursue my biggest interests. Until then, Porsche cars were more a less a hobby, were my sideline later and finally became my mainline.
You are running your new business for six months now. How is it going so far?
I've founded the collectors' network and the consulting service for classic Porsches "Motorlegenden by Michael Schnabl" in the beginning of 2018. My job is the intermediation, consultation and the hunt for rare Porsche models from private collectors to private buyers. The portfolio consists winter storage for like-minded people in my "Speedloft 5Seen" as well. Another personal goal for me is, to build up a community and a brand. What every enthusiast wants most: Enjoying the hobby together and establishing contacts for valuation, restoration, selling etc. My experience, my network and the location between Munich and Starnberg helps, of course. In the beginning it required a huge amount of development work, but I had this idea and a vision. Pretty quickly, I received fairly positive feedback for the concept and acquired my first customers. The demand for discreet and transparent offers among collectors and enthusiasts is quite high. What's very important for both, seller and buyer, is getting legal and handling security.
Meanwhile, I can offer from 15 to 20 cars, always rare and very well preserved models. From a classic 1974 2.7 MFI to a 1987 930 Slantnose, two narrow Speedsters from 1989 until younger models like a 964 Speedster and Turbo WLS, 993 4S and 993 Turbo S. But it's not all about classics. I've sold newer models like a GT3 Touring and RS, Boxster Spyder or 911R as well. I think, they complement each other pretty well.
What's very important for both, seller and buyer, is getting legal and handling security. Michael Schnabl
What do you think about the recent market trends in the segment of classic Porsches?
In the past few years, especially between 2015 and the middle of 2017, there was an outright boom. Demand rose quicker than supply and investors without any knowledge about classic cars as well as venturers, who wanted to profit from increasing prices joined the party. It was bound to happen, that the market would cool down again. Too many cars in a questionable shape with very high prices can be found in the market today. That unsettled collectors and those, who just want to drive a classic Porsche as well. The speculative bubble bursted, best to see when looking at two cars: the 1973 2.7 RS and the 991 911R. The RS had been sold for 750,000 to 1,000,000 Euros and is worth around 500,000 to 650,000 Euros today. In the latter case, prices dropped from more than 400,000 Euros to less than 300,000 Euros.
If you wanted to buy a Porsche now, preferably without the risk of losing money in the next ten years, what would you choose?
As an entry level car for 40,000 to 60,000 Euros, I would suggest the G-model, preferably the Carrera 3.2. If you would consider watercooled cars, the 996 4S and Turbo are interesting prospects. If your budget is in the six-figures, you should look out for a 993 2/4S. As an investment, which still is fun to drive, the 964 RS, 993 Turbo, every Speedster models and early 930 Turbos in very good nick with a comprehensible history should be interesting and hold their value.
Race cars are still pretty expensive and my secret tip would be a rare, top tier transaxle Porsche. 944 S2 and Turbo, 924 Carrera GT, 968 CS and 928 GTS aren't living up to their full potential and will rise in value over the next ten years, very much like the rare aircooled 911s. Besides the rarity, very good condition and a full service history are the key factors in terms of value.
Some cars I've seen over the years turned out to be pretty messy, even though they were looking like great cars on the surface. A close inspection when buying or selling is therefore highly recommended. It's  better to buy the best car, even if it's the most expensive, than the alledged bargain. Accident-free, original paint and original condition, history, mileage and rare options or sought-after colours determine the value. But whats changing nowadays is the generation of new Porsche buyers. With the presence of companies like Singer, originality plays a different role. Future models of today's youth won't be the same as ours, so I would predict a stagnation in values for the early 911 F-models and the 356. On the other hand, G-models and as a sort of younger classic, the 996 will be one of the next big things.
Race cars are still pretty expensive and my secret tip would be a rare, top tier transaxle Porsche. Michael Schnabl
Do you think, we will be able to still drive a Porsche with an internal combustion engine in 10 years time?
We either will be, or we won't find the companys' values of today anymore. Surely, there will be alternative ways of transportation in 10 years and there will be used other resources. Considering pollution and the ecoligical footprint, I can comprehend that. But some parts of the production lineup will be equipped with highly efficient internal combustion engines and classic cars will sustain a pretty high significance, because the fascination lives on and they reflect the good old times.
You own a few Porsches now and had some more over the time. Which was your most beloved one?
I've got a personal favourite from every decade. An early 911 S will always be part of my collection. A 2.4 S Targa even was my wedding car. The 964 was a model, I discovered for myself early on with its classic shape and reliability. An amethsyt coloured 964 Carrera with exclusive options and RS specification, like they were built before delivery in 1992 is my actual highlight. I regret selling a rare 993 Carrera 4S with X51 WLS and right now, I drive a 996 Turbo WLS and a 924 Carrera GT. Switching between them is a joy for me and that's the reason, why I only have as many cars as I can drive with good faith.
What would you choose, if you could only take one Porsche?
A mix, containing bits of a Carrera GT, 993 Turbo S oakwood, 964 star ruby, 911 2.4 S Targa in irishgreen and a Speedster in yellow!
Thank you very much for the nice chat!
Here current offers of  >> Motorlegenden by Michael Schnabl: 
Copyright pictures: Markus Klimesch and Motorlegenden