Driven by passion. Powered by "Elferspot Experience"
After years of matching up Porsche 911's with new happy owners we have now finally taken the step to offer experiences to match the sheer passion and commitment between all the 911's fans around the world. There are plenty of performance driving experiences on offer in the market but we at Elferspot have chosen only the best!
Spirit of Speed Arctic
Have you already attended mainstream winter trainings on near road tires? Then it is surely time for something entirely new! Why not instead experience the real deal, where you can push the cars to the limits? An entirely unique winter race training with specially prepared air-cooled Porsche 911's. All cars fitted with real World Rally Championship Tires. A thrilling combination of real ice and rally tracks becoming the ideal playground to challenge yourself and "your" Porsche 911.
Spirit of Speed Arctic is a unique experience that reaches far beyond what is offered elsewhere. If what we already offer is still not enough, why not take Tom Kristensen as your personal coach! When did you last time get instructions from Mr. Le Mans himself? Common for all – learn to control a Porsche 911 on the limit but still having fun.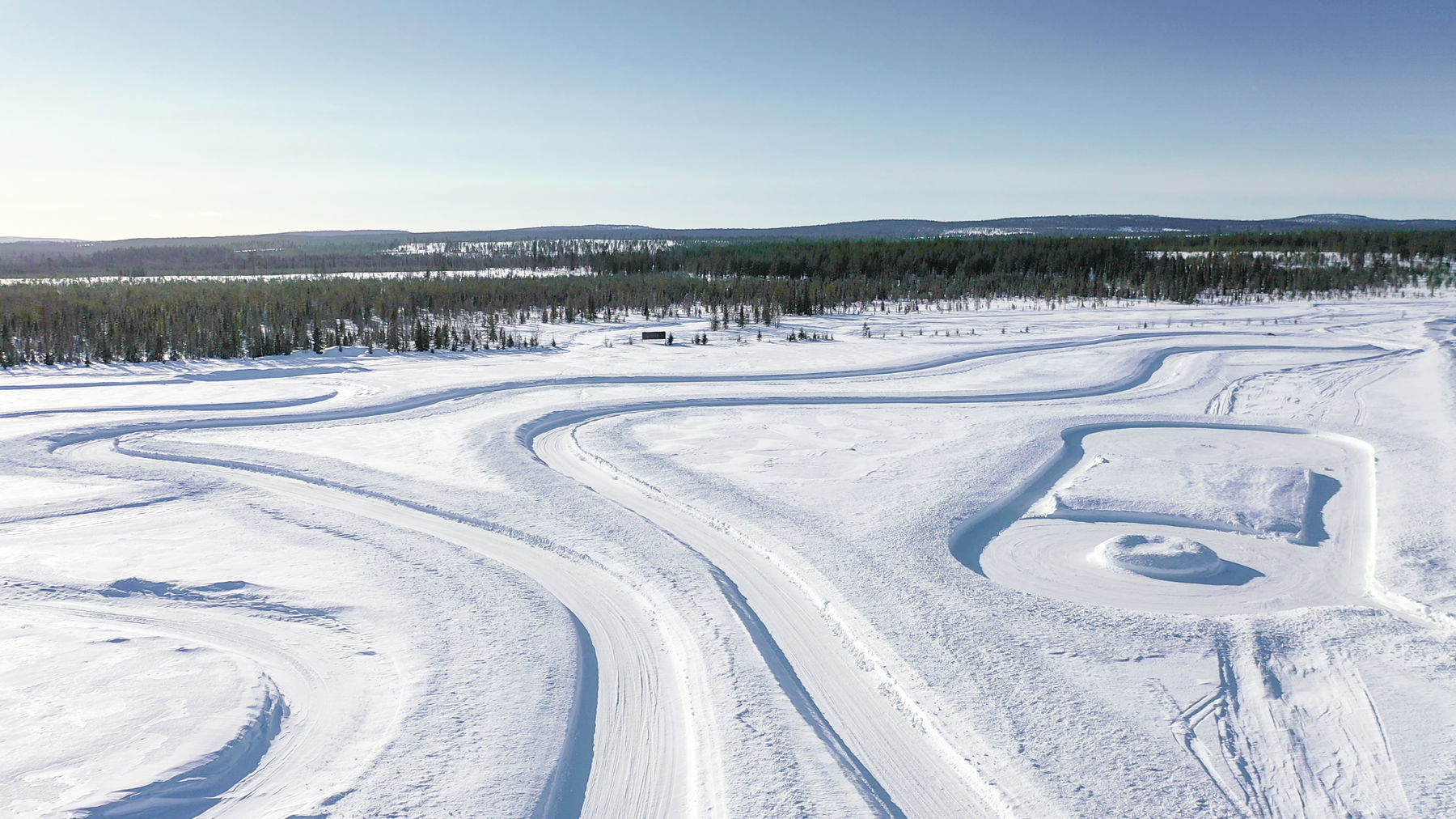 "With Spirit of Speed I want you to experience the spirit and passion that I have been so fortunate to experience myself during my racing life…"

Tom Kristensen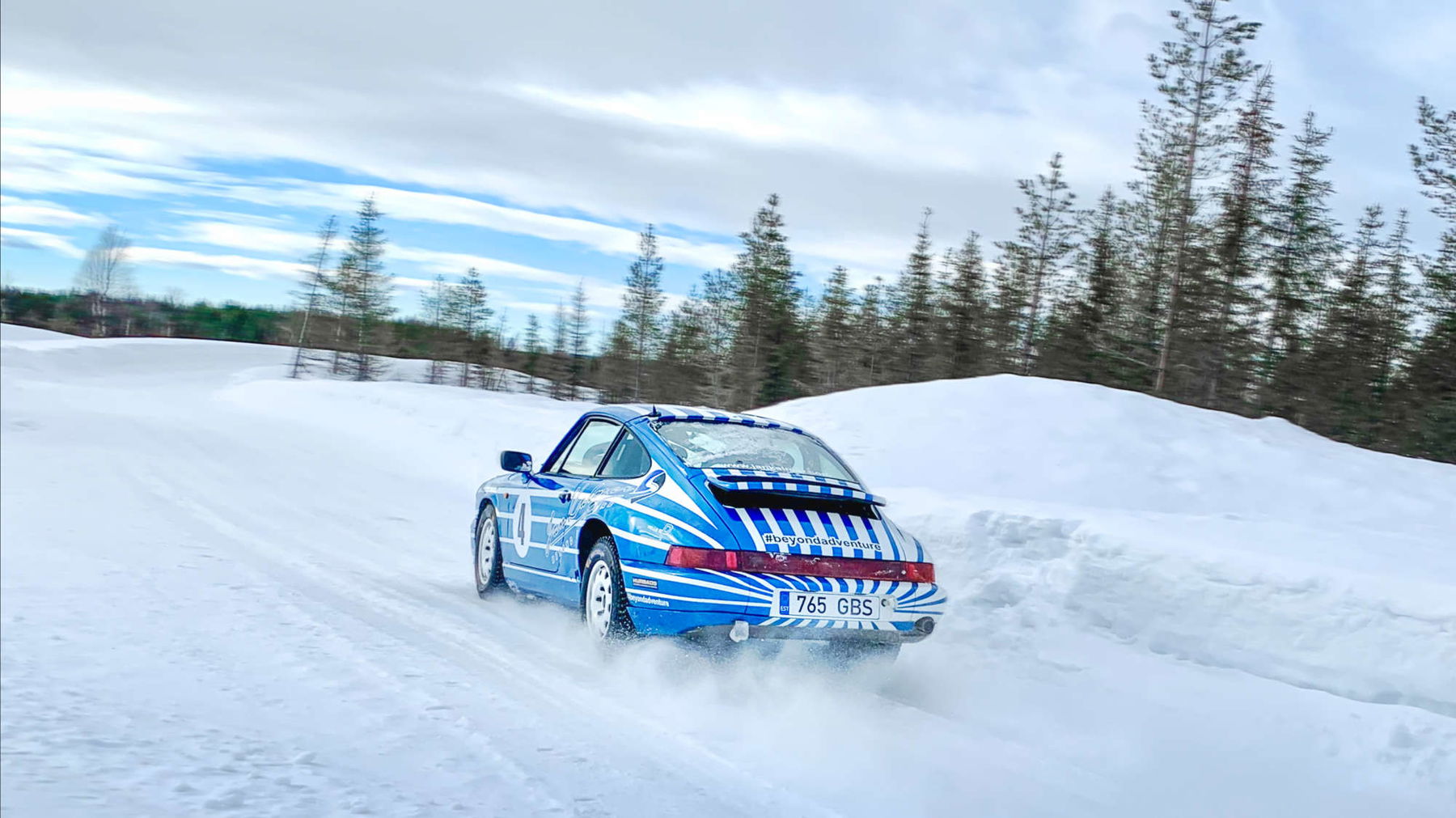 "Perfect balance of luxury and excitement. Having been on many ice driving experiences I would urge anyone NOT to attempt to compare them with this. It's an incredible and challenging driving program which will leave a lasting impression on both experienced and novice driver alike. Luxury food and accommodation and wonderful ambience. Incomparable!"

Paul, England
Spirit of Speed by Tom Kristensen
With a 9 times Le Mans winner behind the program, only the best is good enough. The hand-picked mainly Scandinavian team offers bespoke and individual driving programs with one instructor per two drivers and maximum 5 cars in total. We have teamed up with Spirit of Speed by Tom Kristensen to ensure high level of uniqueness and spot on quality with their one of the kind performance driving programs.
We offer advanced driving time second to none but still keep a friendly atmosphere and "smiles per miles" count also up here. So, no matter if you are a first-time snow and ice driver or an experienced racer everyone will benefit vastly from our unique style of training.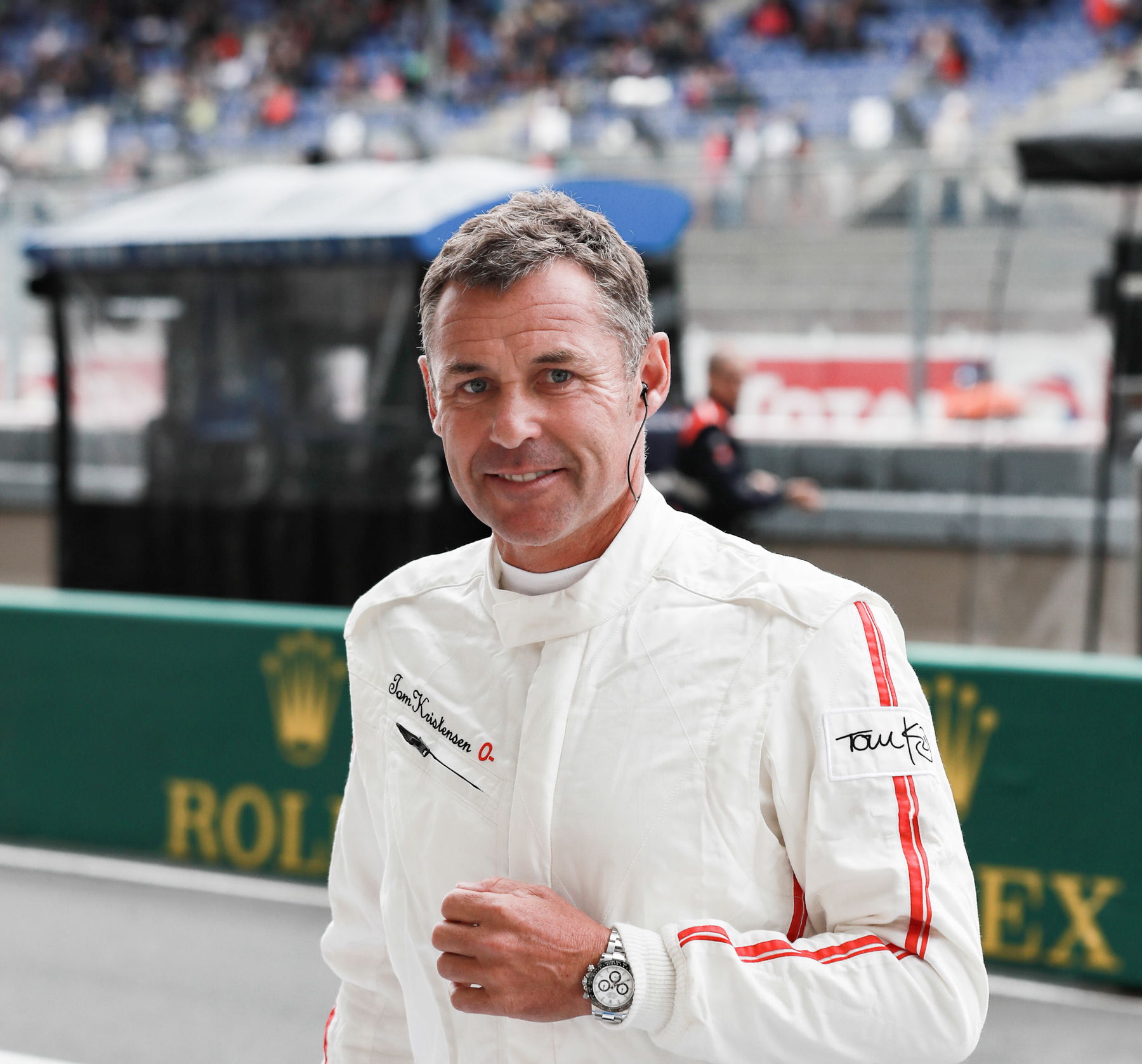 Programs
Spirit of Speed – ARCTIC CONTROL
Experienced or first time on the ice? Don't worry, we start out slow and finish fast. If you are inexperienced we will do a short introduction and then we aim for you to master the fine art of ice driving. Together with your instructor, you will define your perfect driving program with a combination of section training and full track driving to fit your individual skills and goals. Our unique intercom radio system makes communication with your instructor easy and comfortable.
Lots of driving time spiced up with our very special night-driving sessions are not to be missed, just like a tailor-made data acquisition system will add to our common aim to create the perfect drivers' paradise.
Spirit of Speed – ARCTIC RACE
It is all about speed and excitement under the careful eyes of Tom Kristensen! As during the Arctic Control program we aim for "driving heaven" but it does not stop here! We add the stopwatch, we let you rally through the forest on long hilly curvy tracks. Result is a real rally experience including pace notes – and you can race against your co-driver and the others in the group. To achieve this aim – we don't just tell you how to drive a stage, we teach you how to drive it as fast a possible – and let you push to and over the limit.
Procedure
ARRIVAL DAY
Individual arrival at the airport Kittilä.
The team meets you at the airport and shuttles you to the amazing accommoda-tion.
Take your time to "acclimatize" in our Villa equipped with a hot tub and sauna.
A short Check-In process will be carried out and you have a bit time to explore the amazing winter wonderland.
A local home-made Welcome Dinner awaits you. By now you are surely ready to get rest before the action starts tomorrow.
DAY 1
After an early breakfast, the team takes you to the driving area where a unique combination of ice and rally tracks awaits you.
A seat fitting by your personal mechanic will take place to ensure your comfort while driving the next days.
Before you enter the rally area you will meet your instructor and will attend a technical briefing covering the most important subjects to learn to master the car.
Finally a full day of training customized to your skills, abilities and goals! You start with section training to get to know the cars and tires. After a short introduction it is time for full track driving incl. individual data acquisition sessions.
Being 150 km north of the Arctic Circle means short days and long nights and "night driving" gets a whole new meaning to all driving here.
For the Arctic Race option we also add the pace notes preparation and Rally briefing
Day 2
After breakfast, it is time to head back to the driving area for more intense and customized ice driving.
Today we add to the experience longer tracks and the intensity keeps going up as much as you can handle.
For the Arctic Race option, you can opt for the full rally experience with a full timed session just like a real winter rally. Long stages and maximum adrenaline. If timing is not for you then keep practicing and enjoy this driving nirvana with even more "night driving"
Surely tired but full of adrenaline, it is time to head back to the accommodation for the Farewell Dinner.
DEPARTURE DAY
Breakfast is enjoyed and today can be the day where you find time for some of the optional activities.
When the time comes we will shuttle you to the airport where we will say "see you next year".
This Video gives a good taste of what to expect of Spirit of Speed Arctic.
INSTRUCTORS
TOM KRISTENSEN
9 times Le Mans winner, FIA World Champion, F1 test driver – Tom surely needs no further introduction, and he can become your personal instructor.
JAN KALMAR
15 years of racing and coaching experience has created his own style and made him co-creator of our programs.
CHRISTINA NIELSEN
The first female driver to win an international SportsCar Championship series title. Being brought up with Le Mans on the menu at home, her experience is second to none.
DENNIS LIND
Pro factory driver and with the DNA from a highly respected racing family. Dennis has a very high percentage of podiums and race wins including world titles.
TIM SVANHOLT
A life long rally addiction was surely founded when Tim watched his dad racing his Porsche RSR on the international rally-cross scene. Result was FIA European Rally Champion.
BENNY SIMONSEN
Danish racing driver with huge experience. With his driving talent, Benny will teach you all the moves you need to go dancing with your car.
TEEMU SVANBERG
Instructor with several years of driving experience. His skills guarantee vast improvements in your driving and rally skills.
KEIJO MÖLLÄRI
Local Finish rally driver and instructor. Ready to accelerate your ice racing skills and experience. A mix of iceman and passionate Latino…
FLEET
With Spirit of Speed you now get the chance to push a wide selection of rally prepared Porsches to their limits. Our powerful air-cooled 911 classics and water-cooled 911 young timers all have manual transmission, but we have an addition of the modern mid-engined sport version of the perfectly balanced Cayman R with the lighting fast PDK gearbox. All cars have a significant reduced weight as well as sports seats, belts and roll cage for your safety, and full underbody protection for limited wear on the nice bodywork. Driving aids are limited to ABS and even that can be disconnected if you feel like it, so you are all on your own.
Huge developments have gone into the special suspension so there is a perfect balance with the real World Rally Championship (WRC) tires that adds a whole new dimension to the experience – this is not just a standard road tire with slightly longer spikes. These are the exact works WRC tires which won the Swedish WRC Winter Rally! Yes, we have access to the works tires so we can offer you the best winter rally tire ever produced. Tires are 105 to 135 mm narrow, each fitted with tungsten-tipped metal spikes that protrude from the tread by between 6 and 7 millimeters. 384 studs in total! The result is lap times and control superior to any tire offered at other training. Why settle for anything less than the best?
You will have your personal car instructorwith you throughout the entire event to ensure everything is suited to you, and you will have the chance to try a wide variety of the famous Porsche engine and drive concepts. Rear wheel drive, rear engine, as well as all-wheel drive, and even the nimble and fast reacting mid-engined Cayman R that is sure to surprise everyone behind the steering wheel.
When you sign in, let us know if there is a car you prefer, then all efforts will be made to meet your special desire, but it is not until you master all the concepts that you can be crowned a real "ice professor".
LOCATION
But what are cars and team without a perfect track area? We are pleased to offer a huge upgrade compared to the past. Our new driving facility is massive and offers an impressive close to 300 km of track sections (compared to 16 km in previous years!) so you can easily get lost. But it is not all about volume – you will have rally stages, super stages, rallycross stages with bridges and huge track-banking only found here and nowhere else on the planet. Be ready to turn up the level higher than you ever imagined, and yes, some of our tracks were used for WRC rally in 2021 and world-class rally drivers use them as their practice ground!
Different types of forest, swamp and lake track areas with a variety of difficulty levels, height differences and layouts will make your heart beat faster. The area simply offers the ideal location for our Spirit of Speed Arctic programs. The demanding and challenging ice and rally tracks will become your playground and reward you for building up skills whilst flying fast and sideways through the Lappish Forest.
Our driving area is in a remote location, surrounded by wilderness and the unspoiled nature of wild Lapland, and of course with ice-cold arctic temperatures guaranteed.
Your accommodation is in Rovaniemi, the capital of Lapland in northern Finland and right on the Arctic Circle. The city is known for being the Santa Claus' home town and for viewing the Northern Lights. Despite being located so far north, Rovaniemi Airport is reachable with a 1.5-hour direct flight from Helsinki. The close proximity of Rovaniemi Airport and the lodge means convenient and short shuttle times.

ACCOMODATION
Our specially selected accommodation is the Glass Resort Premium Lodge with a unique blend of modern Nordic design and comfort in the heart of Arctic nature. You will have your own brand-new private lodge unlike any found in an ordinary business hotel. It is not only our team, cars and tires that are top class – your overnight stay also becomes an experience.
In the evenings, relax together with your fellow rally drivers in the lodge while your private chef prepares you delicious local foods. Many stories are sure to be told over dinners. We offer a full-service memorable stay which is not found elsewhere.
The spacious 350 m2 lodge offers open lounge areas to relax, sit together, chat and exchange experiences and impressions after a long day of intensive ice driving with sauna, exclusive outdoor hot spring and indoor fireplace included.
Team spirit is guaranteed but each customer will have the exclusivity of a private room with en-suite bathroom to ensure privacy. In some cases and depending on the number of customers we offer in addition the opportunity to choose between sleeping in the lodge or in a small individual house just meters away. Of course, the entire group stays together in the lodge to relax as well as for breakfasts and dinners – pure definition of luxury and Arctic Wilderness is waiting!
Dates, facts and figures of this extraordinary journey
Wave 1 Arctic Control 07 – 10 January 2023
Wave 2 Arctic Control 10 – 13 January 2023
Wave 3 Arctic Race 13 – 16 January 2023
Wave 4 Arctic Control 16 – 19 January 2023
Wave 5 Arctic Race 19 – 22 January 2023
PRICE PER PERSON:
Spirit of Speed Arctic Control – price starting from 8911 €
Spirit of Speed Arctic Race – price starting from 9911 € Tom Kristensen as a group instructor
PRICES INCLUDE:
4 days (2 full driving days)
Porsche 911 (964/993) Rally Edition with 1 personal mechanic per car
1 instructor per car
Personal Shuttle service
All non-alcoholic drinks
* Excluding return flights from your home destination.
All other prices upon request: Tom Kristensen as car or private instructor, Single Driver surcharge, Single room surcharge
Accompanying person: The accompanying person will be sharing a double room with the customer and is welcome to participate in the entire program besides the driving part.
ACTIVITIES:
A variety of extraordinary arctic experiences are available: Snowmobile Experience, Husky, Reindeer Sledding, Downhill, Cross Country Skiing etc. Full list of activity options can be provided on request. Most can be booked when you arrive, but to make sure of availability please let us know beforehand.
MISC:
Min. 6 – max. 10 participants. Information correct at time of publishing, due to the nature of the projects changes can occur!
Any questions? Please do not hesitate to contact us. We will gladly answer your question.
Organization:
Elferspot Experience is run and operated by: Jan Kalmar Beyond Adventure OÜ www.jankalmar.com