We from Elferspot Magazine are always looking for interesting, exciting or even extraordinary Porsche stories. We are especially interested in the people behind the wheel, who with love and passion make these cars their personal treasures. The world wide web and social media platforms offer a wonderful playground to get in touch with interesting personalities. This time we had the opportunity to talk to the Swiss car nut Maxim. And this much we can already reveal: Maxime is an expert and when it comes to Porsche, he knows what he is talking about.
Max, we have been following each other on Instagram for a long time. Now it's finally time to talk about your connection to the Porsche brand. You own two 911s, which are a dream come true for many enthusiasts. But more on that later. First, a simple question: Who are you?
First of all I would like to thank you for the invitation to this interview. As a Porsche enthusiast like me, I have been following Elferspot for a long time and I'm a fan of your great content.
My name is Maxime. I am born in 1990 in Geneva, Switzerland. Since my youngest age, I have always loved any type of object with an engine, but more specifically, cars. I don't exactly know where it comes from, but I suspect it has something to do with my father. In fact, during my childhood, he always had cool family cars such as Audi RS2, RS4 B5, RS4 B7 (yeah, I know mostly Audis, but the RS2 already had some Porsche parts!) and I am sure it helps (if I can say) to grow my love for cars.
Fast forward to my 18th and my driving license in the pocket, my first car was a 1996 Honda Civic 1.5l with which I learned the basics of driving, and I did my first laps on racetracks near my home (mostly in France). Then I got numerous BMWs either for track use (E36 M3's, E46 M3's) or daily drive (E91 335i, F31 340i,…).
You know the rest of the story; I now own two Porsche, and my father also grew his love for this brand as he now owns a Porsche 991.1 GTS as a daily drive, a 991.2 GT3, and a super fun '74 Carrera MFi (yes, the one with 2.7 RS engine and gearbox for ¼ of the price!)
Wow! This is a great collection. Lucky you. Now to the first of your two dream cars, the Porsche 997.2 GT3 RS. How did this acquisition come about?
The GT3 RS has always been a dream for me, and I suspect it is for many car nuts. It always represented the pinnacle of sports cars, in my opinion, and when I saw some during track days that I did, I just couldn't stop to think that this car has everything it needs where it needs it.
In 2017, I arrived at the point where I had my E46 M3 for 3 years and needed some change. It was the perfect moment for me to start searching for my Eleanor, a 997 GT3 RS. I visited two nicely spec'd Grauschwarz exemplars, but both had some things that I disliked. One day, still searching for the right example, I landed on a PTS Guards Red. This one was for me! Went to see the car, came back with it. The color was superb, not typical, the car was well maintained, accident-free, and I just fell in love with it!
What do you like most about the 997 GT3 RS?
I could have bought a Porsche 991 GT3 RS, but the 997 seemed like the perfect car. The overall balance of the lines, the manual gearbox, the legendary Mezger engine, the sound, the feeling you get into the hydraulic steering, everything works perfectly together. The result is a pure engaging car that gives you more smiles per gallon than any other car!
It is slower than 991 GT3s, it's undeniable, but it brings you much more than that!
What I love the most about the 997 GT3 RS? The level of engagement it gives you back in every corner, in every acceleration, at each gear change.
From your Instagram, we also see that at some point, the racing virus got you. You spend a lot of time on the race track with your GT3 RS. Tell us more about it!
Like I said before, I always had a track prep'd car aside from my daily car. I really started to be more engaged in race track since my E36 M3 in 2013. Ever since I never stopped! I would say that my favorite track is, no doubts, the Nürburgring Nordschleife. The love for this track started in 2011 when I did my first laps there. Since then, I did over 1000 laps! Back to my story, when I sold my E46 M3, I knew the GT3 RS would follow the same path and go on track as well. I've also been to other tracks Spa Francorchamps, Imola, Magny-Cours, Dijon,…
I would say that my favorite track is, no doubts, the Nürburgring Nordschleife.
I was convinced that the RS would not need as significant modifications as my BMW's. Still, I have also done some modifications to it, such as KW Competition suspensions (Manthey setup), full roll cage, brakes, Drexler LSD, short shift, Akrapovic exhaust, solid bushings, and Team Schirmer chassis setup that made the car less drivable on streets but really fast on track! Almost keeping up with well driven 991.2 GT3 RS!
Let's talk about costs. As is well known, racing is very expensive. Even in the amateur sector. What are your experiences here?
And you're right! I'm lucky that I don't have to calculate all my expenses, but it is far from cheap to run that type of car on the racetrack. The price of the setup I did on my RS is about 30'000€ in addition to the price of the car. But it doesn't stop here. A set of tire (Pirelli Trofeo R) costs about 1'800€ and it last 2 track days (or a weekend at the Nürburging). You can add a regular engine and gearbox oil change for 600€ (every 2-3 track day), the pads, the discs, the fuel, it really starts to go relatively high. Plus, the price for each lap of tourist drive at the Nordschleife or the cost of track days (1'000€ per day for a Manthey Trackday). But hey, when you love what you do you don't count, and I can say that every Euro spent is entirely worth it!
But hey, when you love what you do you don't count, and I can say that every Euro spent is entirely worth it!
Now to your second treasure. You also have a Porsche 964 Turbo in your garage. So, air and water complement each other perfectly in your fleet. Why was it the 964 Turbo?
Two years ago, I really wanted to buy myself a classic Porsche that would fill the gap that the RS let open, a car to drive during the weekends, road trips, and having fun on the road.
For me, the 964 is one of the most beautiful cars that Porsche made, still not too big, but already with an excellent level of comfort. When I came across the listing of that Amethyst purple 3.3 Turbo, it looked perfect to me! Yet powerful enough, with the old school turbo kick in the ass, and easy to drive even during long trips. I went to see it, and I bought it! As simple as that! The car was stunning, delivered with a binder full of invoices, pictures, a list of previous owners, and even a win at the 2016 Porsche Mollis event organized by the Federation of Swiss Porsche clubs. And the stunning Amethyst color suits so well to that car, I just couldn't let it pass.
For me, the Porsche 964 is one of the most beautiful cars that Porsche made, still not too big, but already with an excellent level of comfort.
If you now directly compare the 997 GT3 RS and the 964 Turbo. Where are the biggest differences? Do you have a favorite?
The most significant difference is that they are not made for the same use. On one side, there's the Turbo with its pure 90's turbocharged engine where you have nearly no power under 3'500rpm, then you get that massive kick that rocket the car, the chassis is quite soft but still enjoyable to drive as the rear end slides a bit which allows you to place it as you want, the interior is simple, but everything you need is at the right place. On the other side, there's the GT3 with its razor-like chassis that challenges your back, the gearbox is hard to maneuver but extremely precise, the engine has good torque on low rpm's and screams all the way to 8'600 RPMs.
In the end, I would say that it's two very different cars, each with its advantages, but they definitely are the two best cars I have ever driven!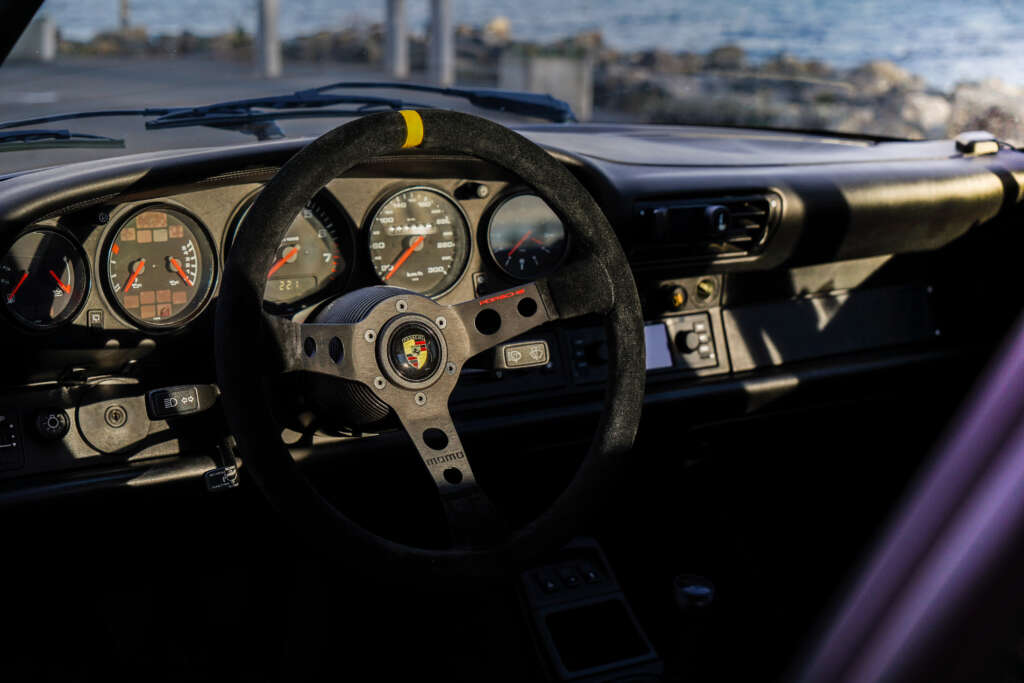 What was your best Porsche moment ever? Can you pick one?
One of my best Porsche moment was the day I took delivery of my GT3. It's not really original, but I can still remember the feeling I got when I sat inside and started to go back home. I was the happiest person on earth, driving my dream car, and thinking about all the next great moments I will live with it in the future.
One of my best Porsche moment was the day I took delivery of my GT3.
If you could pick another Porsche 911 today, which one would you choose and why?
It's hard to say! Sometimes I think of buying a recent GT3 RS as a replacement car to my 997 GT3 RS. I had the opportunity to drive some 991.2, and they are insanely fast cars, with the crazy engine and the PDK gearbox that makes the car so capable on the track. But recent 911's are becoming really big, maybe a bit too big for me.
If I was to buy another 911 right now, it would be a 964 RS because I love the look and the purity of it.
Maxime, many thanks for the interview and the insights! It was a pleasure talking to you.
We thank the following photographers for the great pictures: