Never confessed your love to your childhood crush, missed an important penalty, failed a test… All wasted opportunities, which we gladly regret. And this is exactly what could happen to anyone whose heart beats for the Porsche 996 GT3. Today in the Elferspot Magazine: Five good reasons to buy one of the first 911 GT3s right now.
1. The Porsche 996 GT3 is already a modern classic
The reactions of the industry to the fried egg headlights of the Porsche 996 are still echoing. Same goes for the cry of the die-hard air-cooled Porsche fans concerning the change to water-cooling. But the fact that the presentation of the first Porsche 911 GT3 took place more than 21 years ago seems somewhat surreal.
Just to clarify: In 1999, you had to pay with the Deutsche Mark in Germany and Pesetas in Spain, Bill Clinton was president of the USA and Steffi Graf won the French Open. This is not to say that the GT3 genesis belongs to the old iron, but it's already considered as a modern classic.
2. It still performs
Even in 2020, the performance of the Porsche 996 GT3 is quite remarkable. With Walter Röhrl at the wheel, the 996 GT3 was the first production car to complete a Nordschleife lap in less than eight minutes. It was also the first water-cooled 911 with a top speed of over 300 kph or 186 mph (302/306 kph).
Porsche's GT3 homologation model is fired by a 3.6 liter Mezger engine, and accelerates from 0 – 62 mph in 4.8 seconds. Deceleration isn't too bad either. With modern tires, it takes less than 36 meters to brake from 100 km/h to 0 km/h. Not at all bad for a car from the pre-flatscreen TV era…
You can happily rev out a Porsche 996 GT3 without having to worry about losing your license already in second gear.
While it is true that a Porsche 992 Carrera S outperforms the 996 GT3 in every measurable way, but crucial difference between them is about how they deliver the power. We are talking about a proper, naturally aspirated engine of the olden days. Its basic construction goes back to the Porsche 962 and was a real tech-fest in its time. Thanks to titanium con-rods, the rev-limiter hits at 7,800 rpm for the 996.1 and 8,200 rpm for the 996.2. Staggering numbers for a 20th century road car.
Offering "just" 360 or 381 hp respectively, the Porsche 996 GT3 is only 911 GT3 that you can put through its paces even on public roads without having to worry too much about losing your license. That way you can enjoy the charismatic sound of the six-cylinder boxer engine at the rear to the max.
3. Its weight
Weight is the biggest killer in automotive engineering. More weight means worse acceleration, fuel-consumption, handling, etc. Hence, weight reduction is a hugely important objective for every engineer. However, this is opposed by wishes for better noise insulation, crash safety and, for example, emission regulations.
When the Porsche 996 GT3 was launched, gasoline particulate filters were not yet an issue. A traction control is just as much a vain search as back seats. Moreover, it was based on the narrow body of the Carrera 4, so that it looks quite dainty by today's standards. Also inside it is reduced to the essentials. The result? No other Porsche 911 GT3 is as light as the 996 GT3. The driving experience can almost be described as telepathic. Everything happens immediately, without any delay. This is how a sports car must feel!
4. The Porsche 996 GT3 is the rarest 911 GT3
Porsche had originally expected to be able to sell 1,350 models of the 996.1 GT3. This number was clearly exceeded, but with 1,868 units, the Porsche 996.1 GT3 is still the rarest 911 GT3 to this day, apart from the RS models. Of the facelifted 996.2, 2,313 GT3 and 682 GT3 RS were sold. For comparison: In total, there are 9,500 991.2 GT3s out there!
Anyone who values exclusivity should therefore consider the first water-cooled homologation model from Stuttgart. At the same time, the narrow body is not particularly noticeable. The aerokit was also available for the Carrera. On the one hand, an exquisite club, on the other hand, always a bit under the radar…
5. Its price
As mentioned at the beginning, missed opportunities can keep you busy for a very long time. The Porsche 996 GT3 could be one of those opportunities, which could keep you awake at night, if you don't take it now. The prices sank in the high phase of the air-cooled 911s to absurdly low levels. This low point, with offers way below 50,000 Euros has now been passed. For reasonable cars today you should calculate 10-15,000 Euros more nowadays. This means, you're paying roughly 60-65 per cent of its original MSRP. Compared to its successor, the Porsche 997 GT3, whose prices are around 75-80 per cent of its sticker price. Especially when taking Porsche Motorsports own insecurity about the future of naturally aspirated engines into the equation, that number gives you a hint of the Porsche 996 GT3's potential in terms of its future value.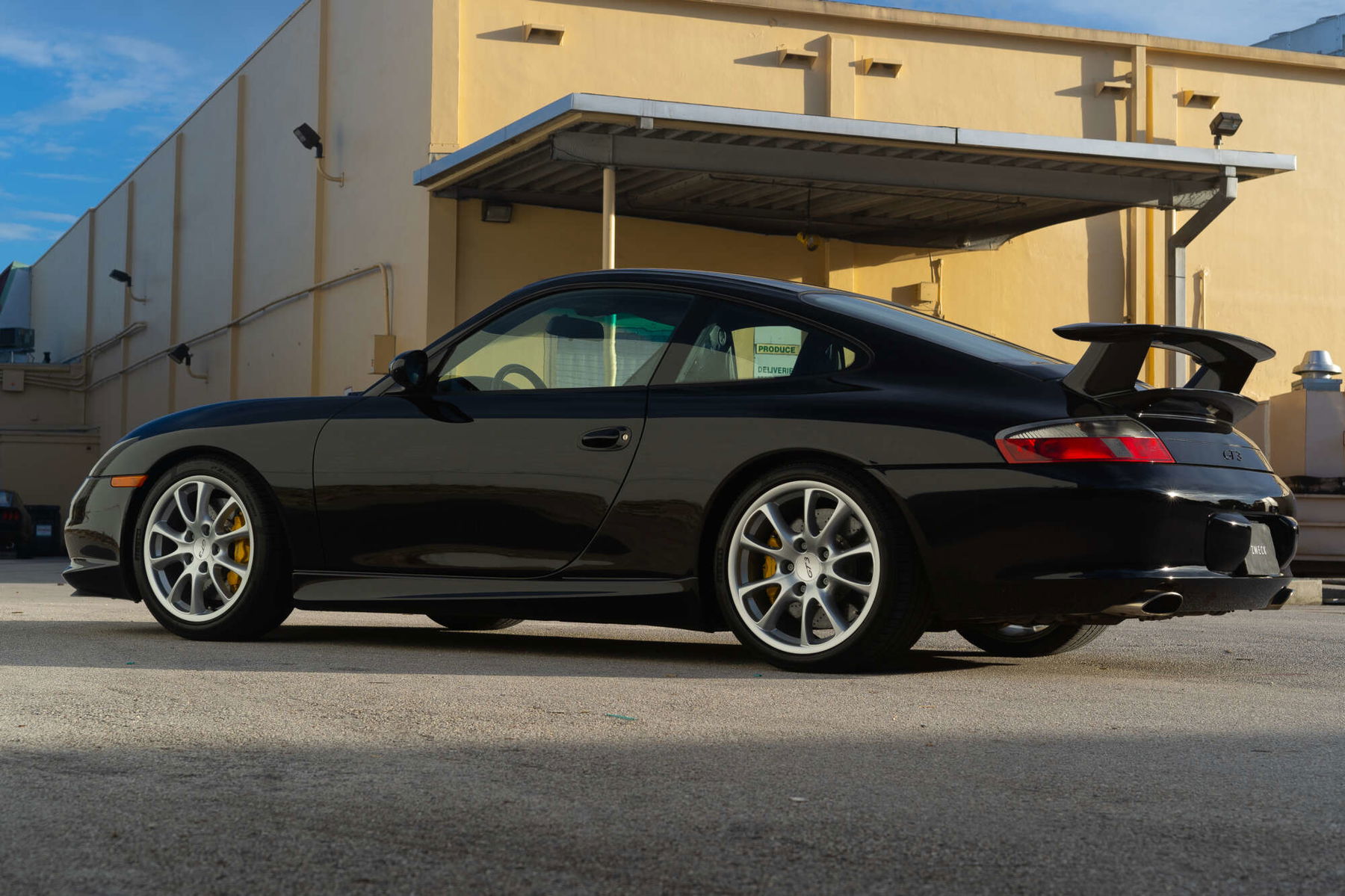 But the often disdained Porsche 996 GT3 isn't just a bargain to buy either. Compared to other GT or even RS models, its running costs aren't stratospherically high. Especially tires and brakes (if you can do without PCCB ceramics, though) are surprisingly affordable. Of course, that shouldn't be the decisive factor, when it comes to buying a sports car of that caliber, but still, it's reassuring to know.
So in case you're in the market for an exclusive, quick and puristic sports car and don't want to spend six-figure sums, you should hurry up! Curious?