Crime scene: Geneva, 1995, Motor Show. Porsche unveiled a real monster of a car – the Porsche 993 GT2. The first to ever wear this badge. It didn't just look extreme, it was extremely expensive as well with its 270,000 DM price tag. Wanna get one today? Then prepare to pay that price, multiplied by ten. Welcome to the story of the holy grail of aircooled Turbo Porsches!
The Porsche 993 GT2 was a real homologation special
It's hard to believe, but during one of the most difficult economical periods in the company's history, Porsche seriously decided to build a homologation special. And it's totally obvious to notice, that the 993 GT2 is that machine. The arches were cut out and hugely flared plastic fenders were bolted directly to the car. There even were air intakes in the huge rear wing to let the turbocharged power plant breath a bit more freely.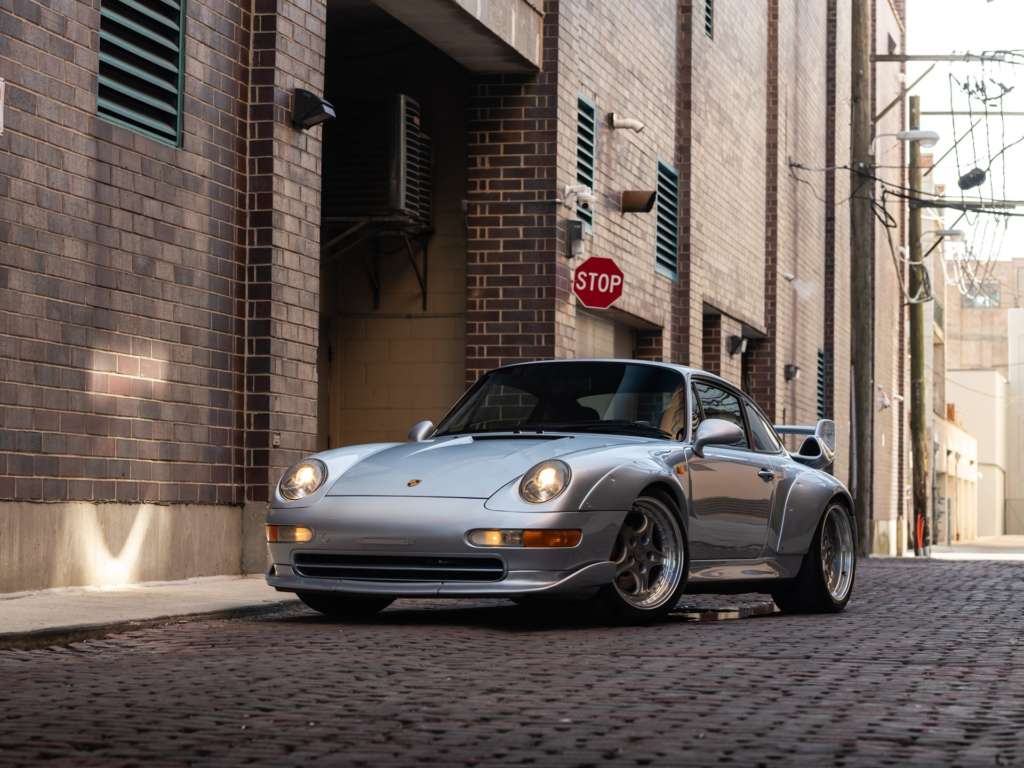 But the Porsche 993 GT2 wasn't just showing off. Underneath its body, there were a few changes as well. The engine may have been pretty similar to the 993 Turbo's, except for some twiddling with the ECU, but gone was the all-wheel-drive system. A constant fight between the rear wheels and 430 ponies and 540 Nm of torque right at the edge between static and sliding friction was taking place. Of course without such things as traction control…
Porsche put the 993 GT2 on a very strict diet
Anyone who knows one or two things about Porsche knows, that Zuffenhausen's GT department hadn't stopped working after adding a bit more power. The Porsche 993 GT2 got very light Speedline wheels, which were partly made out of magnesium. To lower the center of gravity, they used thinner glass from the 993 Carrera RS and the rear seats had to go just like electric power windows and electrically operated mirrors.
Saying that this did the trick would be pretty understated. With 1,295 kilograms the 993 GT2 was more than 200 kilograms lighter than the Turbo! Thanks to that, the GT2 is the lightest, most powerful, quickest and fastest Porsche 993. Not a single aircooled Porsche can come close to matching the measured 3.9 seconds from 0-62 mph and 184 mph top speed.
To alter the Porsche 993 GT2's gearing for more top speed, the engineers used a very simple trick: They neither changed the gearbox, nor the differential. They geared up the car by just using larger diameter tires. So the then nearly broke Zuffenhausen brand saved a lot of money and development.
Needless to say, the GT2 was offered with an optional Clubsport package. That included a roll cage, a battery kill-switch, even tighter bucket seats with six-point-harnesses, a fire extinguisher and a dual mass flywheel. Naturally, a lot of Porsche 993 GT2s were raced and therefore abused very hard. So today it's very difficult to find a car which hasn't been crashed during its life. Prices do easily reach seven-figure sums for such examples.
Not even 200 Porsche 993 GT2 were made, in 1998 Porsche only built 21
When looking at the production numbers, which didn't even sum up to 200 cars, that shouldn't hit you by surprise. From 1995 until 1997, Porsche built 172 993 GT2s. The slightly changed 1998 model was only built 21 times and these are even more expensive. For that last hurrah of the Porsche 993, the M64/60S engine of the Turbo S was put into the GT2's back. It made 450 hp and 585 Nm of torque, thanks to bigger KKK turbos and more boost. Top speed reached 186 mph. Prices started at 287,500 DM.
This Porsche 911 GT2 was auctioned off.
Of course, Porsche 993 GT2s aren't for sale that often. This very example was auctioned at RM Sotheby's at 25th of march. With its understated polar silver paint, it even looks a bit innocent. It has a black/grey two-tone leather interior and was equipped with air conditioning, electric windows and a top-tinted windscreen. A few years ago, the car made its way to the United States from Japan.
Just like most of the GT2s, this example has very low mileage. It has only covered 18,712 miles during its nearly 24 years of existence. The passengers will be held in place by the lightweight two-tone seats in almost any situation. In contrast to the many modified 993 GT2s, this example is completely original.
It even wears its original paint and hasn't been resprayed at all. This outstanding condition is protected by a clear-bra, which covers the whole front of the car, including its mirrors. Now its up to you to get yourself a very well looked after example of the most extreme, most expensive, fastest and therefore ultimate aircooled Porsche 911. The holy grail, so to speak…
Pictures: Jeremy Cliff