When we went live with elferspot.com in 2017, one of our first stories in the magazine was about Bill Haleen and his very special Porsche 996 Carrera 4S. Nearly 3 years later we realized that Mark Micire bought the car some time ago, and the story about this unusual Porsche 996 has an exciting sequel. We met with Mark for a talk to find out his story.
Thank you, Mark, for taking the time to talk to us about your extraordinary Porsche adventures. First, the question: Who are you? 
Mix one part computer geek, one part gear-head with a dash of patient stubbornness and you have the formula for most of my personality. On the weekends I am usually deep in some project related to cars, reading about cars, looking at photographs of cars, photographing cars, talking to friends about cars… you know, cars. It is a problem, but I can think of more harmful vices.
I try to live by the mantra, "Life is too short to drive boring cars," and I have been fortunate to have owned some fun ones. My most recent and treasured is a tastefully modified 2004 Porsche 996 Carrera C4S. I have never owned a car more agile and universally capable. You can feel Porsche's racing pedigree in every turn. I feel incredibly fortunate to have found one of my absolutely perfect dream cars.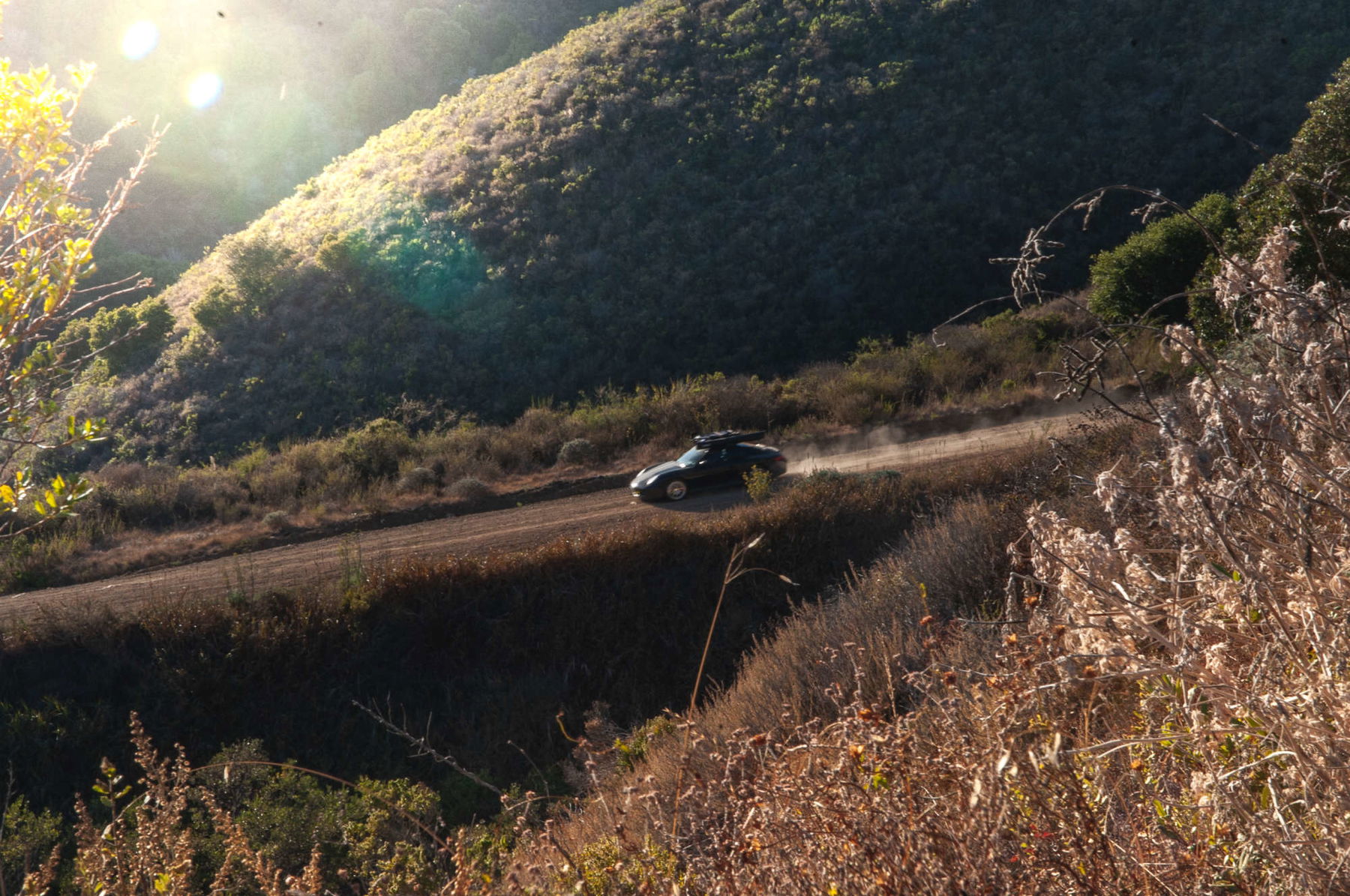 Did you buy the 996 Carrera 4S from Bill? How did it come about and why this particular car?
Back in mid-2016, I owned a BMW M Coupe Clownshoe, and I was looking for a roof rack that would fit its narrow and curved roofline. After many evenings of obsessive google searching, I found a blog discussing various roof racks, and the article featured Bill's 996. I remember thinking to myself, "Damn, now that is a beautiful car."
I messaged him immediately and said, "You know I'm in. Name your price. I'll make it happen."
Fast forward almost two years later. I really loved the Clownshoe and asked Bill to do a photoshoot with it. The shoot and the resulting photos were phenomenal. The problem was that I got to see his "Rebelrook911" in person; I was positively smitten.  I knew the Porsche was beautiful in his photos, but the in-person experience was on another level. While enjoying some burritos after the shoot, I asked Bill to give me the right of first refusal if he ever decided to sell the car. I remember him smiling as if to say, "Yeah, right," and I didn't think another thing of it. Six months later, my wife texted me unexpectedly, "Bill just put his Porsche up for sale on Instagram!" I messaged him immediately and said, "You know I'm in. Name your price. I'll make it happen." We worked out the deal, and several weeks later, I was on an airplane to San Diego to pick up my prize. As to why this particular car, I have to give full credit to Bill's aesthetic.  The stance, rims, matte black on gloss black decals, roof rack… the reasons go on and on. This car is as beautiful at 100 yards as it is at 1 foot. Virtually every light on the car is smoked.  The matte racing stripes give a respectful nod to the car's racing heritage while keeping the overall appearance subdued and classy. I have owned the car for well over a year, and I am still finding parts that I didn't realize were wrapped in tint or matte black vinyl.  Bill was absolutely obsessive about every detail on the car, and the result is positively sublime.
When did your enthusiasm for Porsche start?
I distinctly remember being five years old and seeing a black 1981 Porsche 911 SC coupe at my father's warehouse after kindergarten. One of his neighbouring business owners had just picked it up from the dealership. I was mesmerized by the curves of this car; it was unlike anything I had ever seen.  The headlights, the curved fenders, the whale tail — this car was magical to me. I grew up in Central Florida, so during my teenage years, my father and I would drive south during spring break for the 12 Hours of Sebring.  My father worked for Anheuser Busch and volunteered to coordinate beer deliveries for the race in exchange for paddock and pit passes. This is the early 90s, so IMSA and GT-cars were absolutely in their heyday.  I can still recall the other-worldly cars, the deafening noise, the smell of the fuel and hot tires coming off the track.
My dad was a flagman in the mid-seventies, so he knew his way around the track and was a great mentor.
My father used to patiently sit with me and explain how the bigger cars might have the advantage on the straights, but "…watch the Porsches when they get to the turns.  See how that Porsche didn't brake until the last moment? Now let's see who comes out of that hairpin first." These much smaller and more agile cars were terrorizing the track with a dramatically different strategy.  My dad was a flagman in the mid-seventies, so he knew his way around the track and was a great mentor. He passed away a few years ago and would be proud to know I eventually got one of our dream cars as my daily drive.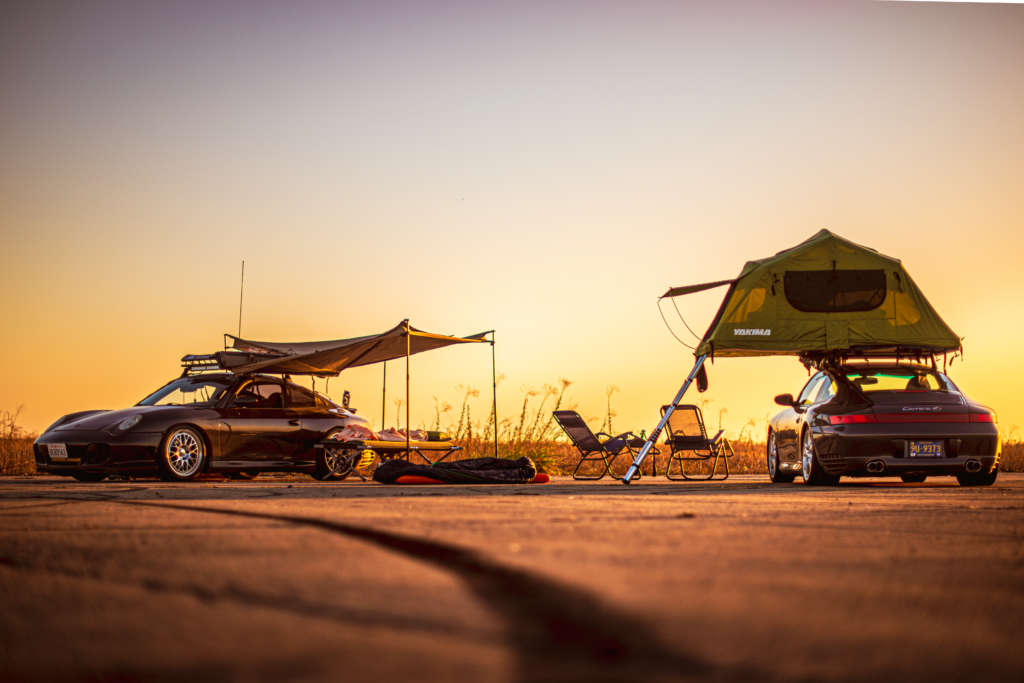 What was your wildest experience with the 996 so far?
I'd have to say there are two. In early 2019, I drove several hours to an abandoned airfield in California's central valley. It was still dark when I rolled onto the runway, and there was a cold and dense fog covering the valley.  As the sun started to rise, I suddenly realized the massive scale of the empty airport. There before me were runways over a mile long and as wide as a six-lane highway!  The atmospherics from the fog and the sun cutting through the clouds made the backdrop absolutely surreal. This was very early in my photography learning, so I didn't entirely know what I was doing. Still, I was sure this was a once in a lifetime photoshoot. I didn't stop taking pictures for the next five hours. Several thousand photos later, I knew I had captured something special. I still consider it one of the best days of my life with one of the most beautiful machines I will ever own.
I still consider it one of the best days of my life with one of the most beautiful machines I will ever own.
Second, my wife and I made a cross-country round trip from California to Michigan to visit her family.  After a breathtaking drive through the Rockies, I knew that a long stretch of Highway 50 lay ahead of us.  Highway 50 is known as "America's loneliest road." It has some of the longest, straightest, and fastest largely abandoned roads in the US.  I half-jokingly asked my wife permission to, "…Cannonball Run the drive tomorrow?" To my surprise, she agreed. Exchanging a pair of wicked smiles, we made it from Grand Junction, Colorado to Santa Cruz, California in 13 hours with meals and fuel stops.  I'll leave the average speed as an exercise for the reader, but suffice to say the car was dramatically fast, rock-solid, and exceeded my every expectation.
What modifications did you do to the 996?
I had the opportunity to do a photoshoot with Brock Keen of @996roadtrip, and we decided to have a little fun. I installed a pair of off-road rally light bars, roof awning, and a large CB antenna on my roof basket to contrast with his Yakima roof tent. Brock, Brandon Haley, and I drove to the abandoned airport and we had an absolute blast camping out, talking about cars, and of course racing up and down the airstrip photographing our twin 996 Porsches.  I have since removed the awning and antenna, but I am planning on keeping the light bars installed.  I live in the mountains and visibility is critical when you have the possibility of animals on the road.  The Baja Designs lights are incredibly powerful. My plans are to smoke the lenses slightly to blend them with the roof rack and front grill while they are powered off.  Since the C4S does not have a centre radiator like the Turbo, the front air intake is perfect for a powerful light bar at road level.
I am a roboticist and computer geek by training, so my next modification will be to tap into the CAN bus and ECU to begin storing engine performance data.
I am a roboticist and computer geek by training, so my next modification will be to tap into the CAN bus and ECU to begin storing engine performance data. My 996 is frighteningly smart for a decade-and-a-half old vehicle. I plan on combining a high-tech understanding with traditional car care to keep this thing running forever.
In your Instagram profile, you describe yourself as a guy with an unhealthy obsession for cars.  That sounds exciting. Tell us more about it. 
They say we geeks don't have hobbies, we have obsessions. I have been fascinated by anything with wheels since I was old enough to look out the window of my parent's station wagon. My mother lovingly recounts my proclaiming from my child seat how many wheels were on each semi-trailer truck that passed on the highway. The obsession started early and has been a theme throughout my life.
They say we geeks don't have hobbies, we have obsessions.
Another one of my strange obsessions has been late-seventies and early-eighties soft rock. The music is genuinely horrible stuff, but my brain adores that era for some reason. Because I couldn't always come up with a creative caption for an Instagram post, at some point, I decided to start putting these song lyrics to my photos. My wife regularly looks at me strangely when I post a photo of my Porsche along with a sultry, love lyric from Kenny Loggins, or I post a sad, breakup lyric from Toto for a vehicle I should have never sold. It is super weird, but I own it. Fortunately for me, she finds it strangely charming.
What are your plans and goals for 2020? The Corona crisis has cast a big shadow over the year, but there will be a time after that. What else do you want to experience with your Porsche? Are there any special ideas?
In December, we moved from the US to Western Australia and exported the car. I plan on exploring some of the fantastic roads and landscapes Australia has to offer. The colours and landscapes here are unlike any place in the world, and I hope to continue honing my skills as a photographer with this amazing backdrop.  There are thousands of miles of empty highways, given the country's low population density. I have only seen two 996s in my three months here. I suspect that my new petrol-head mates will have a good time critiquing this Yankee's design choices and modifications to an otherwise perfect German sports car.
I am grateful we moved to Australia, but four months driving a compact rental car while waiting for my Porsche has drained my soul a little.  I am looking forward to the therapy of a long, fast, and loud drive up the coast of Western Australia with nothing but empty beaches and the open road ahead of me.
Mark, many thanks for the really very exciting conversation. We wish you many more breathtaking moments and good luck and health for your future.
We would like to thank the following photographers for providing the great pictures. You can find all photographers also on Instagram. Here are the links: