2 cars found
Porsche 918 Spyder for sale
You want to buy a pre-owned Porsche 918 Spyder?
Here we present you some information about the 918 and some pre-owned Porsche 918 Spyder for sale:
When talking about the Porsche 918, one basically distinguishes between two models. The racing car is called Porsche 918 RSR, which was developed from a Porsche racing car study. The somewhat better known street-legal model is called Porsche 918 Spyder and is one of the super sports cars of the Porsche family. In 2010, this sports car was presented at the Geneva Motor Show. The unique drive concept consists of three engines (one combustion engine and two electric motors) and delivers a maximum output of 652 kW (887 hp) on the road.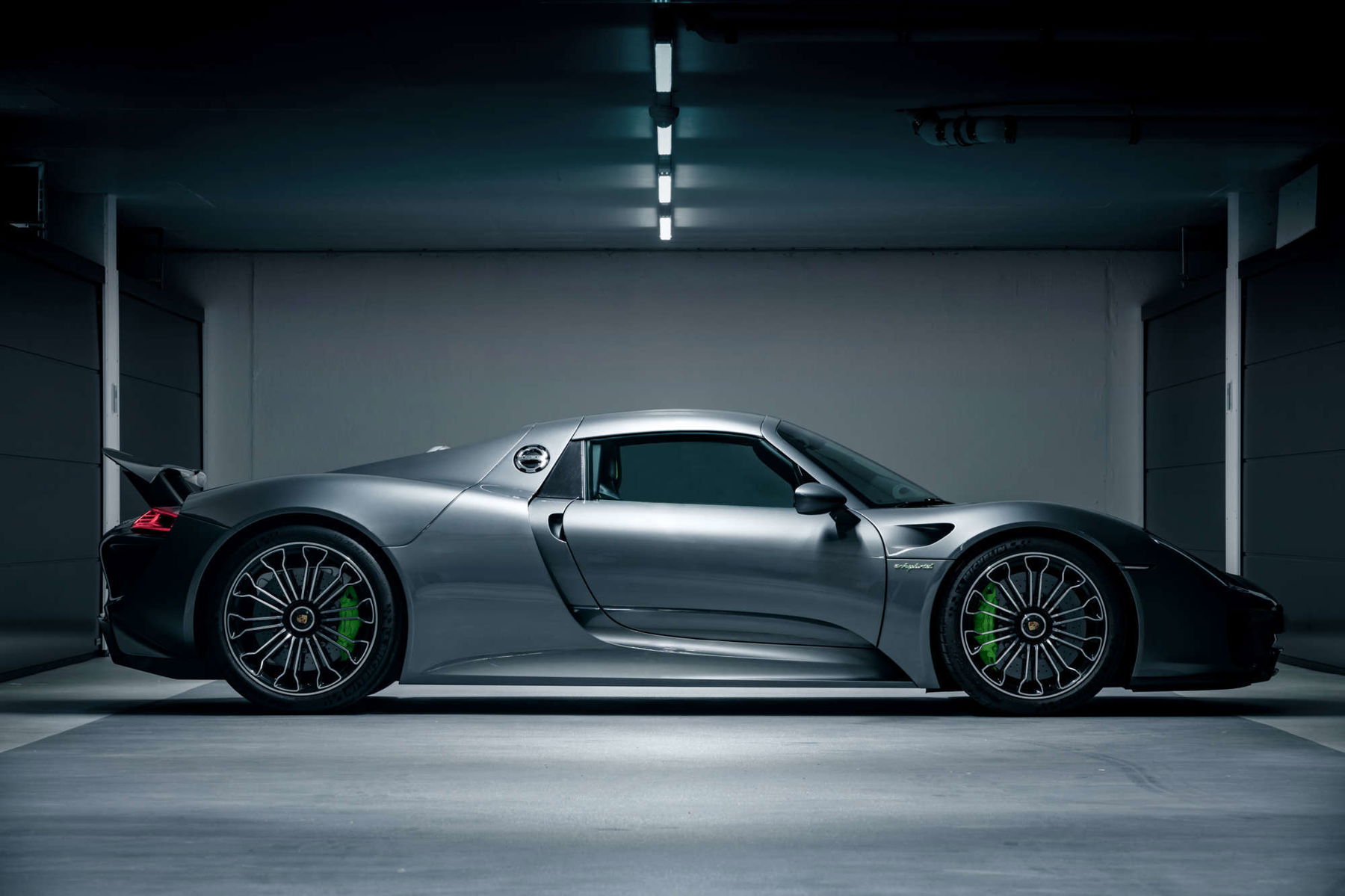 The drive concept of the Porsche 918 Spyder
As mentioned above, the Porsche 918 uses a combustion engine and two electric motors simultaneously. The naturally aspirated V8 engine, which is placed in the middle of the Porsche 918, alone produces a total output of 608 hp with 4.6l displacement. This combustion engine is based on the drive of the Le Mans racing car Porsche RS Spyder and is placed in the center of the Porsche 918 Spyder. As a driver you can choose between 4 driving modes by means of a selector switch, which is located directly on the steering wheel:
E: Electric
H: Hybrid
S: Sport
R: Race
If you drive the Porsche 918 Spyder purely electrically, you will have a total range of 25 kilometres. It makes sense to drive the 918 Spyder at least in hybrid mode. Here, the combustion engine is connected and the batteries of the two electric motors are recharged when the opportunity arises. In sport mode the combustion engine comes more and more into focus, whereas in race mode the batteries of the electric motors are unrestrainedly discharged and the engines call up full power.
More on this topic:
In our Elferspot magazine, you can find some interesting articles about the Porsche 918 Spyder: Porsche 918 >>
Technical specifications about the Porsche 918:
Model year: 2013–2015
Model name: Porsche 918
Engine type: Naturally aspirated 4.6 L V8 engine and two electric motors
Engine capacity (cm3): 4600
Body versions: Coupé, Roadster
Power output (kW/PS): (652 kW) / (887 PS)
© Picture: Keno Zache for Marcel Müller Motors