3 cars found
Porsche 964 Turbo S
You are looking for a pre-owned Porsche 964 Turbo S for sale?
Here we present you information and some Porsche 964 Turbo S for sale:
Porsche's Exclusive department conceived this model near the end of the run of the 964 Turbo. A batch of coupes went to Exclusive to receive the "S" upgrade specifications. This meant 385 horsepower out of the 3.6-liter flat six (the X88 engine designation produced 25 horsepower more than the base 3.6 Turbo, derived from the IMSA 3.6 engine built by Andial).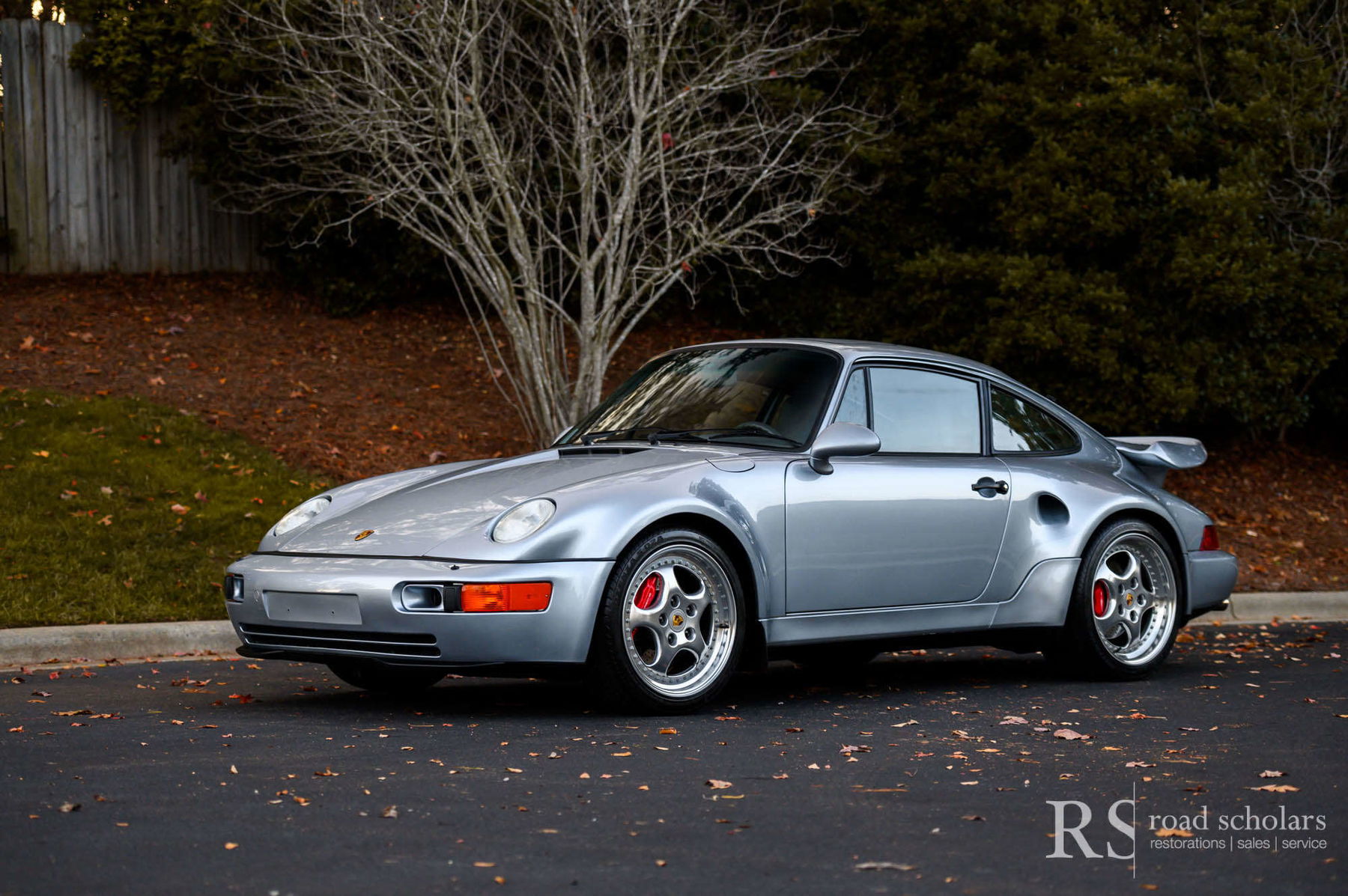 Exclusive accomplished this power increase with a bigger KKK turbocharger and better intercooler. Further more larger ports in the cylinder heads, bigger fuel injectors and more efficient tweaks to the timing were used. All of this together planted more power and better aero on the base 3.6 Turbo chassis and suspension. The model was guided by the famed G50 5-speed transmission.
Porsche 964 Turbo S Flat-Nose
The flat-nose option was $60,000 USD back in 1994, serious money by today's standard, that brought the X85 window stickers to over $160,000 USD. WOW!  Exclusive's boss Rolf Sprenger developed the flattened front end from the Typ 935 racecar. As a result, you got the pop up headlamps, air intakes on the rear quarter panels (quasi 959 in style), special front splitter, rear wing with louvers, quad exhaust tips, and—in many opinions—the best wheels ever fitted on a 911.
This car was a brilliant design of this era which achieved sub-four-second 0-60 times and raced through a quarter mile in approximately 12 seconds. Needless to say Porsche used all the technology that was available in the 90's and produced a sexy Turbo S that is absolutely exhilarating to pilot.
If you are looking for used Porsche 964 Turbo S for sale and would like more information, you can find more about the Porsche 964 here:  Elferspot Magazine – Porsche 964
Technical specifications about the Porsche 964:
Model year: 1989–1994
Model name: Porsche 911 Turbo S
Engine type: 6-cylinder boxer engine (air-cooled) with Turbocharger
Engine capacity (cm3): 3300 (3600)
Body versions: Coupé
power output (kW/PS): 280 kW / 381 PS
© Picture: Road Scholars