A guest contribution by Chris Siebenaler
The Porsche 911 has competed in nearly every major motor racing series one can recall. Its unconventional rear-engine layout combined with industry-challenging witchcraft by Porsche's engineers have cemented the 911's status as a motorsport legend in its 50-year racing career. Though a relatively small blip on the radar, the inaugural 1974 season of the International Race of Champions allowed the '74 911 RSR to stretch its legs stateside.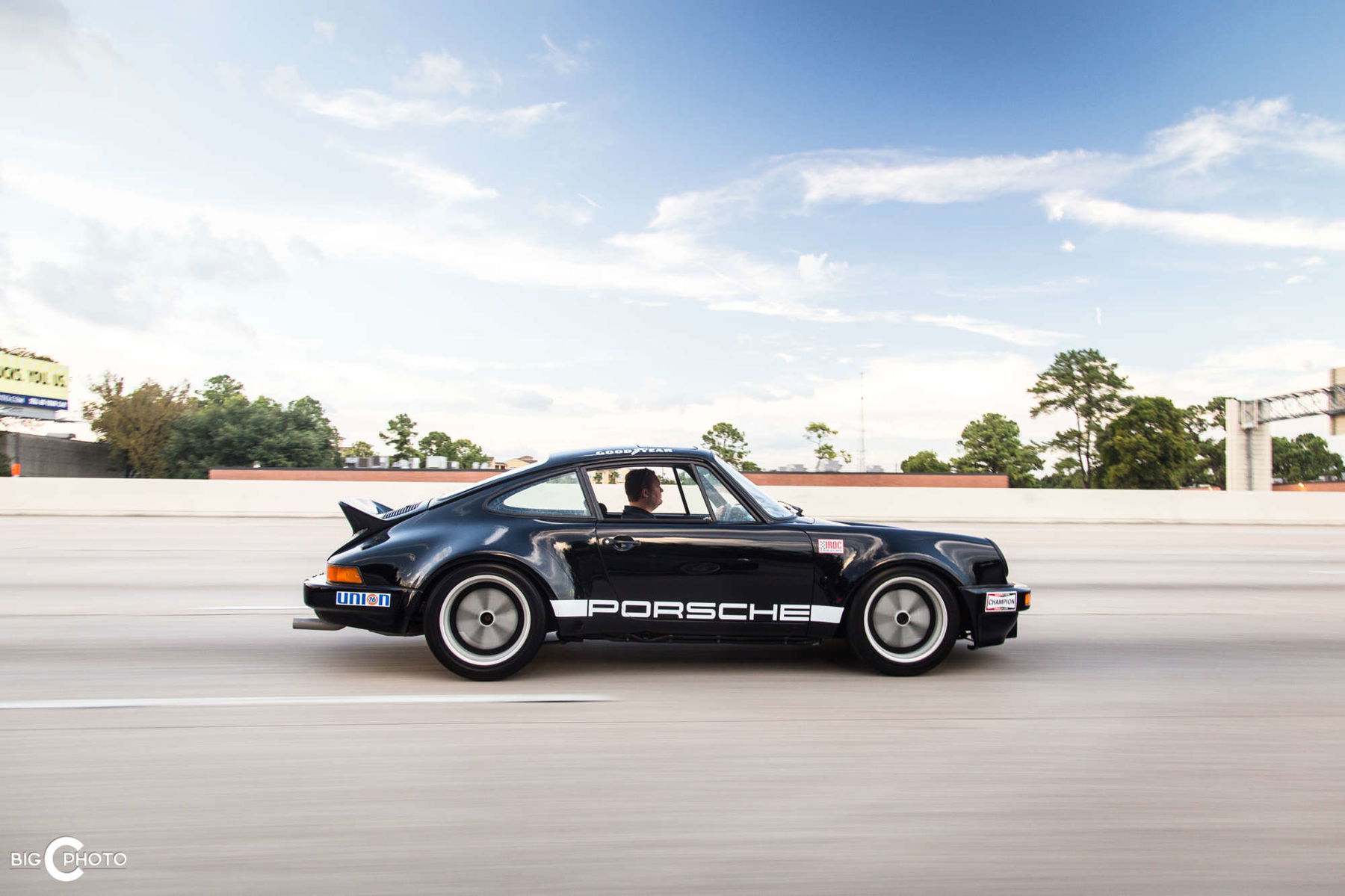 The '74 RSR has been the basis for hundreds of tribute builds over the years, and a recent commission by Pennsylvania-based Porsche specialist workshop RS Werks has made its way to Texas in true IROC fashion.
The donor car was a 1988 Porsche 911 3.2 Carrera Coupe, and in its one-year plus transformation, no panel, nut, or screw went untouched.
You'll hear it far before you see it.
Undergoing a full rotisserie restoration, the car boasts many hours of body work performed, as steel 930 Turbo flares were implemented along with IROC-style fiberglass bumpers. The stock 3.2-liter engine was ditched for a larger 3.6 from a 964 and was mated to a rebuilt 5-speed G50 transmission. Additionally, a fully custom-fabricated exhaust by RS Werks provides a bellowing yet beautiful rasp. You'll hear it far before you see it. The car also sports its factory Black paint.
While some vintage RSR features are preserved, a few choice details help separate it from the lot of RSR tributes that have been built over the years. 17″ Fuchs replicas by Fikse help to give this car a modern vibe and provide beefier fitment under the widened fenders than the more traditional 15″ wheels. A fiberglass ducktail acts as the main source of downforce over the rear wheels, and LED headlights cap off the stunning front end. And since the car now resides in Houston, electric Air Conditioning was an absolute must.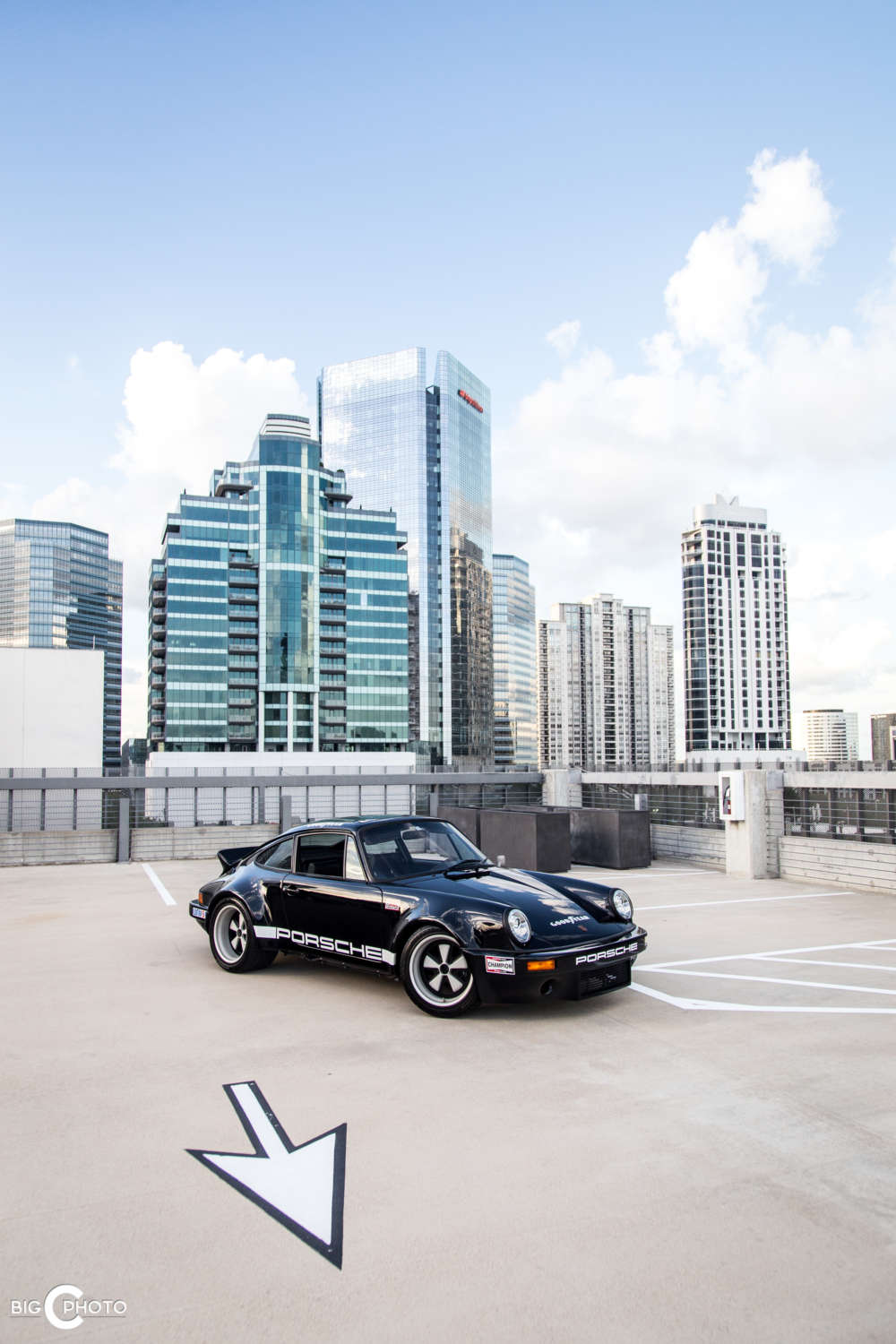 As far as modified air-cooled 911's go, this is one of the few that simply stops you in your tracks and makes you wonder how it all came to be. It's one of those builds that emotes why every 911 is a blank canvas that houses potential for a myriad of modifications and customizations, even if the finished product appears as if it came directly from Stuttgart.
It isn't a showroom piece, although it is beautiful.
Just like its predecessors on the racetrack, this IROC tribute has found its way into a lifestyle of regular exercise. It isn't a showroom piece, although it is beautiful. As the cliché goes, these cars were built to be driven, and driven hard. Do that, and they will reward you in kind with endless smiles per gallon.
Pics and Text by Chris Siebenaler 
Car owner: www.p911r.com
The Specs
Donor: 1988 Porsche 911 Carrera 3,2
Rotisserie: Bare Metal Restoration
Chassis number: WP0AB0910JS121109
Exterior color: Black A1 (Factory Original Color)
Interior: Black, Wooden Shift Knob, Restored Gauges, RS Door Cards, Rear Seat Delete
Seats: Vintage Bucket Style with Tartan Inserts
Suspension: Coil overs
Body: Steel 930 Turbo Flares
Body: IROC/RSR Bumpers and Ducktail
Engine: 3.6 Liter Flat Six
Transmission: G50
Wheels: 17″ x 9″/11″ Fikse ZF in RSR Finish
Lighting: LED High Discharge Lights
HVAC: Electric Air Con by Classic Retrofit
Exhaust: Hand Crafted by RS-Werks
Delivery country: USA