Ah, the 90s… musically, geopolitically and economically a wild, exciting decade. But also for us petrolheads, the 90s are something like a golden era. Cars from the the end of the last millennium offer analog driving pleasure with little weight and still contemporary performance. A spearhead of that era is the Porsche 964 Turbo. Turbo engine, rear-wheel drive, no traction control – certainly no car for beginners. What makes the second generation Porsche 911 Turbo so special and what you should look out for when buying, you can find out in this Elferspot buyer's guide!
The Porsche 964 Turbo is elaborately designed and exceptionally well built
Since the Porsche 930 launch back in 1975, the 911 Turbo has been considered the biggest attraction among the 911s. After a one-year break in production, the 2nd gen Turbo was introduced for the 1991 model year with the 320 hp 964 Turbo 3.3. And just two years later, there was the 964 Turbo 3.6 liter with 360 hp. In the illustrious circle of Stuttgart's forced-induction top models, the 964 still enjoys an excellent reputation today. It is regarded as mechanically robust and very well made. It is also visually appealing and skilfully quotes the original form of the F model. At first glance, it is not obvious that more than 80 percent of the parts under its pretty dress were newly developed from scratch. But the new chassis with McPherson struts was considered a revolution at the time. The combination of Cup wheels and the flared Turbo hips also makes the 964's already very attractive silhouette even more exciting and charismatic.
3.3 or 3.6? WLS or Turbo S? There is a lot of choice…
A potential buyer's first decision should regard the engine configuration. If money is no object, you should naturally go for the 964 Turbo 3.6. The new engine based on the M64 with 3.6 liters of displacement was introduced in 1993. With 360hp and significantly more torque over the whole rev range, it is much livelier than its predecessor. The M64 powered car thus stays under five seconds from 0-100 km/h – reaching high way speed within 4.8 seconds. A special position falls to the Porsche 964 Turbo 3.3 WLS. This is what models with the X33 option code are called. Only 192 customers chose the option for this works tuning, which delivered 355 hp. Performance was on a par with the later 3.6-liter model, with even more explosive power delivery.
By the way, all Porsche 964 Turbo models are hard-drinking companions, even if this is probably of minor importance. 18 mpg (UK) is rather the lower extreme value. However, two reasons make for a very small offering and very high prices: Due to its starring role in Bad Boys, the Turbo 3.6 in particular gained a great deal of media attention and ended up as a poster car on countless children's bedroom walls. In addition, there simply aren't many left. After just over 1,400 Porsche 964 Turbo 3.6s made, production ended.
The Porsche 964 Turbo 3.3 is less "slick", but no less exciting!
But the 964 Turbo 3.3 built in 1991 and 1992 is a clear recommendation as well. The M30 turbo engine's basic design had a decade and a half under its belt, but still performs today. The aged 3.3 liter engine achieved 320 hp and catapulted the 1,470 kilograms to highway speed in exactly 5 seconds. Up to 3,000 rpm, not much happens at first, but when the turbo spools up, there are no questions left unanswered. Sure, the 3.6 is more confident and refined, but the rapidly climbing torque curve of the smaller engine also has its charms. By the way, both Porsche 964 Turbos are good drinkers, even if that should play a subordinate role. 18 miles per gallon (UK) is rather the higher extreme value.
Rust usually means improper repair work
As with all vehicles, regular maintenance minimizes the likelihood of expensive repairs. Problems are often detected during regular inspections before they become threatening. A complete service history is therefore always a plus. Be it via the checkbook, receipts, Carfax or similar. While slightly extended intervals are less of a problem with correspondingly low mileage, the red alert is sounded for rust! The entire body of the third generation 911 is fully galvanized. So if you discover dent plague, it's usually due to improper accident repairs. Thanks to the sudden conversion of boost pressure into propulsion, some 964 Turbos have been drawn to guard rails like magnets. Paint layer measurements should therefore be mandatory before buying!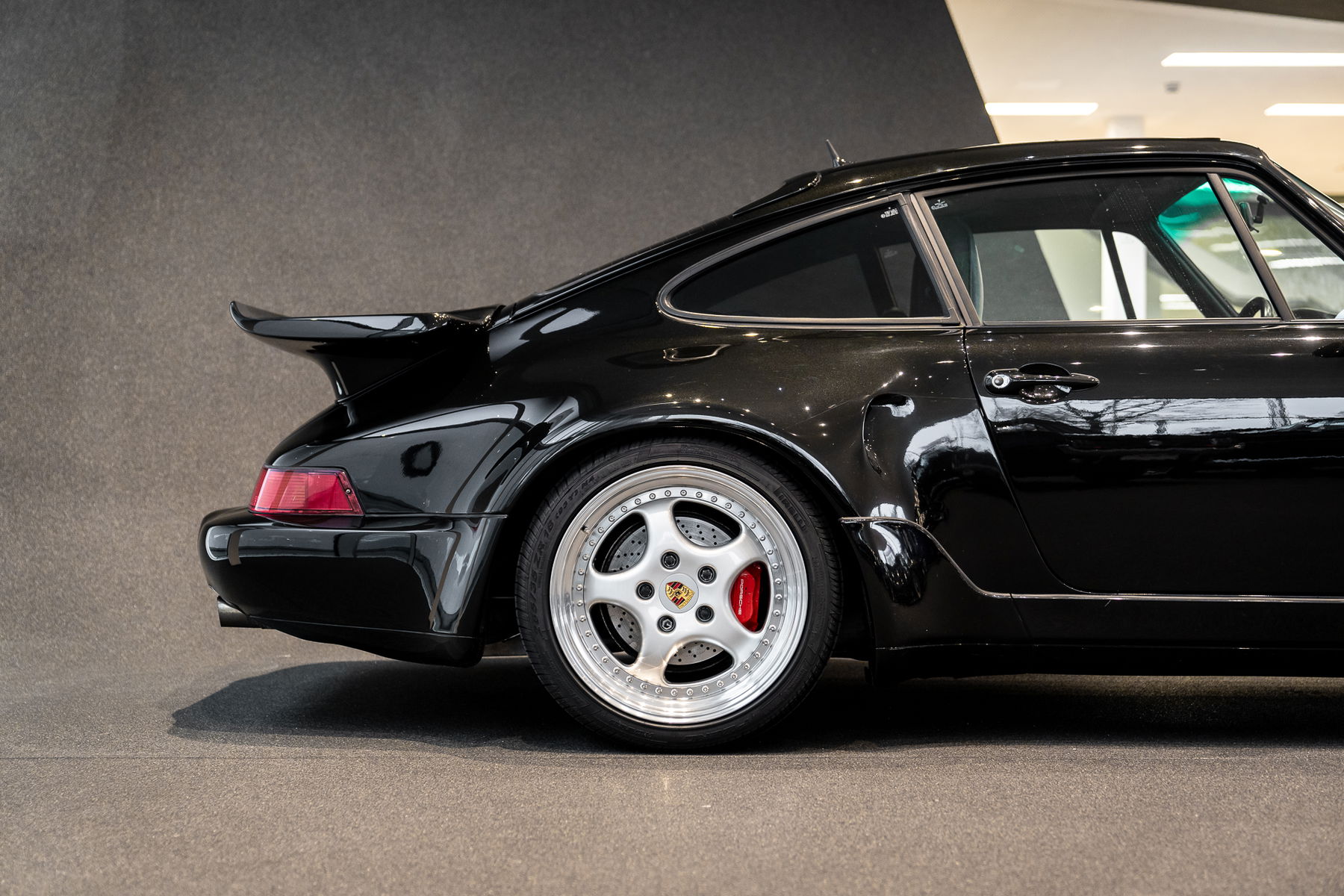 For the same reason, you should also take a close look under the carpets in the frunk. Advice from a professional can certainly help to avoid accident damage. In general, the tips for the 964 Carrera also apply to the Turbo. Other hotspots can therefore be the battery box, sills and A-pillar. Irregular panel gaps are, as usual, a cause for closer inspection. If you find touch-up marks on the paint, this should not be seen as a negative in general. After all, a stone chip means that the zinc coating could also be affected. Therefore, touching up the stone chips is always better than leaving bare metal exposed! An underbody inspection isn't an easy task, as the whole underside of the car is covered flat for better aerodynamics. If parts are missing here, it will be expensive in any case. Damage to the floor pans is usually caused by heavy touchdowns.
Early 964 Turbo 3.3 with low mileage should be checked particularly closely
The basic design of the Turbo's engines is still considered to be the most solid 911 units today. The Porsche 964 Turbo is no exception. Cautious warm and cold running is eminently important for a long turbo life, but it is almost impossible to check. Proof of regular valve clearance checks, on the other hand, is indispensable. Early models with M30 engines, however, were equipped with a somewhat problematic flywheel from Freudenberg. The rubber spring used there is known for failure symptoms around 40,000 mls. From 1992 on, LUK dual mass flywheels with metal springs were used. Especially early 3.3s with very low mileage should therefore be checked whether a replacement has already taken place.
With age, the oil lines of both units tend to incontinence and can even burst. Due to their position directly in front of the rear wheel, it can also become dangerous very quickly, not just for the engine. A precautionary replacement can therefore be a worthwhile investment. Action is required at the latest when leaks are visible. In contrast, exhaust systems are of the very highest quality. But after three decades, the flanges in particular can gradually burn out. Original Porsche exhaust systems, complete with catalytic converter and heat exchanger, cost almost five figures. That's why you should take a very close look.
The 964 Turbo's gearboxes are robust and shift well
The manual five-speed transmission of the 964 Turbo caused little to no trouble. A Tiptronic was not an option at the time. The basis was the G50 transmission, which was built in numerous variants. It is considered to be extremely robust, and synchronization problems are rarely the order of the day. Even if problems do arise, the supply of spare parts is assured. However, a transmission overhaul by a specialist will still cost a hefty four figure sum.
The braking systems are first-class, as with all 911 Turbos. After the step to the 3.6-liter engine, the already fantastic system of the 3.3 was replaced by that of the Turbo S. This also gave the 3.6 three-piece Speedline wheels. By the way, the 3.6 also got the three-piece 18″ Speedline rims. If the 964 Turbo is driven properly, discs and pads wear out logically also quite fast. Disc brakes and shock absorbers on the 964 Turbo are not cheap as original parts. If the discs and pads have recently been replaced, this is a real plus. However, the Turbo 3.6's alloy brake calipers tend to seize.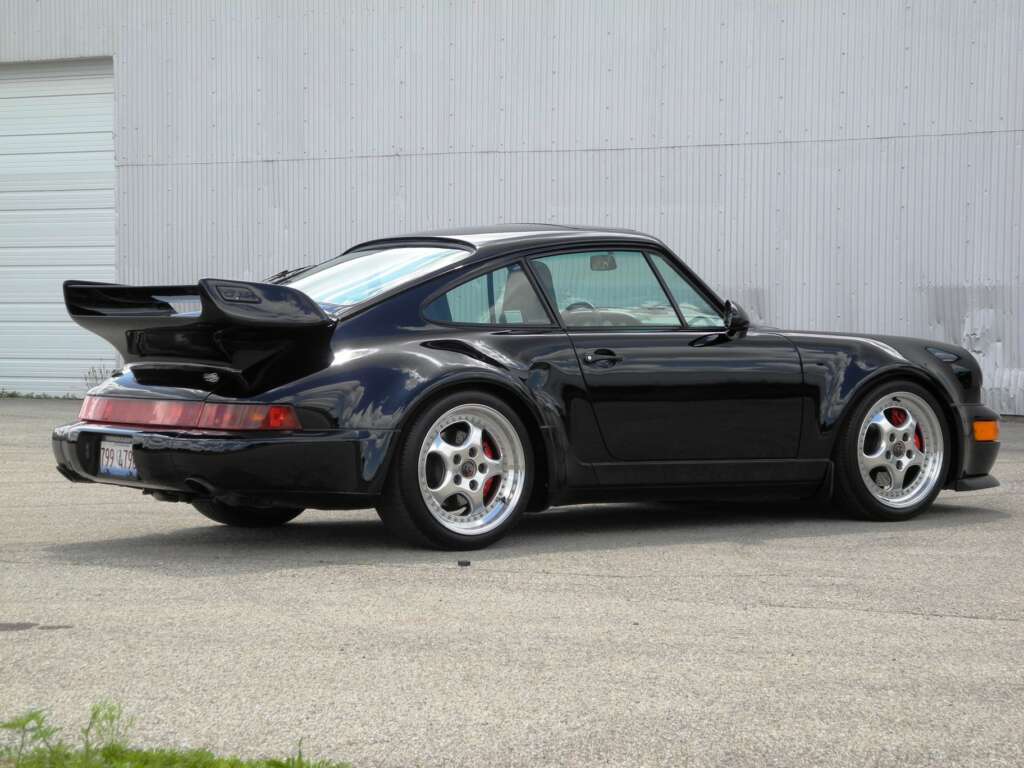 The high quality of workmanship is continued in the interior
Many electrical and electronic comfort features have found their way into the Porsche 964. Even though the build quality of the components and the reliability of the electrics is good overall, all available "goodies" such as power windows, air conditioning, electric seat adjustment, etc. should still be checked for function. An occasional defect with the instrumentation, which uses transmitted-light technology, is moisture-induced peeling paint film in front of the indicator lights. Some vehicles are severely affected by this, others not at all. Also susceptible to defects is the LCD display of the on-board computer in the tachometer. There are companies that specialize in repairing these instruments, which is ultimately cheaper than buying a new complete instrument, which would otherwise be due.

The Porsche 964 Turbo is one of the most expensive ways ever to drive a sports car made in Zuffenhausen.
The maintenance of a Porsche 964 Turbo 3.3 as well as 3.6 costs a lot of money. However, since these models were never really cheap to buy, the well-preserved examples are in the majority. Regularly maintained cars in very good condition with low mileage make for the majority of the classifieds. Anyone who had the money to spend over DM 200,000 on a new 911 Turbo 3.6 in 1993 could and usually did afford to have it serviced by Porsche. And those who had a 964 Turbo in their garage even ten years ago rarely used it for their daily drive to work. A 911 Turbo has always been almost too good for that.
In any form a proper classic – potential buyers shouldn't hesitate!
Anyone who can afford the six-figure purchase price for a 964 Turbo, and is not bothered by the quite noticeable maintenance costs, will enjoy one of the most beautiful nine-elves ever every day. At the same time, it is quite comfortable and well-equipped for a '90 supercar. At the same time, the driving experience is raw and analog. It will always be something very special to have a Porsche 964 Turbo in your garage or collection. Especially the Porsche 964 Turbo 3.3 WLS and the Turbo S models are rare and sinfully expensive. Therefore, you should not hesitate too long when you have found a suitable specimen, because it could be sold again very quickly. And who doesn't want to feel a bit like Will Smith and Martin Lawrence in Bad Boys?
Technical data and production figures Porsche 964 Turbo 3.3 / 3.6
model year: 1991-1994
model name: Porsche 964 Turbo 3.3 / 3.6
engine layout: 6-cylinder turbocharged boxer engine (aircooled)
engine capacity (cm3): 3.299 / 3.600
bore x stroke (mm): 97 x 74,4 / 100 x 76,4
engine power output (kW/PS): 235/320 at 5,750 rpm / 265/360 at 5,500 rpm
engine torque (Nm): 450 at 4,400 rpm  / 520 at 4,200 rpm
compression ratio: 7,0 : 1 / 7,5 : 1
valvetrain: OHC (single overhead camshaft), 2 valves per cylinder
injection: manifold injection
ignition: dual ignition
gearbox: 5-speed manual
wheels (front / rear): 7,5 / 9 J x 17 or 8 / 10 J x 18
tires (front / rear): 205/50 ZR 17 / 255/40 ZR 17 or 225/40 ZR 18 / 265/35 ZR 18
brakes: 322 mm ventilated discs at front, 299 mm at the rear
wheelbase: (mm) 2272
dimensions l x w x h (mm) 4250 × 1775 × 1310
kerb weight: 1,470 kg
acceleration 0 – 62 mph: 5.0 / 4.8 s
top speed (mph): 172 / 174
production numbers: 3,360 / 1,437
Important note: We go to great lengths to illuminate the most important topics and facts and to discuss them conscientiously. Nevertheless, we can not guarantee completeness and accuracy. Our editors work to the best of their knowledge and belief. An Elferspot Buyer's Guide can only be part of an overall assessment and should not be used exclusively for a purchase decision.