Admittedly, dealing intensively with the subject of car care was not very high on my well-filled list of spare time priorities. I had a very pragmatic and, as it turned out, also a very semi-professional approach to this subject. One or even several buckets of lukewarm water spiced up with a few squirts of mild detergent and some old towels. That's exactly what my basic equipment for a car wash Saturday has looked like so far. Polish? No, way too elaborate. "Shines just fine without polish," I thought to myself. Wax? I used to use it all the time when I still had hair on my head. But why should I smear something like that on my car? At least, when there was really a lot of dirt to remove, I sometimes used the high-pressure cleaner.
A car care amateur with the professionals
Fortunately, an exciting project arose through my network, which should suddenly multiply my car care know-how. On behalf of Elferspot, I was invited by Swissvax Germany to a Porsche detailing day. Literally invited, because I didn't have to pay anything for it. "If you like us, please feel free to write a report about it for your readers in Elferspot magazine," was the deal with Swissvax Germany boss Curt Bloss. So to speak, a free local inspection for a car care amateur. For one day, I was allowed to watch the professionals through my camera as they gave our newly acquired 2012 Cognac brown Porsche 991 Carrera 4S a soothing wellness treatment. For an entire workday, I was given the opportunity to watch people perform their craft with quite a bit of love. However, some stupid questions earned me a wry look from the actual boss of the house, Barney the Labrador.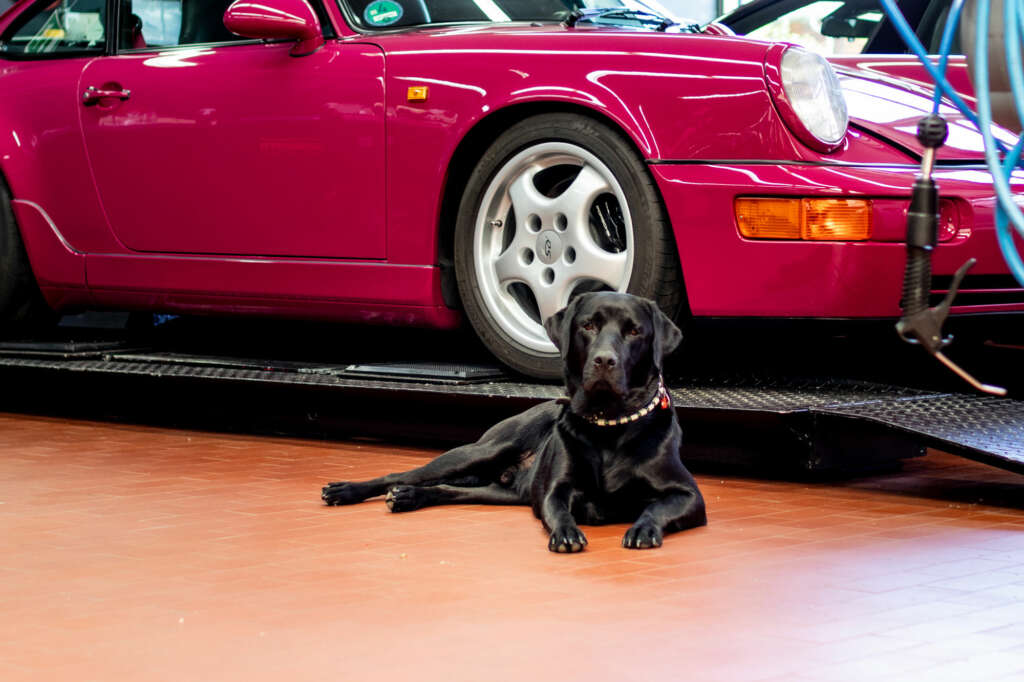 Welcome change
Since my daily work is very digital, the visit to Swisswax Germany was a most welcome change. And at the same time, it was also an inspiration to work more analog myself in the future. Professional car care by hand is the perfect thing to do.
In my opinion, there is something very fulfilling about washing a car.
You see the result of the sweaty manual labor immediately and ideally shiny in front of you. Has anyone actually calculated how many calories you burn during a proper car wash by hand? I'm asking for my sister's brother.
It all began at the kitchen table
Back to Swissvax. Who or what is that actually? Most readers are certainly familiar with the name. Swissvax is a strong international brand in the premium and luxury segment of automotive care.
The Swiss company with worldwide locations offers a complete care system for automobiles and yachts. Swissvax's slogan "Care for your dream" could not be more fitting. The range consists of washing, cleaning, care and sealing components. Swissvax's first and now best-known product was originally created at the family's kitchen table. The old drugstore "Anwander" in Zurich was both the laboratory and the production site for the first cans of carnauba wax for automobiles and boats, which were originally produced only for the personal use of grandfather and company founder Hans Anwander.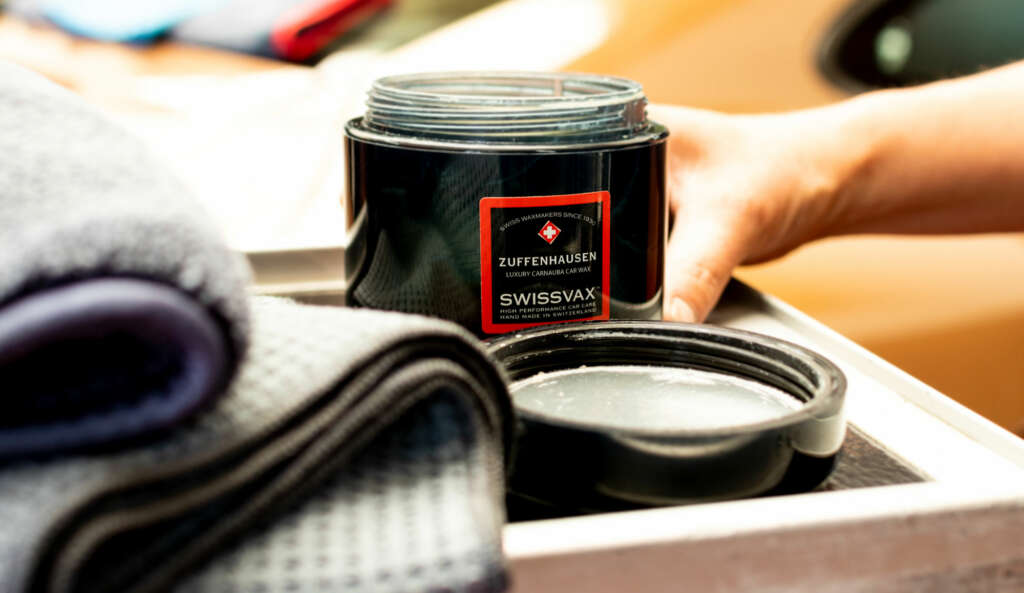 What makes Swissvax special?
These products are still made exclusively by hand in the wax manufactory and filled can by can. The high-quality and very special recipes do not allow industrial production. But what makes Swissvax wax so special and also so expensive?
I was able to learn that unlike conventional polishes, Swissvax waxes do not contain abrasives.
Therefore, these waxes can be used on all types of paints: On modern water-based paint systems, on so-called nano paints and even on old nitro paints. The waxes are effortless and pleasant to use and leave no white residue on rubbers or edges. And on top of that I can report: They smell incredibly good.
What is Carnauba?
Carnauba is the hardest, purest, most transparent and also the most expensive natural wax in the world. It is extracted from the tops of the leaves of the Brazilian fan palm "Copernica prunifera" and classified according to color and clarity. The highest quality is classified as rare Grade One Carnauba. Incidentally, this Grade One is used in the manufacture of Swissvax waxes. I had the professionals explain to me that the more carnauba in a formula, the higher the gloss level. While conventional car waxes have just 3% to 5% carnauba wax content, Swissvax formulations contain 30% to 76% by volume, one of the highest concentrations available on the market.
Carnauba is the hardest, purest, most transparent and also the most expensive natural wax in the world.
Fruit oils make the difference
The waxes from Swissvax differ significantly from conventional polishes in that they are enriched with oily extracts of passion fruit, oranges, avocados and vanilla. This optimized formula restores the lost deep shine to the paintwork and does not leave the lower layers of paint drier and drier, as is the case with other products. A lacquer maintained with Swissvax allows this unique "wet look" to emerge. And that's exactly what excites enthusiasts and collectors worldwide. So am I. The result is really impressive. I was even more impressed by the very easy and uncomplicated application. The wax warmed up in the hand is applied immediately also with the hands on the varnish and afterwards with a special microfiber fluff cloth after-treatment. Exactly this after-treatment is very simple and does not require strenuous polishing.
My glossy conclusion
It's not hard to get someone as clueless as me excited about car care. However, I had not expected to return home so impressed by this day. At this point I also have to praise Daniela Friedl from the Swissvax Germany team. Dani took good care of me and especially of our Carrera. (And in between she also took care of her dear dog Barney).
The products, their benefits, application and quality were explained by Daniela and the Swissvax Germany team in an unagitated, patient and extremely competent manner.
You could tell with every move that experience and routine meet with pleasure in the work here. An unplanned result of this visit is that we now offer two different starter sets from Swissvax in our webshop. Since we generally only offer products in our store that we use ourselves, this fits perfectly into our assortment. Stocked up with the most important Swissvax products, I am now looking forward to the first car care Saturday. I'll be sure to report on it every now and then on my private Instagram account. Finally, the question remains: Am I already an influencer?
Here are some more impressions from my day at Swissvax Germany:
You can learn more about Swissvax here: Swissvax Germany
Fotos: Markus Klimesch für Elferspot, All rights reserved.