Porsche passion in Gatsby style. That's what you might call the event on October 14 in Long Island. Under the motto "Driven to America", the primarily air-cooled Porsche Community on the east coast of the USA celebrated a very special man in Porsche history: Maximilian Hoffman. The man who was initially responsible for the unbelievable success of the Porsche brand in the USA.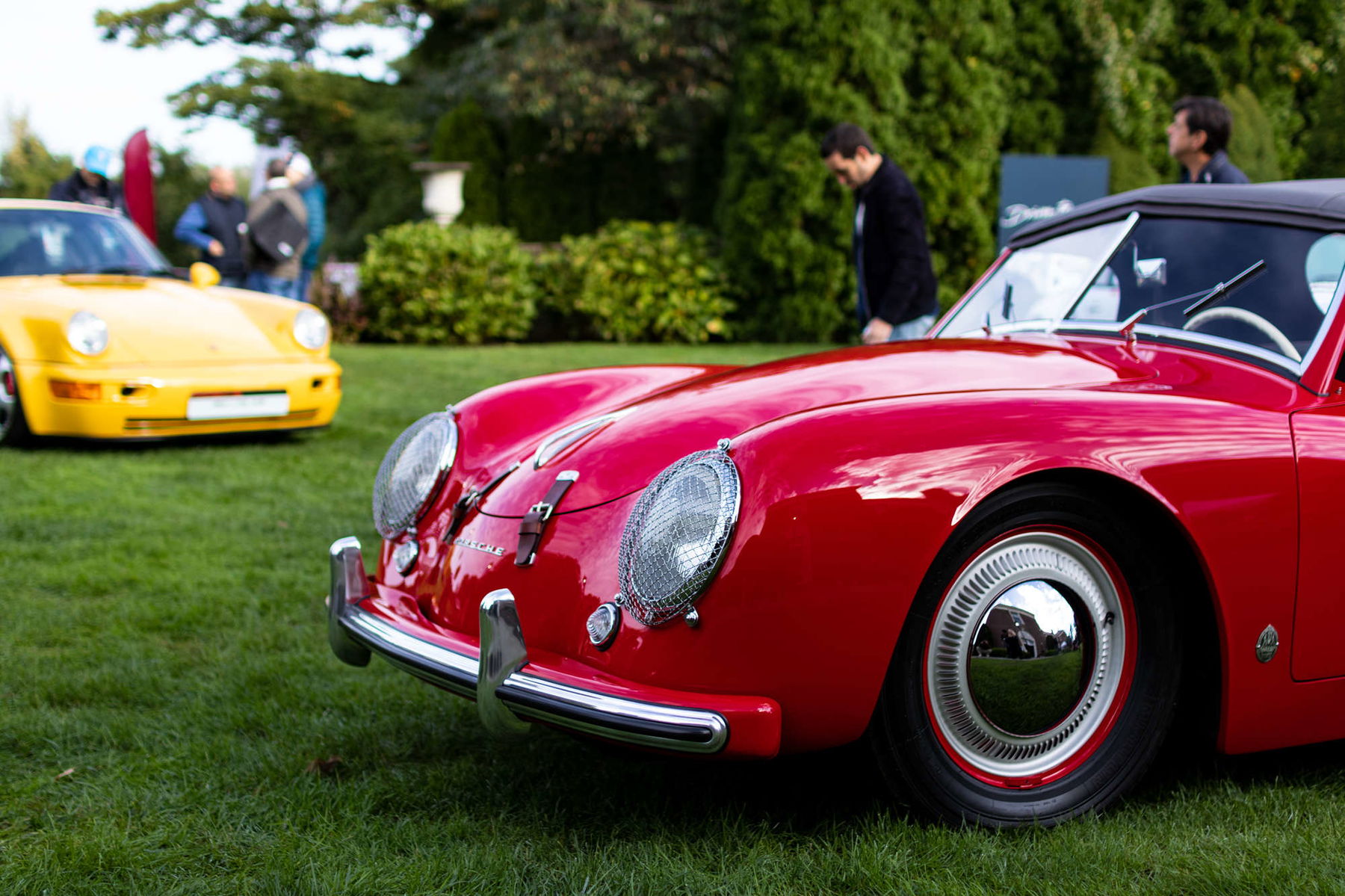 A tribute to Maximilian Hoffman
To pay tribute to this success story and, in particular, Maximilian Hoffman, numerous Porsche owners, racing drivers, collectors and fans met on 14 October 2018 for a very special event at the De Seversky Mansion in Long Island, New York. In addition to numerous wonderful specimens of various series also some of the most important and special road and racing cars were issued. The air-cooled car culture also lives and thrives on the east coast of the USA. We from Elferspot magazine were there and have brought you some impressions. We would also like to thank the organizer and congratulate for a very successful event.
Maximilian Hoffmann – a courageous and visionary man
It is the year 1951. Born in Austria, Maximilian Edwin Hoffmann signs a contract with Ferdinand "Ferry" Porsche for the import of sports cars from Zuffenhausen to the USA. Max Hoffman was a visionary and thought big. When Ferry Porsche remarked in the course of the talks that he would be happy if Hoffman could sell five cars in a year, Max Hoffman replied with determination: "If I do not sell five of these cars a week, I am not interested in this business. "
"If I do not sell five of these cars a week, I'm not interested in this business." Max Hoffman
It completely worked out. The Americans revealed an unimagined passion for European sports cars. In the same year, the Porsche 356 won the prize for the most interesting car at the "Concours d'Elegance at Watkins Glen.
Hoffman was also a racing driver
Another push for the Porsche brand was a clever move. Hoffman himself took part in various races in a Porsche. The agility and excellent driving characteristics of German sports cars inspired the Americans. In the first year already 32 cars were imported. Three years later, almost 600 Americans bought a Porsche.
The Porsche Crest
What probably only the fewest know: Also the so well-known Porsche crest was the idea of Max Hoffman. He convinced Ferry Porsche during a lunch that Porsche absolutely needed a suitable emblem and designed the crest on a napkin. As early as 1953, the world-famous emblem graced the steering wheels of the Porsche models. Max Hoffmann and Porsche, a true picture book story. The importance of the American market for Porsche as a whole was far from being foreseeable at the time. The rest is history. The Maximilian Hoffman died in 1981.
If you want to learn more about the event just follow this link: www.driventoamerica.com
Copyright Bilder: Markus Klimesch
Text: Markus Klimesch