In 1988, the Porsche brand is struggling. 944 sales dropped and the G-model hasn't really been updated for almost 15 years, only offering minor changes. Porsche buyers yearned for more comfort and usability. On the occasion of the 911's 25th birthday, the Porsche 964 Carrera was born. Even though it had around 85% of new parts, according to Porsche themselves, design and proportion remained similar. Most of the changes lied beneath the 964's pretty face. Technologically, the 964 was a giant leap for the Porsche 911. In this Elferspot buyer's guide, we want to take a closer look the the last Elfer of the 80's, the Porsche 964 Carrera.
Styling wise, the Porsche 964 Carrera remained true to itself, despite more than 80% of new parts underneath.
Looking at the competition, Porsche needed to catch up in the R&D department. Electronics and mechanics of the 911 were outdated, so the Zuffenhausen brand had to react. To show their progress, Porsche presented the 964 in 1989 in Coupé form with all wheel drive only. By the way, that AWD system had its origins in the Porsche 959 supercar. Rear wheel drive versions, as well as the Targa and Cabriolet model followed a year later in 1990.
Most noticeable, the 964's styling changed at the bumpers. No more exposed impact bumpers can be found there. Changes on the interior were pretty subtle as well. The layout itself remained mostly untouched, but a few little tweaks improved user-friendliness. An updated control unit for the air conditioning, a shorter gear lever and from 1991 onwards, even airbags for driver and passenger came as standard.
Thanks to the introduction of the Tiptronic, the Porsche 964 made the 911 sort of publicly respectable
Alongside the introduction of the Carrera 2 model, Porsche offered a Tiptronic gearbox from 1990. Hence, the 964 was the first Porsche 911 with an automatic gearbox, which made the 911 suited for mass markets. But there's more: The suspension was heavily revised and tamed the 911, so to speak. Gone were the days of the torsion bar suspension at th rear. MacPherson struts found their way to the world of Porsche 911s. As standard, the steering was power assisted in the 964 as well.
© Chequered Flag International
Further development was done in terms of aerodynamics. For reducing the cw-value and improving stability, the underbody was completely covered and an electronically controlled rear spoiler was installed. As with every evolution of the Porsche 911, the new 964 generation became more stable, usable and as a result easier to drive than its predecessor, especially under braking.
Engine wise, a lot had been done as well. The new 3.6 litre power plant with dual ignition produced 250 hp. For a standard Carrera, that was quite a statement at the time. Thanks to less drag and that power increase, the 964 reached a top speed of well over 160 mph. As a nice side effect, fuel efficiency was improved by that as well.
© Chequered Flag International
With the 964 the long successful story of the Porsche Carrera Cup started in 1990
Porsche wanted to use motorsport as a marketing instrument back in the day and started the "fastest brand trophy in Europe" with the 964 in 1990 – the Porsche Carrera Cup. Whoever wanted to participate could order one of the factory prepared Porsche 964 Carrera 2 Cup cars with 265 hp. Thanks to a strict diet, even after installing a heavy duty roll cage, the cars' weight was reduced by 200 kilograms from the base Carrera 2's 1,350 kilograms.
In the past 30 years, the successful story of the German Porsche Cup led to numerous other Carrera Cups, e.g. in the UK, France, Australia and the United States. By the way: the first championship title in the Porsche Carrera Cup was won by a man called Olaf Manthey…
What do I have to look out for, when buying a Porsche 964 Carrera?
When being in the market for buying a Porsche 964 Carrera you have to remind yourself, that the oldest models are already 30 years old. Therefore, you need to thoroughly check the cars metal for any corrosion. Rust is not a categorical problem for the 964, but improper repair work leads to brown spots quite often.
Be especially careful, when inspecting the areas around the windscreen and the rear window. In many cases, you can find some bubbles there, as a lack of corrosion protection in the process of changing the windows often caused rust there. Bent cross members in the boot area are a sure sign for accidental damage. Battery compartment and jacking points should be checked carefully as well.
The Porsche 964's technique is very forgiving, but…
Faded taillights or shrunk dashboards may only be cosmetical flaws, caused by UV rays, but both are pretty costly to repair. The air conditioning itself tends to fail due to rotten condensers or compressors and rebuilding it is time consuming and expensive. Leaking roofs are not uncommon for Targas and Cabriolets, which shouldn't surprise anybody, considering the age of these cars. As replacement won't come cheap, it still is a factor to consider when negotiating the price.
The Engines themselves are extremely durable. In case they always had enough oil and didn't overheat, catastrophic engine failures are the absolute exception. Leaks may be notorious, but you shouldn't rule a car out, just because there is an oil leak. Especially when you take into consideration, that oil films on the engine often come from spilling oil while filling up.
For many years, the Porsche 964 Carrera was simply overlooked
Much as the 996, the Porsche 964 Carrera was unloved for many years. Due to that, a 964 could have been bought for less than 15,000 Euros. That attracted buyers, who couldn't really afford the expensive maintenance, that the 964 desperately needs. That resulted in long overdue maintenance in many cases. Because of this, we want to state at this point, that the Porsche 964 is by no means a cheap car to run. Even minor inspections can result in four-figure bills. For the time, the all wheel drive models were hugely complex and time consuming to maintain, especially when taking the pretty crammed engine bay into consideration.
Electronic features and control units tend to wear, just as suspension and rubber parts do. So it shouldn't hit you by surprise, that many mistakes regarding the anti lock brakes and all wheel drive system are caused by failing control units. Replacing these could easily add up to 1.000 Euros or more. On the other hand, replacing the notoriously weak bonnet dampers is an easy and inexpensive fix.
Maintaining a Porsche 964 Carrera is expensive and has its pitfalls
A common problem for pre-1991 models is a failing timing belt for the ignition distributor. If the clutch pedal won't spring back to its initial position, cleaning and greasing the pedals themselves should do the trick. But leaking slave cylinders aren't that uncommon either. Other weaknesses of the early models are the flywheel and the clutch release bearings. Owners of the pretty solid Tiptronic won't be affected by these problems, but on the other hand, they don't get the same raw driving experience.
In any Porsche 964 Carrera, the brake pedal should be very hard to press. If it's feeling weak or spongy, that's a sure sign for air in the lines, cylinders or calipers. Another problem for early models is the generator drive. Moreover, the taillights of these cars aren't watertight in many cases.
Who administers the complex technique behind the 964's pretty face and cares for it, gets rewarded with great performance, even by today's standards, in combination with classic 911 styling.
The following hint may not guarantee anything, but big gaps in the production dates on the rear of the instruments should prick up your ears! Putting all the these little things aside, the Porsche 964 is a very sophisticated classic Porsche 911, which promises long-lasting driving pleasure.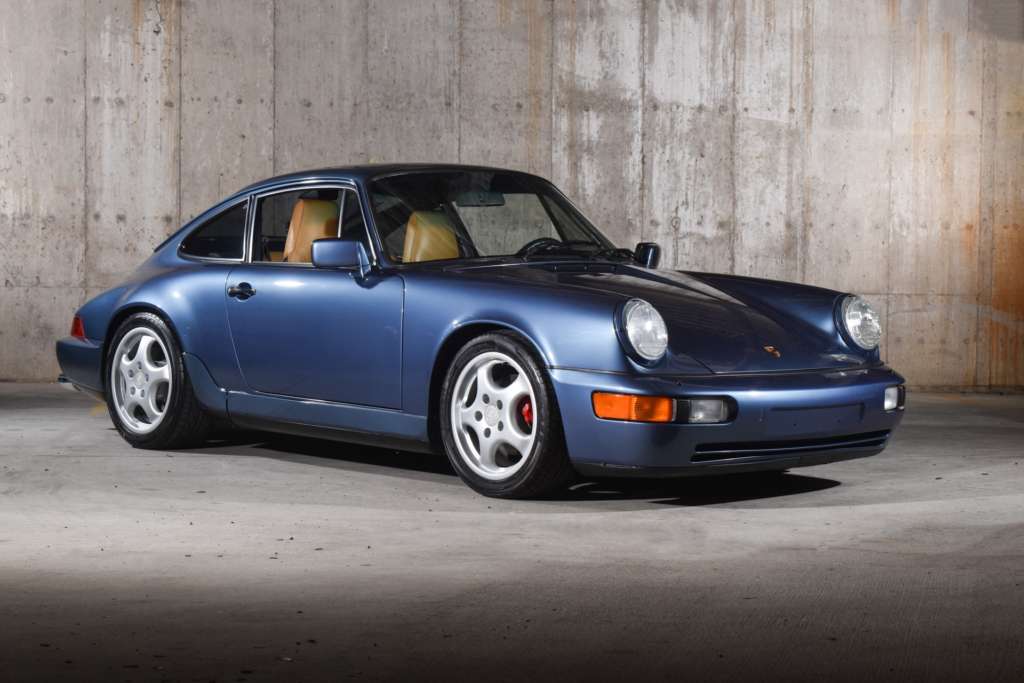 As with its other aircooled brothers, finding the right model isn't an easy job. But whoever takes his time and accepts a little bit of patina and imperfections, gets a Porsche 911 which is very stable in value. These third gen 911s still perform sporty with 5.7 seconds from 0-62 mph and just 1,350 kilograms for the Carrera 2. That combination still makes it a fantastic canyon carver in retro 911 clothing. Who lusts after more stability, should consider a C4 model. They may be more expensive to maintain, but on the other hand, they're cheaper to buy.
Our recommendation? For a backroad blast, a late manual Carrera 2 or 4 Coupé. In case you want to share the enjoyment with your significant other, take a look at a nice Cab or Targa, with either all wheel drive or Tiptronic, as the combination of both wasn't available for the 964. That means, your companion could enjoy driving a 911 without being overburdened.
Technical data and production figures Porsche 964
model year: 1989-1994
model name: Porsche 964 Carrera 2/4
engine layout: 6-cylinder boxer engine (aircooled)
engine capacity (cm3): 3,600
bore x stroke (mm): 100 x 76,4
engine power output (kW/PS): 184/250 at 6,100 rpm
engine torque (Nm): 310 at 4,800 rpm
compression ratio: 11,3 : 1
valvetrain: OHC (single overhead camshaft), 2 valves per cylinder
injection: manifold injection
ignition: dual ignition
gearbox: 5-speed manual or 4-speed Tiptronic (Tiptronic was only offered for the Carrera 2)
wheels: front / rear 6 J x 16/8 J x 16
tires: front / rear 205/55 ZR 16 / 225/50 ZR16
brakes: 297 mm ventilated discs at front, 299 mm at the rear with ABS
wheelbase: (mm) 2272
dimensions l x w x h (mm) 4250 x 1652 x 1310
kerb weight: 1.350 kg (Carrera 2) / 1.450 kg (Carrera 4)
acceleration 0 – 62 mph: 5.7 s (manual), 6.6 s (Tiptronic)
top speed (mph): 161 (manual) / 159 (Tiptronic)
production numbers Carrera 2 (rounded): 18.200 Coupés, 3.500 Targas, 11.700 Cabriolets (~700 WTL)
production numbers Carrera 4 (rounded): 13.300 Coupés (~170 WTL), 1.300 Targs, 4.800 Cabriolets
plus 911 examples of the Carrera 4 "30 Jahre Porsche 911"
Important note: We go to great lengths to illuminate the most important topics and facts and to discuss them conscientiously. Nevertheless, we can not guarantee completeness and accuracy. Our editors work to the best of their knowledge and belief. An Elferspot Buyer's Guide can only be part of an overall assessment and should not be used exclusively for a purchase decision.