As a Weissach boy, I have a genetic love of Porsche. Even as a child, I rode my bike to Porsche's own test track after school to marvel at the latest racing cars and secret prototypes with wide-eyed wonder and to celebrate the sound of the engine. With increasing age, the love matured and developed from enthusiasm for the Swabian sports cars to an absolute fascination for historic racing cars. A special attraction for me are the racing cars that also have a road registration. In the early years of racing, it was customary for the participating racing cars to be driven to the race on their own axles and then driven back on public roads after the race. Mostly by the racers themselves – unimaginable nowadays!
The dream of the 550 Spyder comes true
I've been the proud owner of a 550 Spyder RS for a few months now. The breathtaking aesthetics and outstanding driving characteristics undoubtedly make it one of the most sought-after Porsches of all time.
However, my 550 Spyder is not an original but a Tribute Car, a replica of the only 97 factory-produced Porsche 550 Spyder RS 1500. At the same time, it is not one of those much-circulated Chamonix or Beck replicas. No, this one was created about 50 years ago in Argentina by a yacht builder and carries a lot of original Porsche parts. According to research, the vehicle itself took part in various races in Latin America. About 10 years ago this dream came to Germany/Bavaria and was restored there within four years very elaborately.
"Is that real?", "Yes, that's a real Driver!"
The search for a suitable Spyder was very difficult and sometimes grueling, but it allowed me to gain a lot of experience and know-how, which I appreciate very much in retrospect. In the end, as is often the case when buying a car, you need patience, the right intuition and always a bit of luck until the dream is finally on your doorstep.
Generally speaking, anyone who wants to own an extremely rare Porsche racing car worth millions must first ask themselves the question: Am I a driver or a collector?
Nowadays, these "treasures" sometimes fetch astronomical sums at auction. This is especially true for the rare racing cars from Porsche. In general, the enormous price increases for classic Porsches are not always comprehensible to me. But that's how the free market economy works. Demand and supply determine the price. As long as there are institutional investor groups or private individuals who pay these sums, these sometimes bizarre prices will continue.

However, the market seems to be calming down a bit, and intentional investors hardly see any upward potential. An indication for it is that at present at least five original vehicles, for the sales of auction houses or exclusive dealers are offered. Sometimes the Spyders have been with the dealers for several months.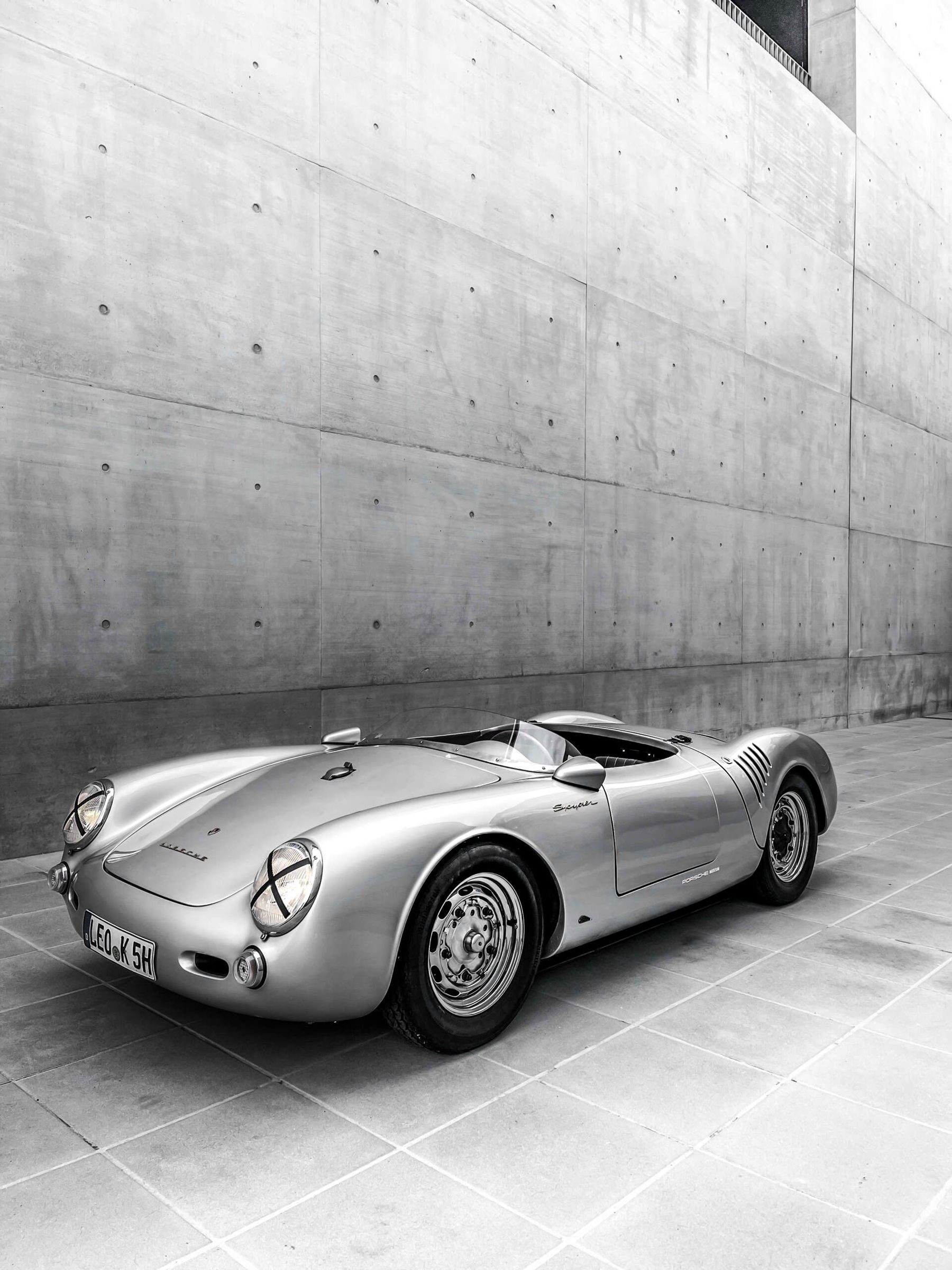 For fear of wear, almost all received originals stand only the tires flat. What a waste! They are racing cars, they were designed to be driven and not just to be part of a collection.
For stamp collectors, the question does not arise. They are collectors. The stamp is deprived of its original function, and from now on it serves purely as a visual object.
With automobiles, I see it differently: A car has to be driven, and rather a racing car has to be driven really hard.
Very good tribute cars have become a real alternative in my eyes to experience the driving experience of a race car without investing millions. Not to collect, but to enjoy.
Large differences in quality
However, there are very large differences in the quality of tribute cars. Some replicas can only be distinguished from originals with very complex technical tests and historically verifiable research results. Very good replicas are meanwhile traded with prices up to 400.000,- USD – which means about 10% of the price of an original. Again, many replicas are only bad cheap replicas which are only based on the design of the 550 Spyder or – worst case – even built on a Beetle chassis.
Very good replicas are now being traded at prices of up to 400,000 USD – which is about 10% of the price of an original.
The good replicas are also interesting for motorsport enthusiasts. The FIA accepts replicas at historic racing events if their technology corresponds to that of the historic original. What hardly anyone knows is that even at renowned historic races such as the Mille Miglia, some drivers drive 1:1 replicas of their real treasures so as not to destroy the original in the event of damage.
In my opinion, most "original" race cars are no longer original anyway. Almost all parts were either replaced or modified during racing, or the vehicle was thoroughly restored in recent decades and painted to a high gloss to make it look pretty and as free of scratches and dents as possible – as if the "racer" had rolled directly from production into the museum or the air-conditioned garage of the private owner. Unfortunately, the patina is often restored in a broken way. The best example for me are many museum vehicles.
A good 550 Spyder tribute car drives almost like a Porsche 550 Spyder from Zuffenhausen. The emotions when driving are a high – regardless of whether it is an original or "only" a very good replica.
Don't be afraid of Spyders!
I'm very happy to be able to enjoy a good replica that lives up to its purpose and to be able to drive it at the limits without always having the sum of 5 to 7 million euros in the back of my mind.
In my opinion, such racing icons should not be treated like raw eggs; they demand real driving skills from the driver. Gravel track, pothole, hard drift into the bend. Beads of sweat and damp hands …
"Species-appropriate" driving means for me to be on narrow and winding roads, as with me in the nearby Black Forest enough available, on the road..
… better than sex? Almost!
With a tribute car, you can simply enjoy driving pure and simple, just as drivers did when the Porsche 550 Spyder was just a race car and not a precious investment piece doomed to a quiet life as an exhibition piece.
Of course, there are people who criticize my opinion on this.
Of course, there are people who criticize my opinion on this. They criticize the accuracy of a Tribute Car or any supposed violations of the vibe. There you hear sentences like "Everyone knows that with the Fuhrmann engine of the 550 Spyder, the red zone starts at 6000 rpm in the tachometer" or "You probably can't afford a real Spyder, huh?" But, a discussion around that is exciting, because there are plenty of reasons to see it differently.
Basically, driving a Porsche is not a status symbol for me. Driving in itself is pure enjoyment for me. Medicine against stress. Beneficial therapy against the gray of old age.
Just open the garage door and enjoy the thing pure. Without control units that gently grip the steering wheel like a fatherly hand when things get dangerous. The driver is 100% responsible for everything himself. You become one with the mechanics and develop your own sensor system that functions entirely without electronics. With a 550 Spyder Tribute race car, you can experience, enjoy and share historic race car moments. Up close and personal.
A REAL race car!
Copyright images: Dennis Berger
More about the Porsche 550 Spyder