In typical Porsche fashion, at the Frankfurt motor show in september 2005, a new Zuffenhausener was presented: The Porsche Cayman 987, or 987c, to be precise. After the Boxster's immediate commcercial success, Porsche wanted to offer a coupe for the second gen watercooled mid-engined sports car. Being named after a small and nimble crocodile, the Cayman very much lived up to its name back in the day. But is Stuttgart's crocodile still worth a sind 15 years later? Let's find out in our new Elferspot buyer's guide!
Porsche Cayman 987 – The first bespoke two-seater coupe from Zuffenhausen for 30 years!
Yep, the last of your everyday Porsche two-seater coupe – the Porsche 914 – ended its lifespan in 1975. Underneath, the Porsche Cayman 987 shares its DNA with the second gen Boxster. Thanks to the fixed roof, the Cayman was a noticeable upgrade in terms of rigidity over the already pretty sharp handling Boxster. As the single engine option for the first few months, there was an M96 3,387 cc flat-six engine with 295 hp.
As it was based on the Boxster, the Porsche Cayman 987 was a Boxster Coupe, so to speak. Jeremy Clarkson once insisted in a Top Gear test, that Porsche should have called it Coxster.
In the early summer of 2006, the base model with a 2.7 litre engine and 245 hp was introduced. It was only offered with a five or six speed manual gearbox, whereas the Cayman S could have been ordered with a Tiptronic S as well. The most obvious difference was the exhaust, being a twin exhaust for the Cayman S and a single exhaust for the base model. Another thing, that seperates them are red brake calipers, 20 mm bigger discs and 18 inch alloys as standard for the Cayman S.
To be brutally honest, the Porsche 987 Cayman's design was polarizing back then as it is today. But the 987 has aged fairly well. It looks like a trained sportsman and in contrast to all the SUVs in our streets it almost looks tiny. That shows in the handling as well. It has such a great steering feel, that it almost feels like the Cayman is steered by thoughts. In combination with its relatively low curb weight of around 1,400 kilograms, it offers loads of fun. Back in 2005 the media was almost overjoyed by the chassis. Already in the first tests of the little Zuffenhausen crocodile, a lot of journalists stated, that it could handle a lot more power.
And Porsche listened. In 2009, the Cayman got a little facelift. New direct injection engines with 2.9 or 3.4 litres, producing 265 or 320 hp respectively were offered. These powerplants could now be combined with the familiar six-speed manual or the new PDK dual clutch gearbox. In the interior, Porsche now offered the prettier steering wheels from the 997.2, massively upgrading the interior feel in general.
Another year later, Porsche introduced the Porsche Cayman R. With its 330 hp and 55 kg of saved weight, it was much sharper than the S. Besides a lot of fiddling with the suspension, the headlight surroundings were painted black, a fixed rear wing was mounted and the door pull was replaced with a fabric strap. The result? When equipped with a PDK gearbox and the Sport Chrono Plus package, the Cayman R was able to do 0-62 mph in 4.7 seconds. Nevertheless, there is a "but": The baby GT3 never became cheap and is very rare. Alongside the other special editions (Porsche Design Edition 1 and Sport Edition), the Black Edition is worth a thorough look, as it offers the Cayman R's 330 hp engine in a more discreet package. A baby GT3 Touring, so to speak.
An Elferspot buyer's guide's first: A praise for the Porsche Cayman 987's practicality!
Whoever bought a Porsche back in the day, may has bought a pretty robust thing with four seats in most cases, but there wasn't all that much space in the frunk. But with the Porsche Cayman 987 on the other hand, you could even win something in top trumps in this category! A whopping 410 litres of luggage space are available, when you add up the frunk and the trunk. Even a VW Golf didn't have that much luggage space at that time. Of course, almost everything was an optional extra, but Porsche's brand new Active Suspension Management PASM was available for the Cayman just as the PCCB ceramic brakes.
The first gen Cayman was mechanically already pretty solid, but not faultless
As the Porsche Cayman 987 was a very close sibling of the Boxster, it was pretty bulletproof in terms of the oily bits, right from the beginning. Yes, there are some weaknesses, but nothing too major. With the oldest Caymans already being nearly 15 years old, be prepared for a costly suspension overhaul, if it hasn't already been done. Every rubber part wears over the years and the dampers usually start to deteriorate after around five to six years. In true Porsche fashion, there is nothing to complain about the brakes, which offer huge stopping power, while being very predictable in applying them.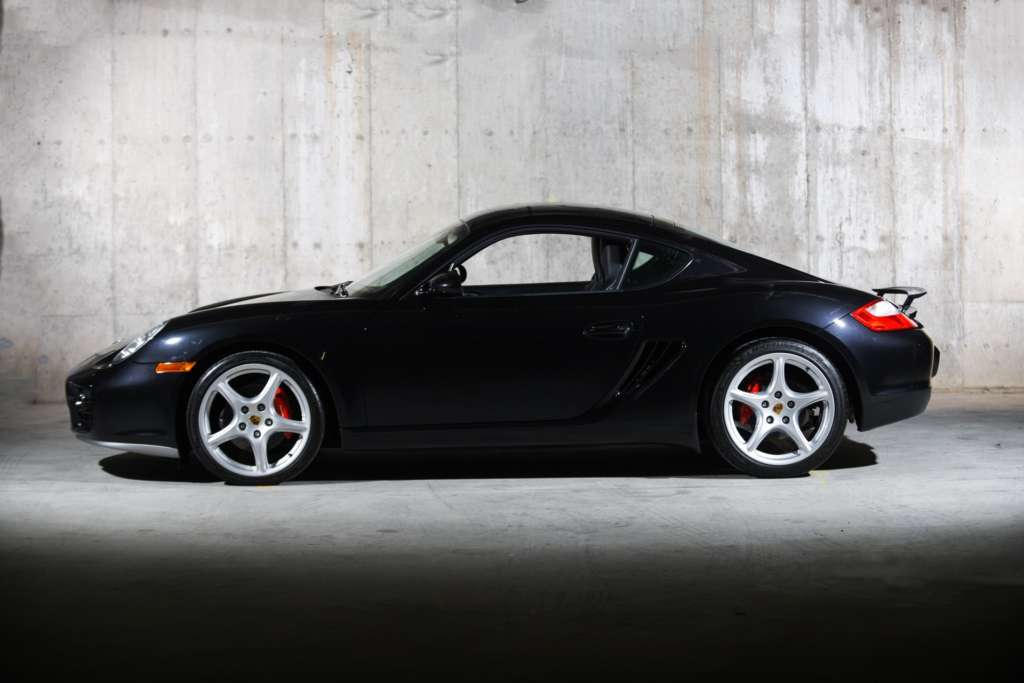 Now, let's thrust aside the elephant in the room for some of you: Early Caymans until MY 2008 were equipped with M96 engines. As already covered in detail within the Porsche 996 Carrera 3.4 buyer's guide, there have been problems with the intermediate shaft bearing. As well as the later direct injection engines, the M96 engines sometimes leak at the rear main seal. It's not all that dramatic, but still a fail in every road safety inspection. A repair can be done for a tad over 1,000 USD.
The Porsche Active Suspension Management (PASM) splits opinions on the Cayman. Especially in combination with 19 inch alloys, the ride gets pretty firm.
Another few quid should be in your pocket for an ignition refresh. The coils can crack over the years and replacing them without a lift isn't what you'd call an easy job. And due to that, there are even some Caymans out there, which still have one of their OEM spark plugs, as the front left plug is pretty hard to reach. As for all Porsches with boxer engines, the exhausts suffer a lot from winter use, especially the manifold. A bit of corrosion is no big deal, but if the manifold gasket is all rotten, you can be in trouble. The screws up there won't come out without extensive use of penetrating oils and heat. Worst case scenario: They won't come out at all. Then you may face an engine out job.
Very annoying: The Porsche Cayman 987 has some quality issues in the interior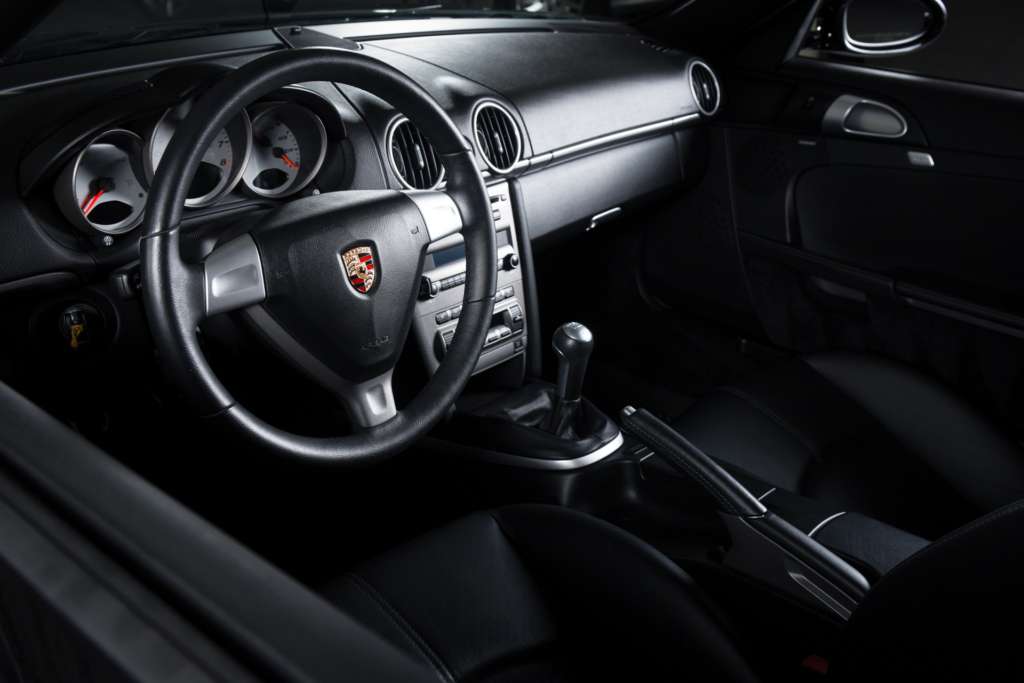 The 987's interior itself is much more pleasant to look at than the 986's, but the quality of the materials themselves isn't all that great. As with the Porsche 997, the buttons coating wears out on the center console and the electric window switches. You can easily find a specialist for rebuilding these, but it's quite an expensive job! Another similarity to its bigger brother, the 911, is that the climate condensers and the coolant radiators in the front can suffer from stone chippings and leak. Therefore we highly recommend a thorough air-con test in your pre-purchase inspection. Other things, prone to fail on 987: water pump, oil seperator and ignition switch.
Especially the early 987 Caymans, which were produced in Finland, often had very annoying noises in the rear. Rattling and squeaking from the bootlid dampers and the trunk privacy screen can occur. And there's more: Behind the taillights, there are plastic covers, which often cause strange noises. Gluing on a bit of foam seems to be the way to go there. Another very strange problem relates to the side windows, or their rubber seal to be precise. In a lot of Caymans, water gets past these seals. So after washing or driving through rain, you'll often get streaks when rolling your windows down and up again.
Recommending a Porsche Cayman 987 isn't easy
In terms of driving, the Porsche Cayman 987 is absolutely unimpeachable. Its fantastic balance, strong and happily revving engines will make you smiles on every single occasion. They are still very desirable sports cars, even today. But there are some things, important to be considered when buying a used one. In terms of sales, the Boxster was much more successful than the Cayman. And despite their stupendously good driving capabilites, they were pretty damn cheap a few years ago. Therefore, quite a lot of them have been abused as track tools. So be prepared to see a lot of wear and tear, as well as track focused mods.
Prices have gone up in recent years alredy, so the dip is already a bit behind us now. In general, we would encourage you not to look out for a 5-speed 2.7 litre Cayman. Its fifth gear is too short, so in daily use its more on the noisy side. If you don't rely on the Tiptronic, you should avoid it as well, as it just doesn't suit the Caymans sporty character all that well. If you opt for track use, you should consider upgrading the oil supply. The later engine models are already equipped with two extra oil pumps for a more reliable lubrication.
Elferspot tip tip: Either an Porsche Cayman 987 with the 2.9 litre engine or an early Cayman S with the six-speed manual or PDK and enjoy huge levels of driving pleasure more or less on a budget. As a collector, you should watch out for a Cayman R or a Cayman Black Edition.
Technical specifications: 
model year: 2005-2013
model name: Porsche Cayman 987
engine configuration: 6-cylinder Boxer engine (watercooled)
engine capacity (cc):  2.687 / 3.387 (until MY 2009), 2.893 / 3.436 (from MY 2009)
bore x stroke (mm): 85,5 x 78 / 95 x 78 (until MY 2009), 89 x 77,5 / 97 x 77,5 (from MY 2009)
power output (kW/hp): 180/245 at 6,500 rpm, 217/295 at 6,250 rpm 223/303 at 6,250 rpm (until MY 2009), 195/265 at 7,200 rpm, 235/320 at 7,200 rpm, 243/330 at 7,400 rpm (from MY 2009)
torque (Nm): 273 from 4,600 to 6,000 rpm, 340 from 4,400 to 6,000 rpm (until MY 2009), 300 from 4,400 to 6,000 rpm, 370 at 4,750 U/min (from MY 2009)
compression ratio: 11,3 : 1 / 11,1 : 1 (until MY 2009), 11,5 : 1 / 12,5 : 1 (from MY 2009)
valve train: DOHC (double overhead camshafts), 4 valves per cylinder, VarioCam Plus
injection: manifold injection/direct injection
ingition: single ignition with coils
gearbox: five-/six-speed manual or five-speed Tiptronic S (until MY 2009), six-speed manual or seven-speed PDK (ab MJ 2009)
wheels: depending on the options 6,5 / 7 / 8 / 8,5 J in 17 / 18 / 19 inch up front and 8 / 8,5 / 9 / 10 J in 17 / 18 / 19 inch at th rear
tires: 205/55/ZR17, 235/40/ZR18, 235/35/ZR19 front and 235/50 ZR17, 265/40/ZR18, 265/35/ZR19 rear
brakes: 298 / 318 mm discs at the front and 299 mm at the rear, ventilated and drilled, PCCB as an option
wheelbase: (mm) 2415
length x width x height (mm) 4341 x 1801 x 1305
curb weight: 1,370 to 1,465 Kg
acceleration 0-62 mph: from 4,7 s (Cayman R with PDK) up to 7,0 s (Cayman 2,7 withTiptronic S)
top speed (mph): from 160 to 175