Engineers are the spiritual parents of any sports car but tend to be overlooked. They fiddle about while CEOs and marketing executives present their babies to the public. In many cases, the chief engineers responsible for a sports car's development aren't well known. But there is one engineer, whose name makes most Porsche enthusiasts sit up. An engineer who has shaped the character of the Porsche brand like no other and led to motorsport successes: Hans Mezger. On 10 June 2020, the former head of Porsche's motorsport department died at the age of 90. We take this as an opportunity to look back on the career of the engine mastermind.
Mezger's first masterpiece characterizes Porsche's identity until today
Born in 1929, Hans Mezger earned himself an engineering degree in Stuttgart. He started working for Porsche in 1957, mainly doing technical calculations. After further development on the Carrera four-cylinder engine, Mezger created his own formula for calculating cam shapes, which simplified cam production significantly and saved Porsche a fair bit of money in the future.
In the 1960's, Hans Mezger was also involved in the development of the Porsche 804's engine and suspension, which helped to even win a Formula 1 race. Afterwards, Porsche needed a new engine for the 356 Carrera's successor, as the VW Beetle-derived 1.6 litre four-cylinder boxer engine came to its limits. Responsible for that was, you guessed it, Hans Mezger. He decided to use a six-cylinder boxer configuration with bigger capacity to develop more power while running smoother. That engine concept defines the Porsche 911 until today and is known as Hans Mezger's first masterpiece: The 2.0 litre six-cylinder boxer engine for the Porsche 901/911 with 130 hp.
A man called Ferdinand Piëch recognized Hans Mezger's talent early
Shortly afterwards, in 1965 Mezger was chosen as the new boss for Porsche's Motorsport R&D department by no other than Ferdinand Piëch. The mission for Mezger was pretty clear: Build a car, that will win the overall 24h of Le Mans.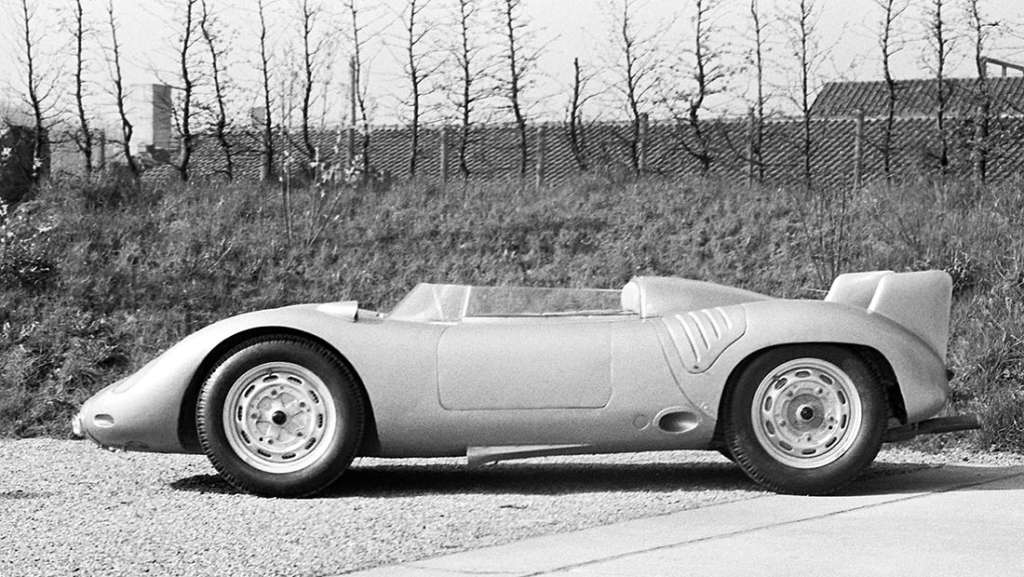 Porsche had been trying to gain the overall victory at the Sarthe from 1951. Except in 1959, they secured at least a class win every single year. With the Porsche 718 RSK Spyder, they reached their best overall result with a third place in 1958. Until 1968, Porsche never entered a top class car. The first real contender was brought to Le Mans in 1969 and was called the Porsche 917.
Even Ferrari was staggered by the short time period in which Hans Mezger's team developed the car
The FIA changed the regulations in sports car racing in 1968. Mezgers team saw these changes as a big chance. In a nutshell, nobody was allowed to use an engine with more than 3.0 litres of capacity. There was a loophole however: in case the manufacturer builds 25 cars for homologation, you could use 5.0 litre engines.
Mastermind Mezger designed a radically new car in almost no time. It had a 4.5 litre 180° V12 engine, as a boxer configuration would have been much longer and heavier due to the need of two times the amount of crank pins.
As we reported in our story for the Porsche 917 Hommage, the car was presented at the Geneva car show in march 1969. In april, Porsche surprised everyone, including their italian rivals of Ferrari and reported, that all 25 homologation models were finished.
It is told, that secretaries and even accountants were commanded to the production line of the 917.
As there was virtually no time left for the production, Piëch even told the secretaries and accountants to help with the production of the 917. Failing was no option back then, as it would have meant, that Porsche would surely go bankrupt. But Ferdinand Piëch put all his faith into the Motorsport department and especially Mezger's genius. Piëch later admitted, that the porsche 917 was the riskiest car of his life.
Its difficult handling and technical problems stopped the Porsche 917 in the first place
But Piëch was right. In its first year at Le Mans, the Mezger designed group 4 racer showed its potential. The Porsche 917s led the pack for most of the race in superior fashion, being the fastest car on the grid by some considerable margin.
But the tight schedule and therefore insufficient testing took revenge. All Porsche 917 either crashed out or didn't finish due to technical problems. An outdated Porsche 908 was the last remaining contender for the victory and was beaten by just 100 metres, finishing second. In 1970 however, Porsche managed to secure all three steps on the podium with the 917 and went on to dominate the world's most famous endurance race like no manufacturer before.
"All the parts we've used, already existed. They just haven't been used for the right purposes. We've only rediscovered and reused the ideas." – Hans Mezger
In its most extreme evolution, the 180° V12 Mezger engine put out an eyewatering 1,200 hp thanks to turbocharging. With the 917, Porsche dominated the CanAm series as they wished in the 70's. Mezger revolutionized the use of turbocharging for racing with smaller turbochargers and bypass valves for better drivability. Despite his success, hans Mezger has remained modest: "All the parts we've used, already existed. They just haven't been used for the right purposes. We've only rediscovered and reused the ideas."
Of course, Mr. Mezger was involved in the introduction of the Porsche 911 Turbo (930) as well. He once told a story about a joint demonstration run of the Porsche 930 in the USA with Ernst Fuhrmann: "It was like everybody was waiting for such a car." But he admitted, that "without the 917, there wouldn't have been a 911 Turbo."
Hans Mezger's favourite engine was the TAG turbo powerplant for the Formula 1
After 20 years, Porsche returned to Formula 1 as an engine supplier for the 1984 season. FIA regulations back in the day allowed turbocharged engines but restricted the maximum fuel load for a race. Hans Mezger designed a 1.6 litre V6 engine, which was capable of roughly 1,000 hp for qualifying and powered the McLarens of Niki Lauda and Alain Prost.
In true Mezger fashion, that engine was a huge success. At the first race of the season in Kyalami, Prost and Lauda claimed a one-two victory. All the opponents were either lapped or didn't finish as they had no fuel left. Niki Lauda went on to win his third world championship thanks to Hans Mezger. Alain Prost won both driver championships afterwards. For Hans Mezger himself, the TAG powerplant is still his favourite engine.
Hans Mezger's legacy helped powering Porsches until the early 2010's
Even though Hans Mezger retired in the mid 90's, his ideas were still very much present until just a few years ago. Until 2011, Porsche used Mezgers two part aluminium crank case design for high performance engines. The pinnacle of the legendary Mezger engines is without a doubt the Porsche 997 GT3 RS 4.0 with a staggering power output of 500 hp.
"Hans Mezger is one of the most important engineers of our brand's history. Within four decades Porsche race cars went on to win with engines, designed by Hans mezger and made the Porsche brand synonymous for sporty cars in the world." – Wolfgang Dürheimer, former Porsche Chief Development Officer
We bow down for a man, whose wealth of ideas is seemingly endless. Hans Mezger is an engineer, whose engines are world famous for being powerful and reliable while arousing emotions in every petrolhead. The sound of a Mezger engine is still motivating many people for working hard everyday, just to fulfil the dream of owning a Porsche sports car. Thank you Hans Mezger, for automotive pornography, which hopefully causes sleepless nights for many generations to come.
© images: Porsche AG & Joel Micah Miller