For many, a Porsche 911 restomod is the ultimate automotive dream. In the little town of Schwelm, in Germany's Ruhr area, such backdates are created with breathtaking technology. Stephan Rohleder and Christian Wilms have built Das Triebwerk here. (Triebwerk is a traditional term for power plant) They invite us to their place to get to know the event workshop, as they call it. Find out why their Porsche 911 restomods are Formula 1 for them and why you should urgently consider a digital engine management system for your F model in today's partner portrait!
The originals of their time are given a new lease of life with us. Whether patinated classics or even "the wolf in sheep's clothing", no model is safe from our passion.

Stephan Rohleder – dtw
Thank you for the invitation to Das Triebwerk. You have a fantastic location here! Where are the roots for this?
Stephan: Welcome! The origin with me lies already some moons back. As a 19-year-old I bought an old Mercedes for 500 DM. I wanted 200 instead of 45 hp! Then I restored it on my own. I organized the workshop manuals and learned everything myself. Of course, that went a little wrong here and there, but I learned a lot from it. The passion for old cars was awakened and has not let me go since then.
Since my business studies seemed boring in direct comparison, I vowed to work for money at most until my 50th birthday and then only for passion. Surprisingly, that also worked out that way. After I sold my CAD company, Porsche Cup and classic car rallies were the first things on my agenda. But I wanted to restore and build a Porsche 911 backdate or restomod. And that's what Das Triebwerk stands for today – emotional projects, presented in a workshop with professional event technology.
Christian: The origin of my passion for cars also goes back a few decades. I started with motorcycles and 2-stroke engine tuning and later discovered a passion for air-cooled engines. My path led to suspension development and production, among other things. I was involved in some projects in the absolute high-end motorsport segment. However, my true passion is actually the restoration, tinkering and optimization of classic cars. I have always been particularly enthusiastic about engine building. Hence, I prepared engines for quarter-mile races for a long time.
Seems almost as if the roles are clearly distributed with you! And how did you get the idea to build a 911 Restomod?
Stephan: I always affectionately call Christian "Gyro Gearloose" because he is bubbling over with ideas. I tend to take care of the economic component. Over the years, I've seen a lot of restomods based on Porsche 911s. Hardly anyone still uses real sheet metal parts. And most restomodders only sell their parts to the buyers of their vehicles. But that's exactly what we want to offer our customers. On the other hand, we see our restomods like the Porsche 964 Backdate F300 or F350 as our Formula 1 car. They are our technology carriers. We build all our innovations into them. Be it a freely programmable injection and ignition, self-developed single throttle bodies, eletronic throttle systems or individually approved exhaust systems.
So Das Triebwerk offers the technology from the 911 restomod for the "normal" Porsche 911?
If you will, yes. Not everyone wants to convert their Porsche 911 into a restomod. We respect originality and always pay attention to retrofittability. But more power, increased efficiency and a nicer sound should not be reserved for restomods only, in our opinion. Lower fuel consumption and emissions are also a good way of ensuring that we can enjoy our classics for even longer. If the end result is even more driving pleasure, all the better! The technology of our Porsche Restomods always offers measurable advantages in all these areas.
Let's take the fuel pressure regulator designed by Christian in combination with the freely programmable engine control as a prime example. I tested this in my 1972 Porsche 911 T at the Modena Cento Ore Rally in competition (and during the journey to and from the event on my own wheels). The previous year I was still using the original engine. With the new engine management system, as well as the electronically controlled throttle, the 2.4 liter engine reaches now around 200 hp, is inferior even to the 911 Carrera RS 2.7 in nothing. Not only did I win the class, I also used roughly 20 percent less fuel than the year before. And I hardly need to convince anyone in the Elferspot community of the sound of the intake noise of individual throttle bodies.
What details are particularly important to you in a restomod?
Christian: Everything, that makes the boxer more individual is our focus. Above all, we want to define ourselves by the fact, that we work authentically. All body parts are made of sheet metal and are finished by hand. This also retains the charismatic sound when the door closes. In doing so, you sometimes get a little bit lost, to be honest. Especially the combination of the wide Turbo hips with the narrow fender edge of the F model requires a great deal of precision. We don't simply stretch the wheel arches, but create harmonious shapes. The center tunnel of the 964 also needs a lot of hand-craftig to achieve the height level of the F model. It should look like an F model not only from the outside, but also from the inside. Whereby we naturally work closely with our customers and also offer technical treats such as electrically adjustable racing bucket seats with seat heating. Or invisible speakers in the doors. The entire door panel serves as a sound box, so to speak.
In our opinion, a backdate or restomod involves much more than "just" newly leathered interiors and a wide body with an F-model front. We also experimented a lot with suspension geometry and caster to perfectly match the position of the front wheels in the wheel well. Of course, a lot of time and effort was spent to find the right damper settings, together with our partners from Bilstein. We're only pleased with our set up, if Walter Röhrl is, too! You won't find any oil lines visible from the outside on any of our 911 restomods. A detail that just can't be taken for granted. The fuel cap is designed so that the lettering is always in the right position and that the hose at the fuel pump runs right over the fender without touching it.
Of course, this detailed work costs time and money. Can you quantify the development effort of a restomod?
Stephan: Prototyping in particular is, of course, extremely time-consuming. The engine is equipped in such a way, that we can do a lot in-house. Our e-gas, the throttle bodies and Christian's incredibly compact fuel pressure regulator were all developed here. Of course, you could quantify this in money, but that wouldn't do justice to the actual subject. Anyone who wants to build a restomod for the sake of profit has not understood what it's all about.
It's all about emotion, driving pleasure and enjoyment. At the same time, we are helping to preserve classic Porsche 911s with this new technology. Nowadays, a modern ECU controlled injection is more reliable than a Bosch Jetronic. It is easier to tune and is hardly subject to wear in the classic sense. We are thus bringing air-cooled engines up to modern emission standards, making them future-proof and more powerful.
In addition to your cars, the workshop is also anything but commonplace…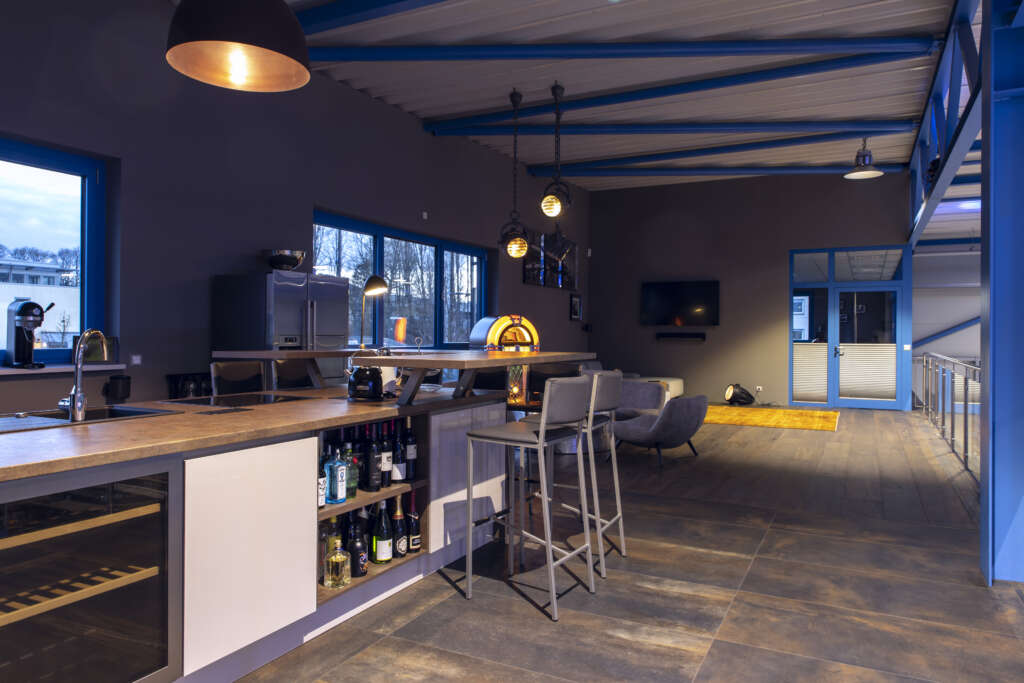 Stephan: That's right. One of the planning principles was, that the workshop should feel a bit more like a venue. There is a stage with professional lighting and sound technology. The entire building is equipped with Sonos loudspeakers. In addition to vehicle presentations, company events and Christmas parties can also be held here. It is virtually set up like a nightclub. The decoration is completed with airplane devotional objects and old enamel dispensers, which used to be produced here on the spot.
Christian: Our machine fleet is also probably somewhat larger, than in a normal car repair shop. But all that is part of the concept. Not many workshops can claim to develop and even produce parts in-house! Our customers can – if they bring some time with them – see how the throttle body for their own car is milled from the solid on site. We're not afraid of "difficult" restorations either, like that Porsche 906 over there.
Last but not least, which Porsche do you love?
Stephan: Although there are so many beautiful cars here and we build such great restomods, I actually find my 911 S 2.4 the most beautiful of all. Especially in combination with the Minilite rims it almost looks like a wolf in sheep's clothing.
Christian: On the one hand, I think the Porsche 944 Turbo S is great because of its balance, but six-cylinder engines turn me on more. Like the 3.6-liter biturbo in my 1600 VW, for example. That car started the air-cooled madness 23 years ago. The most beautiful overall package for me, however, is clearly our DTW backdate. When they pull the wrinkles out of my face and the six funnels scream at me, it makes my heart beat faster!