We at Elferspot Magazine are always happy to talk to Porsche enthusiasts from all over the world about what sparked their passion for sports cars from Porsche. After all, it is often precisely these stories that connect us enthusiasts and lead to many friendships over the years. This time for the Elferspot Porsche Talk: Paris resident Nicolas.
We've been following you on Instagram for a while now. Your converted Porsche 911 Carrera 3.2 makes us very curious and we are sure our readers would like to know more about it as well. But first, a simple question: Who are you?
Hi guys! My name is Nicolas, known as @le_petit_francais on Instagram and I'm a French content creator talking about cars, watches, photography and travel (when it was possible). I've been a car enthusiast since I was a kid, as my dad took me to the 24 Hours of Le Mans race almost every year!
Since when have you felt the enthusiasm for the Porsche brand?
As my father is also a car lover, it started when I was a little boy. With the years passing, my love for the Porsche Brand grew more and more, especially with the 911's design.
When did you fulfil your dream of owning a Porsche and where did you buy it?
Last year, during the first lockdown! As I used to travel a lot, I didn't have much time to buy and work on a classic car. When I've been stuck in my apartment in Paris, I thought that 2020 would be the perfect year to buy my dream car and work on it in a garage, as I wouldn't be able to travel for a while.
With my very good friend @cforcar_biarritz I started to look for a Porsche 911 SC 3.0 or a Carrera 3.2 on the french market and after almost three months, we found the one near Paris. The Carrera 3.2 was perfect for my project!
How did the idea of converting your 911 Carrera come about? Who made it?
Since I was a boy, I customized almost everything. When I was 20, I bought an old bike and rebuilt it completely. Fun fact: I painted it almost the exact same color as my Porsche.
When I decided to buy the Carrera 3.2, I immediately started thinking about what I would like to change, visually improve and rebuild on it.
We converted the car with friends I know more than ten years now at @generalcarsvintage. It was a lucky call because one of the two guys owning the garage was working for Ferrari F1 at Maranello. He decided to come back to France at the exact same time I was looking for a workshop.
Very abbreviated told, we have made the following modifications: The front and rear fenders were changed and we had to build a new rear spoiler to fit the new rear fenders. Also we made a special grille. My Carrera also got bigger wheels. We changed the color completely from blue to grey / cream and made a completely new interior in black leather with grey stitching.
We decided to work on the car together, showing all the work on my social Media and via videos on YouTube. After seven months of hard work and a few surprises, we finished the project just before Christmas. It was one of my favorite Christmas gifts ever!
How often do you drive your Porsche and what do you love most about it?
Every week! Not driving it would be a waste. It's been four months since I first drove it and sometimes I still can't believe, I can call this awesome Porsche my own. What I love the most is that special feeling, when you are behind the wheel. This beguiling and unmistakable engine sound from the air-cooled boxer engine in the back. All senses are spoiled as soon as you press the gas pedal. You become playful and enjoy every ride.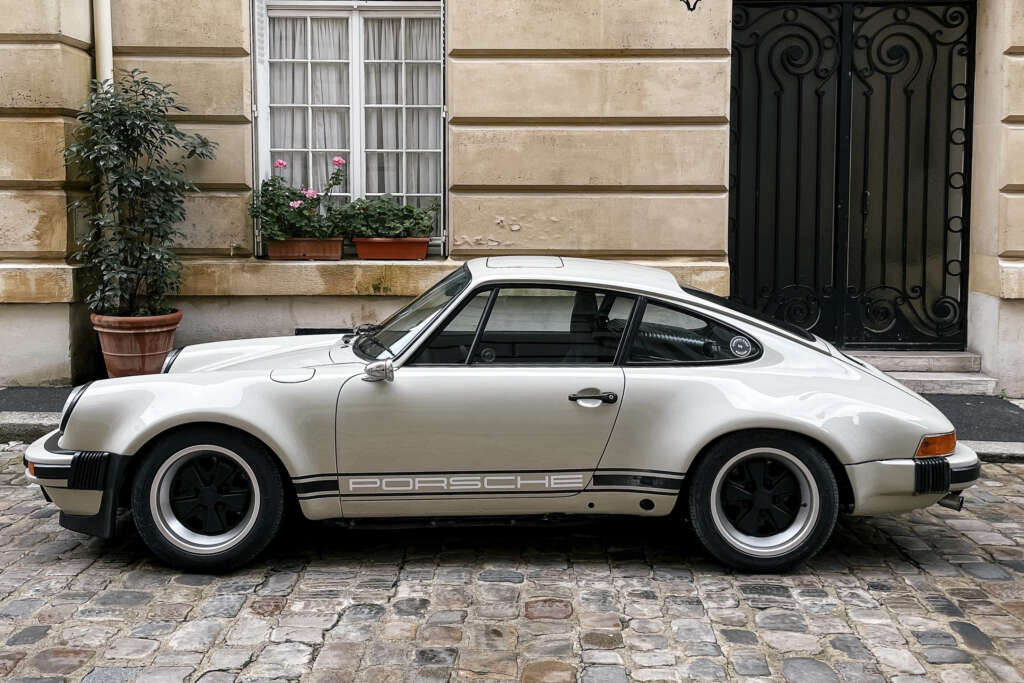 You live in Paris. What is it like there with a classic Porsche? What are the peculiarities of driving such a car in this big city? Do you get a lot of sympathy or rather general rejection?
The most painful thing when driving in Paris is your left leg on the clutch pedal during rush hour! Since the old Porsche is still very small and compact compared to other road users, it is basically very easy to drive and the other drivers on the road are mainly friendly and careful when they see me. I get a lot of sympathy because the old cars in Paris beautify the streetscape and you get nostalgic. I get used to many thumbs up and questions about it when I park the car.
And it is always a real pleasure to share my passion for old cars with other people.
What is your opinion on electric mobility and would you be a potential customer for a Porsche Taycan?
I had the chance to try the Taycan a few weeks ago and I really loved it! At first, it was really weird, not having an engine sound in a Porsche but I have to admit, that the car and the performance is breathtaking.
I'm a car lover and I love all kind of cars for what they can offer. Old cars for the sound, rudeness and mechanical problems, new cars for technologies and comfort and electric cars for all the possibilities, they can offer. Personally, I'd rather drive an electric car (Taycan or smaller) in Paris than my old Porsche as a daily.
I could become a potential customer for the Porsche Taycan, but I would wait a few more years. Maybe the next generation of the Taycan is just right for me.
If you could choose another Porsche right now, which one would you choose and why?
Tough question! Since I currently already drive a classic Porsche, I would probably choose the new Porsche 992 Turbo S. For me, one of the best sports cars currently on the market. If I then imagine my two cars side by side pictorially, it looks just fantastic!
Thank you very much for the interview. It was great fun for us. We hope you continue to enjoy your Porsche and have many great moments.
Thanks a lot guys and I can't wait to meet you someday around the globe !
Pics by Nicolas and Olivier Penpenic