We at Elferspot Magazine are always looking for interesting, exciting or even unusual Porsche stories. We are particularly interested in the people behind the wheel, who with love and passion make these cars their personal jewels. The world wide web and social media platforms offer a wonderful playground to get in touch with interesting personalities. This time we had the opportunity to talk to Susanne Marack from Munich about her Porsche journey. Susanne drives a Porsche 911 Carrera 3.2 Coupe from 1987, which was converted to the Turbo Look in the 90s.
Hi Susanne! We are always especially happy when we meet women who not only think a Porsche is pretty, but are real enthusiasts and also drive these things with passion. I think you're one of those Porsche crazies, right?
That's for sure! The 911 series is one of my favourite cars since childhood days. To own one myself (at least) was already the biggest dream I could realize a few years ago! The love for the Porsche brand was of course additionally underlined, because like the first Porsche sports cars, I come from Carinthia and am also a close friend of the Porsche Museum Gmünd and the Pfeifhofer family.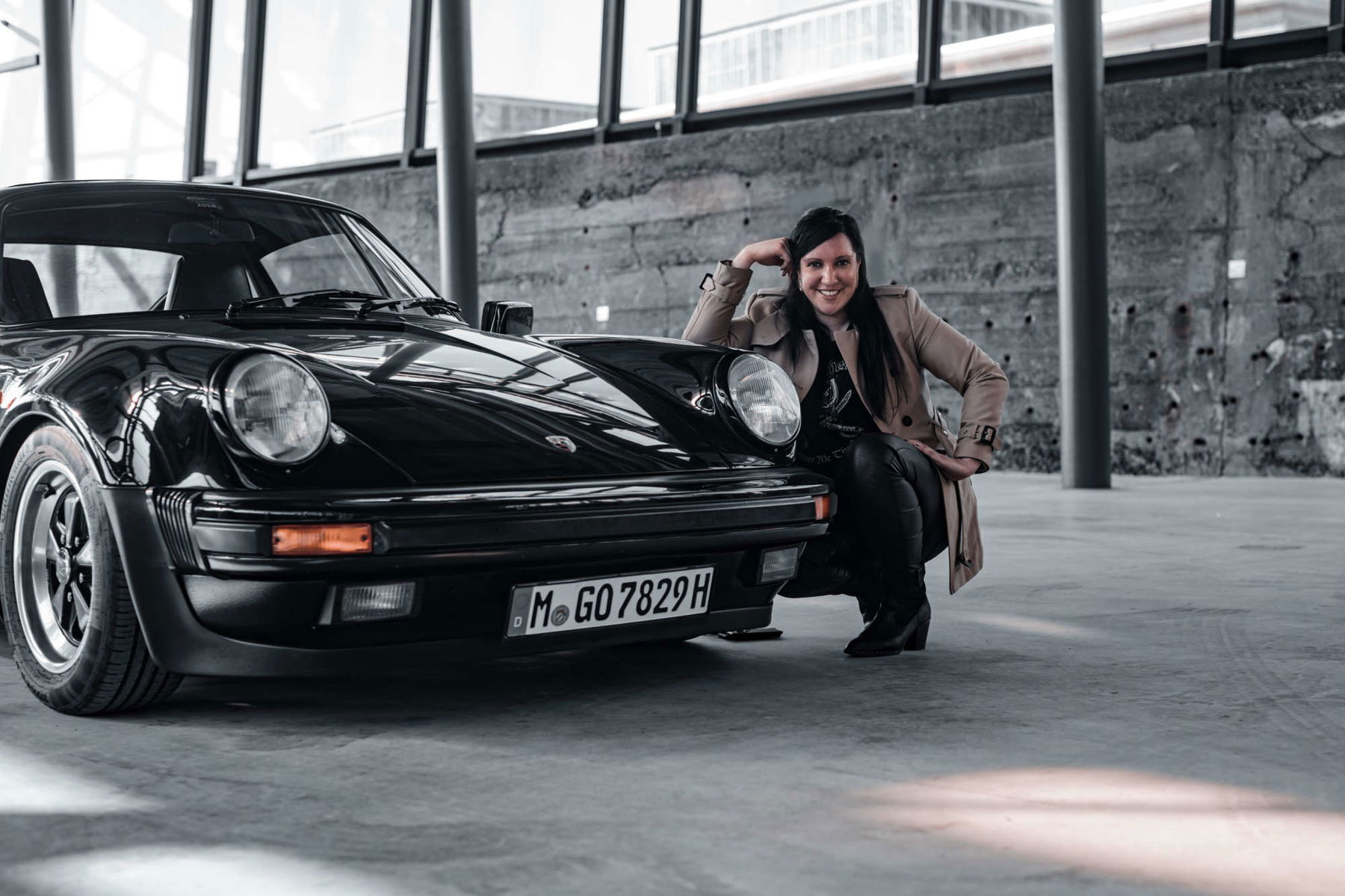 Since when do you have a strong enthusiasm for cars?
The passion for automobiles was literally put into my cradle. One and a half years before my birth my parents founded a car dealership, in which I grew up. The resulting affinity to VW and Audi was quickly expanded to include US and muscle cars, and since I can remember, the "Smokey and the Bandit" series has been one of my favorite movies and I couldn't be without Knight Rider when I was allowed to watch TV. I got my first "own car" in the early 1990s. A miniature version of the Audi 80 Cabriolet from quattro Gmbh, including a lawnmower engine in the rear, rear-wheel drive and manual transmission – that is still my favourite setting today. When I was three years old I also urged my mother to buy my first car, a 1972 VW 181, which I was allowed to take over and have restored after my father's death.
The passion for automobiles was literally put into my cradle. One and a half years before my birth my parents founded a car dealership, in which I grew up.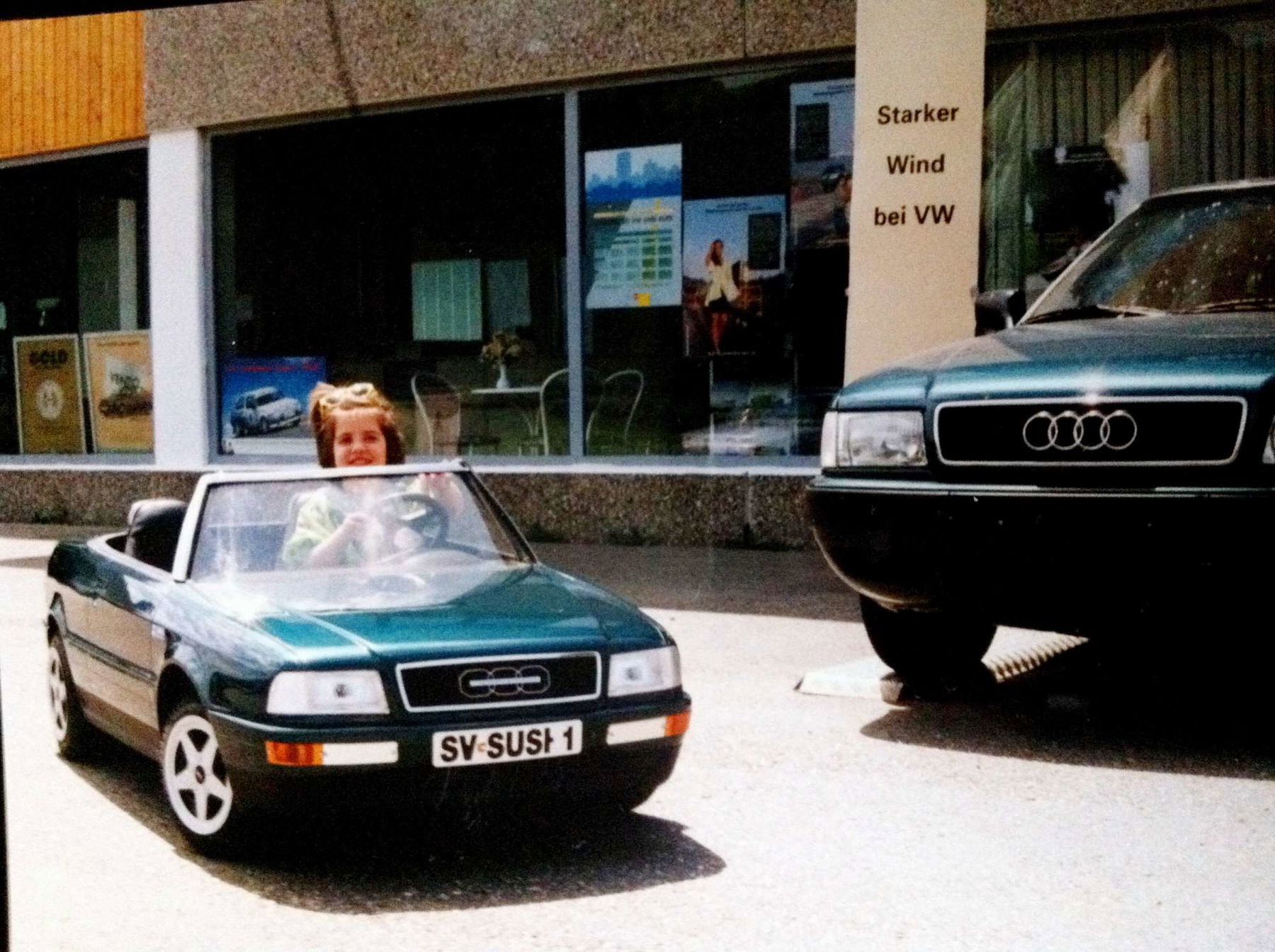 Currently you are driving a beautiful 911 that looks like a turbo but is not a turbo. How did you get this Turbo Look Carrera 3.2?
I don't just drive this currently, but "forever" – since I keep all my vehicles and this hobby naturally takes up all my private resources, a purchase for someone like me is an even bigger and more important issue than for people who "exchange" their vehicles. I have been dealing with the choice of my first own 911 for ages. I used to have a pullback toy 930 (in black, of course), but it was clear that I couldn't afford it in real life. But a narrow 911 was not an option and technically the car should be able to withstand a little bit anyway. Due to the background I always received a lot of model cars, car books and other Porsche stuff – I always liked the G models especially well. Fortunately, this fit the budget and at the end of the orientation it was clear: Carrera 3.2 without Kat with G50 transmission. That limited the search and further wishes very much because of the short construction time of the configuration.
I have been dealing with the choice of my first own 911 for ages.
But as every Elferspot subscriber knows, people like to look for other cars on the internet and so I came across a wrongly advertised WTL (Werksturbolook) while searching for 930 prices. The car didn't turn out to be anything, but the online find inspired me to increase my budget by a few Euros and to combine my demands on technology and optics. My 911 was the first hit and was bought directly. I was able to afford it, because it was built as a "normal" Carrera with a corresponding body and converted in Japan with missing documentation.
How often do you drive your 911?
In 2020 so far more than ever before, almost daily or on every rain-free day since mid-March. Exceptionally, a single positive side effect of Covid-19: empty garage in the office and free streets in the city, so the car has to be able to drive short distances in the Munich city centre in the morning and is rewarded in the evening all the more often with tours on the winding country roads of Upper Bavaria! But in general I am not a Sunday driver either. I prefer to drive through the Hallertau in the evening and on weekends, but I also like to cruise through the city and use the "generous space" for my weekly shopping at the supermarket around the corner.
What was your best moment with your Porsche so far?
Fortunately, this was not a single moment, but has been a complete attitude towards life for years. Each of my cars contributes to this, drives itself with a very special charm and stands for a strong, automotive character – but driving 911 is something else again. And even within the Zuffenhausen sports car family everyone drives differently. Thanks to the absence of a turbocharger, the Porsche 911 Carrera 3.2 Turbo Look is not only a safe car with perfect road holding that is also very forgiving, but also performs well on the road – which simply makes every tour on the country road a fantastic experience. This gives you new strength after a long day at the office, and a tour with the car is the best start to a relaxed Saturday. But what makes every moment at the wheel really special is not only the demands of the car, but also the history and above all the joy of having made the dream 911 come true.
But what really makes every moment at the wheel so special is not only the car's claim, but also its history and above all the joy of having made the dream 911 come true.
What about your circle of friends? Are there other women who are enthusiastic about cars or are there more men?
Actually, there are probably more 911 driving women here in Munich than in any other city (maybe except the managers from Ludwigsburg and Zuffenhausen ;)), but actually, I don't know any other female Porsche enthusiast in Bavaria – not even from the BMW Classic & Co. As you have correctly recognized, the circle of friends is rather masculine, but I would be really happy if more girls with petrol in their blood would get in touch with me via this post! Of course I also support the Californian girls of "Women in Porsche". It would be great, if we could build up a less conventional and more colourful mix of Porsche drivers m/f/d here in the south of Germany, too.
But that the Porsche theme, especially that of the classic 911s, is more than infectious is shown not only by the story of my friend, who now drives a 964 for the amateur team Marack Motorsport at the Ring, but also by the support in the pits. Since day 1 we have had the best support from our Austro photographer Sarah and also from Anna, the partner of our mechanic. Also in the social web I get a lot of great news with exciting stories of other girls and I'm networking with more and more cargo girls – only in my corner there are somehow no female Porsche fans. This may also be due to the fact that many car fans in the Munich area have a different brand focus… so ladies, get in touch, I'm looking forward to it!
Are there any other Porsche models on your wish list?
Did you bring some more time? 😉 Yeah, there's a lot. Let's start with the private desires: the absolute dream as a second 911 is a classically made road RSR conversion – Targa Florio style, so it's quite different from the usual RSR back-dates. Preferably with a slightly sharper 3.0 as technical basis. I must have a car like this sometime. A "winter sports car" in the sense of an affordable 996 or 997 is probably my realistic next purchase – I miss the sportier cars during the cold season already very much. But if for some reason I should ever get too much money, it will go on like this: 964 RS (definitely in rubystone ), 911 Carrera 3.0, 930 3.0 in some crazy 70s colour, 991 Carrera T, a 356 convertible, then a 993 Targa, followed by a 991 GT3 RS and if I'm still not broke then a 959! But the 959 is not a club sport, I need the second mirror here in town.
For Marack Motorsport there will also be a second race car at some point. But we are currently evaluating it – we would of course prefer an IROC clone or something else air-cooled. We will see and maybe we will find the next dream car for the collection on Elferspot!
Many thanks Susanne for the interview. It was a lot of fun.
Photo Credits:
Susanne Marack
Philippe Danier 
John Infinite Edits
Infinite Edits GmbH