Porsche as a company is widely reknown for being quite conservative. Some would even call them aristocratic or typically German. In terms of colours on the other hand, Porsche has always been quite brave and sometimes even shrill. That contrast to Porsche's thorough engineering and German precision was chosen deliberately. The naming of the colours has played a big role in awaking emotions as well. Porsche Green in all its different shades has always worn pretty special, sometimes even mystical names. Lago Green, Viper Green, Auratium Green and so on.
In our latitudes, green is considered as a colour of growth and hope. Irish Green even was Ferry Porsches favourite colour. Hence, the first Porsche 911 ever was painted in that very Irish Green. For us petrolheads, green is a start signal. Porsche has offered 84 different green tones until today, which couldn't be more different in their characters. You can find anything from subtle and discreet to extroverted. In this part of our Porsche colours lecture, we have a look some of the prettiest Porsche green shades of the past 70 years.
Lago Green Metallic – Porsche 356 (1956)
We're starting with a very pretty and contemporary 1950's colour. Lago Green Metallic was one of the first metallic paints offered by Porsche. Thanks to mixing the paint with so called effect pigments (commonly called metallic flakes) the paint got a very metallic shine to it. Not only due to that, Lago Green Metallic was far ahead of its time. When seeing historic Porsches with that very colour, you immediately ask yourself, if this car has been re-painted at some time, as it merely fades.
This dark shade of Porsche green reminds of the classic british racing green and perfectly matches with golden lettering and bright interiors. Lago Green Metallic was only offered officially from 1956 to 1957. Afterwards, it was only offered as a very expensive option. From 2003 until 2007, this very special Porsche green was offered for the whole model range. Its colour code is M6W or 5605.
Auratium Green – Porsche 356 (1957-1959)
Another eyecatching Porsche green of the 1950's was the extremely rare Auratium Green. It was only offered for three years from 1957 until 1959. This bright Porsche green was named after a Japanese lily and could be seen as a pretty feminine and delicate colour. So to us, its name fits perfectly to this colour. You can find Auratium Green with the colour code 5712 and it was only offered for the Porsche 356.
Auratium Green is one of the rarest Porsche colours of all time. Whoever wants to buy a 356 in this particular colour, has to search for a long time. In 2018, Porsche rediscovered Auratium Green and since then offers it as a paint to sample colour for new cars. As with most PTS colours, mostly 911 GT3 owners ordered this bonbon-like Porsche green.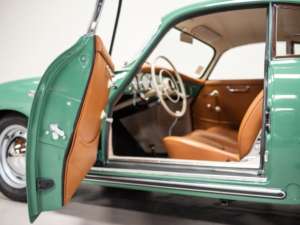 Porsche Green could be flashy as well! Conda Green – Porsche 911 F-Model (1970-1972)
Fast forward to the early 70's. Gaudy colours are en vogue and lots of cars in flashy colours were out there. Exclusively for the Porsche 911, Conda Green was offered from 1970 until 1972. This Porsche Green is very bright and saturated. In combination with a dark interior and chrome applications on the outside, it offers a very nice contrast.
Depending on lighting conditions, Conda Green can easily be mixed up with Viper Green. But Viper Green wasn't available before 1973 and is a tad brighter. Conda Green is pretty popular  among collectors, being a pretty contemporary colour from that era. Especially with a nice set of Fuchs wheels, we think Conda Green (paint code 222/22626) is worth sinning for, isn't it?
Wimbledon Green – e.g. Porsche 911 (1993, 1999-2001, 2005-2008) and 928 (1993)
Over its history, Porsche has always been a generous sponsor for lots of sporting events. The Stuttgart brand used to be the title sponsor of big tennis tournaments for decades. So it seems pretty logical, that a very special colour is named after the world's most famous tournament: Wimbledon Green. It may not remind you of the center court's rich green, but that doesn't make it less striking to look at.
Wimbledon Green is more or less a turquoise green metallic. It was particularly popular in the 90's and at least to us, it evokes associations of Game Boys or lava lamps. Just like Rubystar Red, which was often ordered on the Porsche 964 Carrera RS, it looks very much period correct. You could even order it as an interior colour. Of course, it's hard to find a car with that combination. But it also instantly reminds us in the Elferspot Magazine office of one of the top hits of 1993, the year it was introduced: What is Love from Haddaway. We wish you a pleasant day with this catchy tune! "Baby don't hurt me…"
Viper Green – Porsche 911 (1972-1973 & 2017-2018)
Porsche cares about its history and its tradition. Due to that, some design elements or colours are reused a few decades after their introduction. Exactly that happened to the awesome Viper Green. It was officially offered only for two years, although you could of course order it as a paint to sample colour. The very flashy Viper Green was very popular among 911 Carrera 2.7 RS owners.
As mentioned above, Porsche likes to re-use old designs. So it shouldn't have hit you by surprise, that the Porsche 991 GT3 and GT2 were offered in that colour. Especially the RS models benefit from Viper Green, as it makes the carbon fibre bodyparts stand out. Just look at the air outlets and the rear wing. It accentuates Porsche's wild side and instantly reminds you of 70's racing cars.
Not many other Porsche colours offer such a broad variety of shades
With all these different, fantastic looking shades of green, Porsche often managed to evoke the fore mentioned emotions, when looking at their cars. In most cases, green stands for positive things like vitality or growth in the flora. If you see a Viper Green Porsche 911 or a Signal Green Porsche 924, I'm pretty sure, you'll start to smile. So here's an Elferspot Top Tip: Be brave and show your colours! And in case you haven't read enough about Porsche colours, have a look at Porsche's shades of blue!